8 Reasons to Visit North Korea From Shanghai
The most well-known hub facilitating travel to North Korea may be Beijing, however, in recent years Shanghai has become a reliable and attractive gateway for arranging North Korea tours. Here are 8 reasons to visit North Korea from Shanghai!
1. Extra time in North Korea
The biggest reason to fly from Shanghai is you'll get extra time in North Korea for the same price as a trip of the same length departing Beijing. This isn't just a few hours, it's an entire full day. This is made possible because of the flight timings. See the following comparison:
3 Night tour return from Beijing:
Day 1: Depart Beijing 13:05 arriving Pyongyang 16:05.
Day 2: Full day of activities
Day 3: Full day of activities
Day 4: Depart Pyongyang 08:30 arriving Beijing 09:50.
2.5 Night tour return from Shanghai:
Day 1: Depart Shanghai 22:35 arriving Pyongyang 01:55 (+1 day)
Day 2: Full day of activities
Day 3: Full day of activities
Day 4: Full day of activities, depart Pyongyang 19:55 arriving Shanghai 21:35
The extra day could mean anything from a day-trip to the Korean DMZ to visiting a regional city such as Nampo or Pyongsong, sure to expand your North Korea horizons. The extra day allows a stay outside Pyongyang the night before departure because you'll have time to drive back to make your evening flight. This flexibility isn't possible with an early Beijing departure and opens up a range of itinerary possibilities.
2. Flight timings allow weekend getaways
For those living in China or with limited vacation leave, the flight timing from Pyongyang back to Shanghai on Sunday night (21:35 arrival) is perfect for getting back to work by Monday morning! Take a long weekend from Thursday to Sunday and your boss will never know you've spent the last three full days knocking back Taedonggang Beers in North Korea's capital.
3. Save money on accommodation
The flight to Pyongyang departs Shanghai at 22:35, giving you all day to arrive ready for your Air Koryo connection without staying the previous night in Shanghai. If you depart Beijing, the flight to Pyongyang leaves at 13:05 with check-in at 10:30am, any sensible connection will require an overnight in Beijing before these tours.
4. Internationally connected
Reaching Shanghai is convenient. Shanghai is one of the most internationally connected cities in the world and you'll face minimal (if any) transfers wherever you reside. Major hubs facilitating direct flights to Shanghai include (among many others): London Heathrow, Amsterdam, Frankfurt, Madrid, Istanbul, Sydney, Melbourne, Los Angeles, New York, Bangkok, Kuala Lumpur, Singapore and Hong Kong.
5. 144-hour visa-free transit policy
Shanghai Pudong International Airport allows travellers with onward tickets (in your case to Pyongyang!) to stay for up to 144 hours, which is 6 days, in Shanghai without a Chinese visa. Each transit is separate so you can use this policy both ways via Shanghai Pudong if you wish. Don't forget we arrange your North Korea visa, so this transit policy in lieu of a Chinese visa will make preparing for your North Korea tour a breeze, requiring no Embassy visits or mailing of your passport. Read our guide on the 144-hour visa-free policy for the details.
6. You get to see some of Shanghai
Explore the Bund, shop on Nanjing Road, cruise an ancient water town, check out a museum or perhaps visit Shanghai Disneyland before or after your tour. Shanghai is China's largest city and a modern, rapidly moving financial hub with humble roots as a fishing village and market outpost. It's got arguably the best nightlife in China to boot!
7. Fly North Korea's flagship airline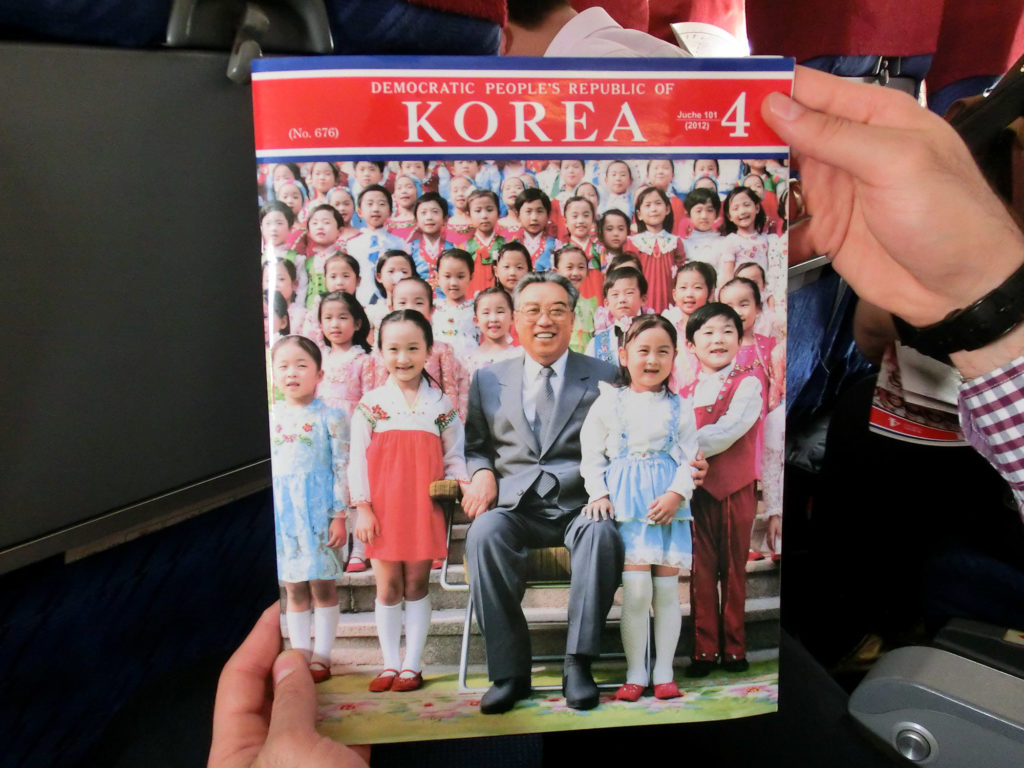 All flights between Shanghai and Pyongyang are run by North Korea's national airline, Air Koryo. Your North Korea experience will begin as you're handed a Pyongyang Times at boarding. While peak periods are serviced by Air Koryo's Tupolev Tu-204 passenger jets, often the smaller Antonov An-148 jets are used on this route, an additional experience for aviation enthusiasts.
8. Run the Pyongyang Marathon!
Each year departing from Shanghai we arrange 2.5 night and a 6.5 night tours attending the Pyongyang Marathon in early April. The marathon provides one of the most unique ways to experience Pyongyang, and is perhaps the only chance for an amateur runner to finish the race like an olympian to a packed house of 50,000 cheering locals! There are 5k, 10k, half and full marathon events available so it's not just for serious runners.
BONUS: Take a one-day trip to North Korea
On rare occasions of high demand, Air Koryo has been known to schedule extra flights between Shanghai. To take advantage of this, in the past we've arranged special express North Korea tours to Pyongyang which are visits of less than 24 hours covering the major highlights. While this isn't currently possible, be sure to join our mailing list (at the bottom of this page) and follow us on Facebook or Instagram for news on future possibilities!
What's Air Koryo's current schedule?
Flights from Shanghai operate between April and early November as per Air Koryo's flight schedule. This covers all but North Korea's cold winter months. The scheduled flight timings are as follows:
Shanghai (PVG) – Pyongyang (FNJ):
THURS & SUN: JS158 2235 0155 (+1 day)
Pyongyang (FNJ) – Shanghai (PVG):
THURS & SUN: JS157 1955 2135
What tour length can I arrange from Shanghai?
The flight timings allow round trips departing Shanghai in the following ways:
2.5 Night tour: Thursday – Sunday
3.5 Night tour: Sunday – Thursday
6.5 Night tour: Thursday – Thursday or Sunday – Sunday
Alternatively, you could include Shanghai in an open-jaw ticket where you fly in (or return) to a different destination, Shanghai – Pyongyang – Beijing, for example. This opens up a much wider range of tour length.
We run many group tours via Shanghai each year, and we can arrange a private tour over your preferred dates. Simply contact us!