Can You Take Photos in North Korea?
Contrary to popular belief, taking photos in North Korea is allowed and you'll have plenty of opportunities during your tour with us. Photography freedom is less restrictive than most travellers expect. However, there are photography guidelines that must strictly be followed by all visitors to North Korea. We have outlined these below.
What are the photography guidelines?
Do not take photos of the military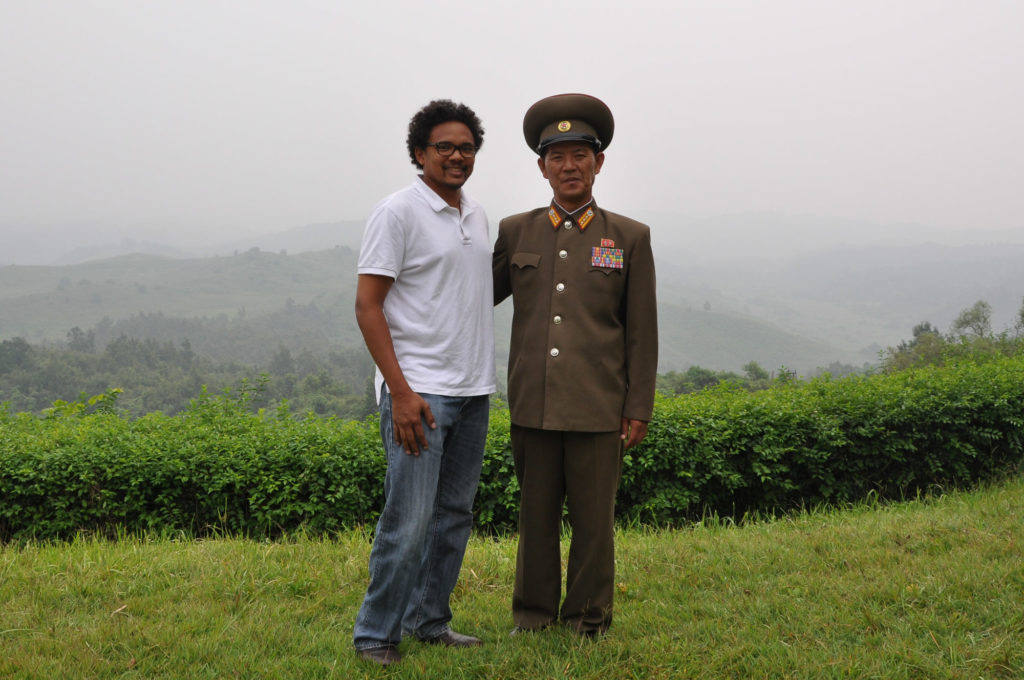 Alike most countries, taking photos of soldiers, military installations, military checkpoints, and military vehicles in North Korea is strictly prohibited. This rule extends to construction sites, which are often active with the military. There are exceptions that will be made known to you, most notably at the Korean Demilitarized Zone, where you'll even be permitted to take photos alongside North Korean soldiers!
Frame photos of venerated monuments in full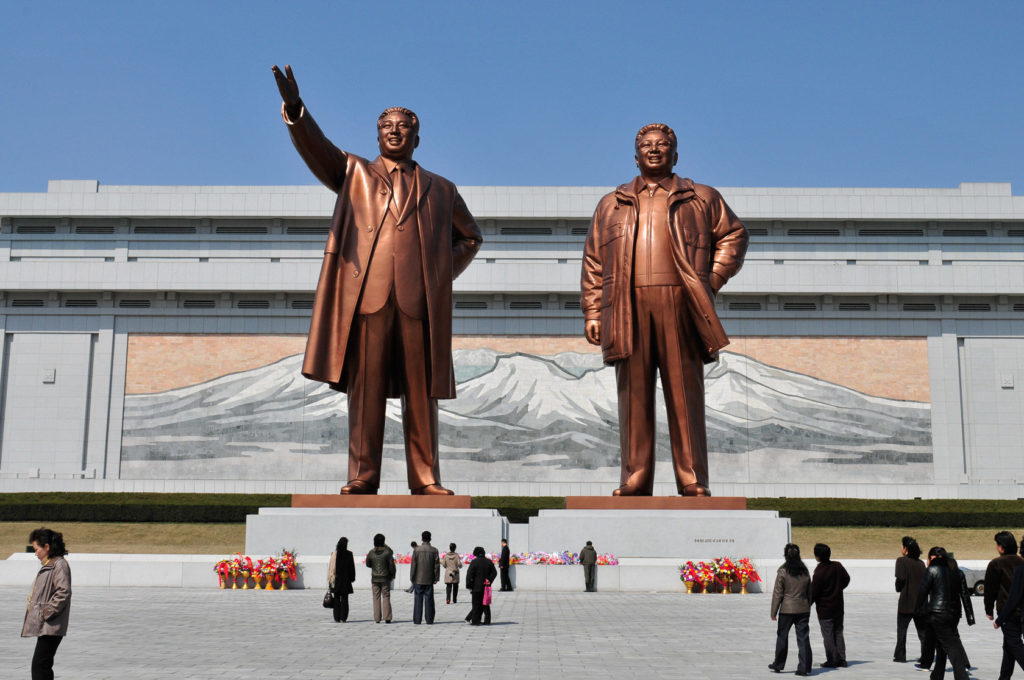 When taking photos of monuments, murals or artworks depicting President Kim Il Sung or General Kim Jong Il, frame these in their entirety without cropping or zooming. Photos of these subjects, particularly statues, should be taken directly from the front. It's perfectly fine to be in these photos yourself, but your hands should be by your sides (not behind, in front or crossed), you should not be making any funny faces or gestures, and you should not be wearing sunglasses or chewing anything. You'll most commonly encounter these rules at the sacred Mansudae Grand Monument in Pyongyang, but they're applicable all over the country.
Do not take photos of people without asking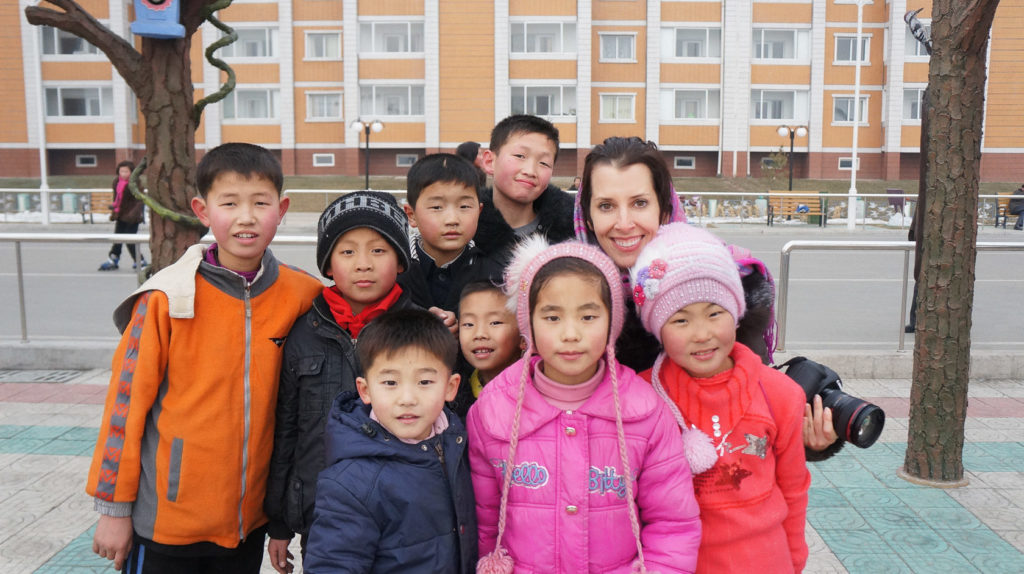 If you wish to take photos of (or with) people, ask for their permission first. This is simply manners and applies worldwide, you wouldn't appreciate strangers taking paparazzi shots as you transit the metro either! North Korea is a particularly conservative society which, relatively, is not exposed to tourism and camera-wielding foreigners. Additionally, the culture around photography and documenting social lives is unlike the west, and some people will simply be shy or unwilling to be photographed. If you ask first, you'll be pleasantly surprised by the general openness to photos, and it's a great icebreaker for genuine interaction.
There are places where photography is not permitted
Photography is typically prohibited inside museums or indoor exhibitions, and shops. You should put your camera away when heading through airports or train stations, and border areas should not be photographed due to military presence. Although few and far between, restrictions can apply to specific sacred sites (eg. Kumsusan Palace of the Sun) or performances (eg. Pyongyang Symphony) and the occasional mural or portrait at revolutionary sites. While camera freedom is relatively liberal in Pyongyang, guidelines can vary by city or region and in all cases, our guides will best advise you at the time.
When in doubt, always ask your guides
It's well understood a big part of travel is capturing the memories of your visit, and photography is encouraged within the scope of these guidelines. There may be situations when you'll be unsure if it's appropriate to shoot, such as during a drive through the North Korean countryside. When in doubt, always ask your guides before snapping. If you inadvertently take a photo that's not allowed, such as including a soldier in the background, you'll be kindly asked to delete it.
I'm a photographer, can I join your tours?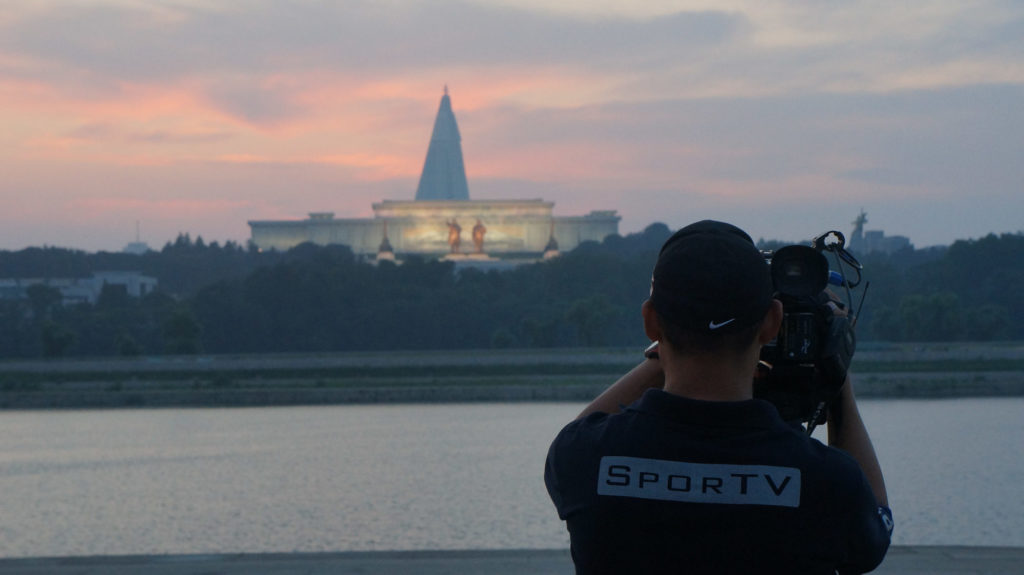 Part or full-time photographers and journalists are not permitted to visit North Korea on tourist visas. We are a full-service destination management company (DMC) for North Korea and in many cases, we can coordinate visits outside the scope of tourism through official channels. If you are a photographer or journalist, please contact us with your requirements and we will provide all the necessary information.
What camera equipment can I take to North Korea?
Most camera equipment is permitted by customs into North Korea. DSLR cameras are allowed, however, camera lenses are restricted officially to a maximum focal length of 150mm. Pocket-sized travel cameras and GoPro's (or similar) are permitted, as are smartphones (although you won't have any internet!) Extracurricular professional-level equipment such as tripods, gimbals, external flashes, microphones, remotes should be left at home. Drones are not permitted.
Will my camera be checked at North Korean customs?
It's common for your camera, laptop, hard drive and/or SD cards to be checked on departure from North Korea at all border points. You are not guaranteed to be searched, practically it's an impossibility to check everybody, but flicking through your photos is part of standard protocol. Any photos that breach the rules will be deleted by customs officers.
Can I share my North Korea photos online?
You're welcome to share photos from your trip on social media such as Facebook or Instagram, or travelogues. Publication of photography for commercial use or dissemination to mainstream media is classed by the DPRK as journalism and is not permitted.
What else do I need to know?
Do not sneak photographs. Such disregard for the rules can cause serious problems and will ruin the trust you've fostered with your guides
You will likely take more photos than you expect, bring extra SD cards as camera accessories are not readily available to purchase
Power cuts can happen, particularly in rural areas. Charging devices overnight can not be relied upon. Bring extra batteries or power banks and keep them charged whenever possible
Polaroid cameras can be a great way to engage with people and leave behind a memory
Official photographers can often be found at certain landmarks which make a fun group photo
Many of our group tours are accompanied by a local videographer. They will edit a DVD of the trip offered for sale to the group at the end. The ultimate souvenir!
It's important to list all camera equipment on customs forms on arrival and departure
Further detail is provided in our comprehensive orientation materials in the leadup to the tour
Looking to visit North Korea? Join us for a group tour or a private tour to capture memories to last a lifetime!