Can You Travel to North Korea From South Korea?
You're on holiday in Seoul, South Korea and the idea of visiting North Korea has crossed your mind. Being within such proximity, roughly 50km to the border, the idea of even a day trip to North Korea from Seoul may not immediately strike you as a farfetched idea. Is it possible? Here's the deal!
Can you cross the border into North Korea from South Korea?
No, unfortunately. The border between South Korea and North Korea is closed to civilians. South Korea and North Korea are divided by the Korean Demilitarized Zone (DMZ), a buffer zone cutting across the peninsula which is 4km in width (2km in each Korea). Outside of extraordinary (typically diplomatic) circumstances, nobody is permitted to cross the DMZ. There are no scheduled flights, boats, trains, or similar transport services linking North Korea and South Korea directly.
'Technically' Crossing the Border at the Joint Security Area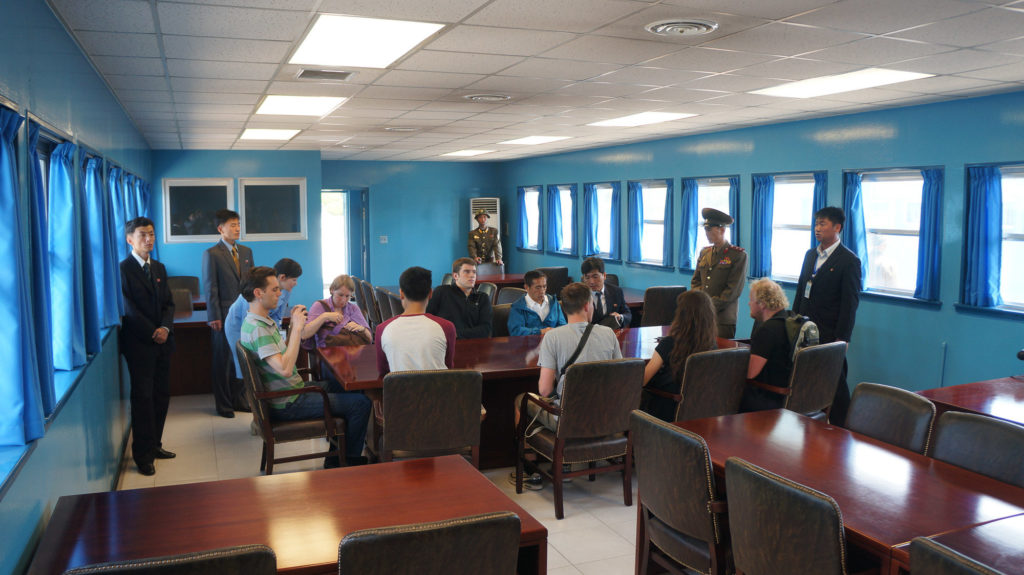 The most famous section of the DMZ is the Joint Security Area (JSA) at Panmunjom, and you've likely seen it on the television. The JSA is the only segment of the DMZ where North Korean and South Korean soldiers stand face-to-face. Within the JSA, the iconic blue conference buildings straddling the political border (the military demarcation line) provides tourists the opportunity to 'technically' step foot between each Korea, strictly within the confines of the building.
Guided tours, typically day trips, can be taken to the DMZ from either North Korea or South Korea which routinely include a visit to the JSA.
Then how do you visit North Korea from South Korea?
Because the DMZ is closed to travel, to visit North Korea from South Korea (or vice versa), you must go via a third country, typically China or Russia. This is why our scheduled group tours to North Korea operate by flight to Pyongyang from Beijing or Shanghai, or by train to Pyongyang from Beijing or Dandong.
If you have a South Korean visa or stamp, can you still visit North Korea?
Yes. Having a South Korean visa or stamp is not a problem for North Korean authorities. Travellers commonly join us for group or private tours to North Korea after having visited, lived, or worked in South Korea. If you're willing to transit via China or Russia, North Korea and South Korea can be visited even on the same trip, and in either order. However, there are a few things to be aware of:
If traveling to North Korea after South Korea:
Tourist photos from South Korea on your electronic devices are typically permitted, however should not be shown or disseminated to locals, including guides, on your visit to North Korea
South Korean products (or their packaging), including tourist souvenirs, and South Korean media, including music or television shows, should not be brought into North Korea
Any Korean-language material, printed or electronic, should not be brought into North Korea
Don't send any postcards from Pyongyang to your new friends back in Seoul — these will not be delivered!
If traveling to South Korea after North Korea:
South Korea enforces a National Security Act which in practice prohibits the import of North Korean products which are of political nature. This includes but is not limited to propaganda posters, postcards, books, stamps, and images depicting North Korea's leadership. Many tourist souvenirs or media (print or electronic) from North Korea will be deemed as political under this law and result in confiscation.
Can South Korean nationals visit North Korea?
South Korean passport holders cannot visit North Korea on tourist visas, even if they're willing to travel via a third country. Any visit to North Korea by a South Korean national requires governmental approval in the form of a formal invitation from the North with subsequent review and approval by the Ministry of Unification in the South. However, if you're ethnic Korean with an alternative passport, you're able to join our tours to North Korea.
Are there exceptions where DMZ crossing into North Korea is permitted?
Not currently. But in the past, and only in rare and specific situations, travel has been facilitated directly between South Korea and North Korea including across the DMZ. We've listed a handful of recent examples below:
From 1998, South Korean nationals could visit North Korea on specialised tours, initially by boat and then later by bus to Mt. Kumgang, which is located across the DMZ on the east coast. This inter-Korean tourist program was suspended in 2008.
In January 2018, a delegation of South Korean ski athletes and coaches took chartered flights directly from South Korea (Yangyang) to North Korea (Wonsan) to participate in an inter-Korean joint-training exercise in the leadup to the PyeongChang 2018 Olympic Winter Games.
Reunion events have been held in Mt. Kumgang on the North Korean side where separated family members can reunite with relatives having crossed the DMZ from South Korea by bus.
North Korean leader Kim Jong Un and South Korean President Moon Jae-In crossed the military demarcation line at the Joint Security Area within the DMZ during an inter-Korean summit in 2018. President Donald Trump became the first sitting U.S President to cross into North Korea at the same location in 2019.
South Korean workers were able to cross the DMZ into the joint-run Kaesong Industrial Complex, a special economic zone in North Korea where South Korean companies employed North Korean workers. Operations at the zone ceased in 2016.
If a North Korea tour fits your schedule, check our upcoming group tours or contact us to arrange a private tour!