DPRK Traveler Spotlight Series: The Global Oddyssey with Eric Hill
UPDATE APRIL 28, 2014
Eric Hill, adventurer, friend and fellow traveler, recently passed away. He lived life to the fullest and his friends in the DPRK will always remember him as a true adventurer, a bright light and the only person to ever do a backflip in the DMZ. Look for #livelikeeric to see tributes from people all over the world. Eric, we're so sorry that your Global Odyssey had to end so soon.
END OF UPDATE
Eric Hill, a Utah native and extreme-sports aficionado, is on a mission to visit EVERY country in the world in RECORD time. That translates to 195 countries in less than 1200 days! His goal is to move beyond just passport stamps and to experience these places in totally unique ways, which usually involves jumping from extreme heights, teaming up with local charities and finding "kindness and awesomeness" even in the most unexpected places.
North Korea, officially known as the "DPRK", was the first official country Eric visited in this 3-year action packed journey. He traveled with us to North Korea and came suited with his speedwing ready to jump off the Yanggakdo Hotel at a moment's notice! Unfortunately, there was no base-jumping this time (we're working on that!). However, there was one first: an amazing backflip at the DMZ. We can't wait for Eric to post a video of the backflip on his Global Odyssey site, where you can follow him on all of his adventures.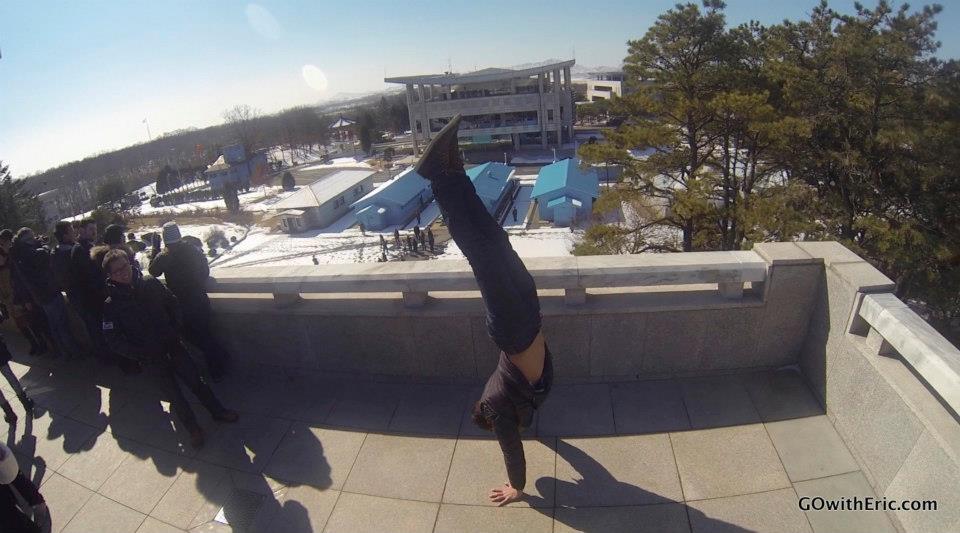 This is our Q&A with adventure traveler, Eric Hill:
Uri: What led to your decision to set off on this record-breaking world adventure?
Eric: My insatiable curiosity about other cultures, along with a slight inability to learn vicariously. To understand other cultures I had to experience them firsthand!
Uri: What was your most adventurist trip so far?
Eric: Living with a tribe in Papua New Guinea that was based a "3-days journey" into the jungle from the nearest "town".
Uri: Tell us what's in your suitcase when you travel.
Eric: As few clothes as I can live with, a sleeping pad, and camera equipment. Everything else is optional. [See a video of what he packed for his Papua New Guinea trip.]
Uri: So why North Korea and why did you start your project with North Korea?
Eric: North Korea made sense to begin with. To start out with North Korea, I think, shows that this is serious. The biggest draw was the sheer mystery of such a close-off country.
Uri: You've set off on this journey to find, as you say, "kindness and awesomeness" in every country. Did you find that in North Korea?
Eric: I found both in North Korea. The most direct kindness was the family that shared their stories and treats with us in their home.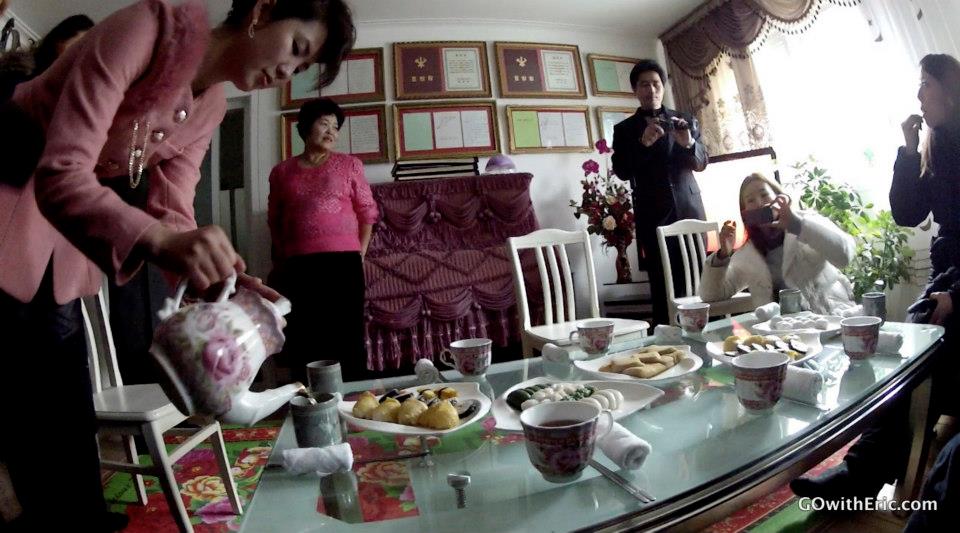 Uri: What were the highlights and lowlights of the DPRK trip?
Eric: This may be superficial, but one of the highlights was the unexpected viewing of the late Kim Jong Il's body encased in glass. I turned the corner in the dark, red-lit room expecting to see a shrine or something in homage to [Kim Jong Il], but instead there he was…the actual embalmed body! The lowlights all had to do with the lack of unsupervised interactions with the people. I really wanted to get to know them, but the rules of the country make that very difficult.
Uri: Tell us about the hi-five at the Pyongyang Skate Park. Did the local girl know what a hi-five was?
Eric: Not only did I have to quickly get the high five so I didn't make anyone uncomfortable with the locals being in direct contact with a westerner, but I had to explain what a high five was! Luckily I had my Korean-American friend help me translate my explanation and then show an example. The little girl was sharp, so she understood and saw that we meant no harm and we were able to get the high five in less than 20 seconds.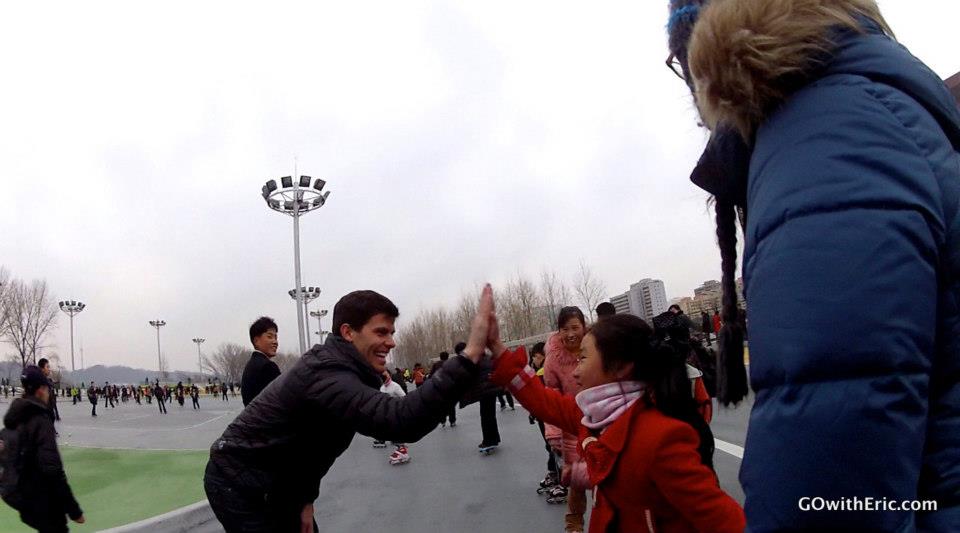 Uri: How was your experience with Uri Tours?
Eric: I was glad Uri Tours was my contact in North Korea. My new friend Andrea and the other group leaders seem to be well respected in North Korea, which I'm sure is an exception. They know the culture VERY well and any question they don't know the answer to, they have guides in the country that were open about answering pretty much anything. I found it was good to clear the question first just to make sure it wasn't too inappropriate. Everything we planned on the tour happened like I hoped and there were even some extra things that popped up last minute that we got to add in once we were there.
Uri: Would you recommend visiting North Korea to others?
Eric: Yes. I'm sure like me, everyone will find things are different than expected. To get a glimpse into such a mysterious country is an awesome experience. It's impossible to walk away unchanged.
You can follow Eric on The Global Odyssey at gowitheric.com. He is now on his 6th country in Turkey, 189 countries to go!
Take the plunge and travel to North Korea this summer to see it for yourself! Book your once-in-a-lifetime DPRK adventure today.
If you'd like to be a part of our Traveler Spotlight Series to North Korea, reach out to us at [email protected] Also, be sure to check out our new Uri Tours YouTube channel offering you raw footage from inside the country! You can also interact with us on Google+ for your daily dose of NK news and culture.