How to get a visa to North Korea
Although North Korea (DPRK) may be the most closed nation on earth, obtaining a tourist visa with Uri Tours is a simple process.
Firstly, you must join a tour. All tourists to the DPRK must be on an approved, guided tour organized by an authorized tour operator such as Uri Tours. Independent travel to the DPRK is not possible. It is not possible to organize your DPRK visa yourself.
After joining a tour, we handle the DPRK visa application process from start to finish. Our listed tour price includes the DPRK visa fee. It's a seamless process!
All we need from you is the following:
A filled-out visa application form (online)
A photocopy of your passport
A passport-style photo
Once your DPRK visa application is approved, your DPRK visa will be issued on a separate paper card, not inside your passport. We collect this on your behalf at the DPRK consulate in Beijing. You receive this paper card at our meeting point on the day of your tour departure. You're ready to go!
Yes, it's that easy!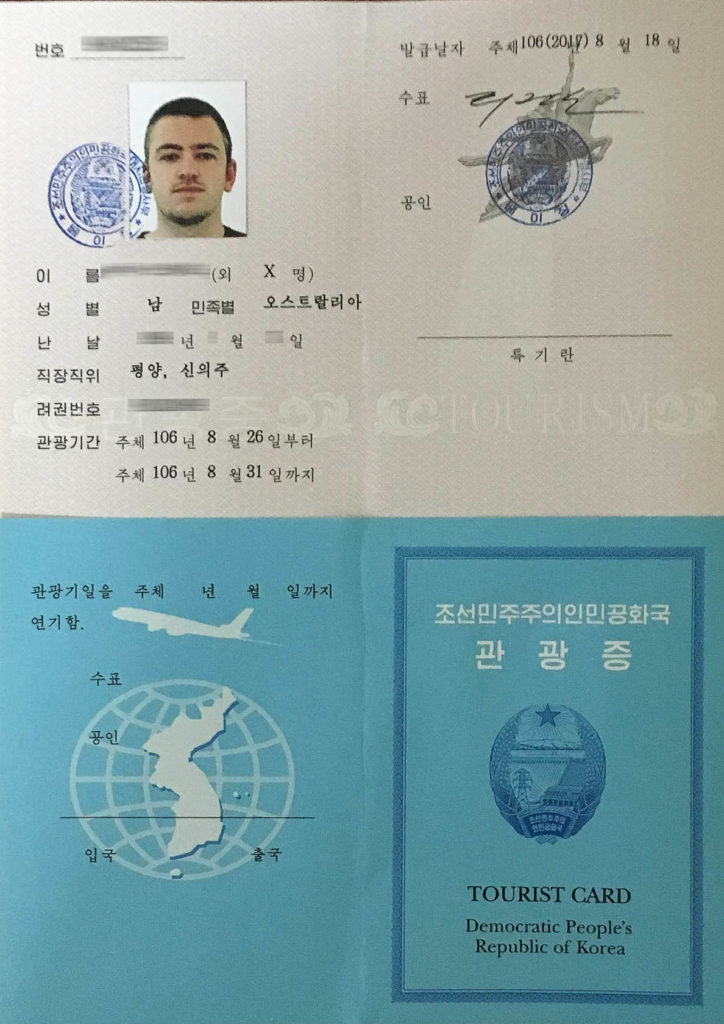 Do I need to send you my physical passport?
No. All we require is a filled out visa application form (online), a passport scan and a passport-style photo. Your DPRK visa will be issued on a separate paper card and given to you on the day of departure.
Which nationalities are ineligible for a tourist visa?
Those traveling on South Korean passports are ineligible for a DPRK tourist visa. Those traveling on U.S and Malaysian passports are also currently restricted from visiting the DPRK by their respective governments. We are currently unable to take those traveling on South Korean, U.S and Malaysian passports on our tours.
I'm a U.S citizen, can I get a visa?
On September 1 2017 the U.S Department of State declared all U.S passports invalid for travel to, through or within the DPRK unless the travel meets certain criteria. Unfortunately, tourism does not meet this criteria. We are currently unable to take those traveling on U.S passports on our tours.
Who else is ineligible for a tourist visa?
Professional journalists are ineligible for a DPRK tourist visa. Journalists are historically only permitted to visit the DPRK during special events and other extraordinary prearranged circumstances. If you are a part or full time photographer, or work for media in some other capacity, contact us and we will advise. All travelers on tourist visas must be visiting North Korea for the sole purpose of tourism.
I have visited South Korea before, is this a problem?
No. Having a South Korean visa and/or entry and exit stamps from South Korea in your passport is not a problem.
Does visiting the DPRK affect travel to other countries?
No. Visiting the DPRK will not affect your travel to any other countries. Your DPRK visa is also issued on a separate visa card, not in your passport. Your passport will not be stamped on entry or exit to the DPRK.
Can I get my DPRK visa in my passport instead?
This is possible only if you have a DPRK consulate in your home country. On request, we can organize for your DPRK visa to be issued at your specified DPRK consulate. This process takes more time and you must organize an appointment with the DPRK consulate to collect the visa. The DPRK visa fee will be payable in cash at the DPRK consulate.
After my DPRK visa is approved, do I need further travel documentaiton?
From our departure point, all that is required to enter North Korea is your passport and your DPRK visa. DPRK entry immigration forms will be given to you on your flight or train.
The majority of our tours depart from China, most commonly Beijing but often Dandong, Shanghai and Shenyang. Departures from Vladivostok, Russia are also possible. It is the responsibility of the traveler to ensure they have the appropriate Chinese or Russian visa to join and return from their tour with us. Beijing, Shanghai and Shenyang enjoy a 72-hour visa-free transit policy which may prove useful, however, there are associated risks we have outlined here.
I am not visiting as a tourist, can you assist me get a visa?
Yes. Uri Tours is a full service DPRK destination management company. We can provide visa service to delegations with arranged visa permissions.
Can I enter anytime during the visa period?
No. Your entry date and port of entry must strictly reflect that shown on your DPRK visa. It is not possible to join your scheduled tour late.
Ready to book a tour and get the process started? Take a look at our available group tours. We can also organize a tailored private tour for you. If you have any questions, please contact us!