Is There Internet in North Korea?
For most of the world, the internet has taken hold as an irreplaceable learning tool and social obsession that we simply cannot live without. We now have limitless information at our fingertips and the ability to stay in touch with friends and family in real-time, wherever they may be. But what about inside North Korea? Is there internet in North Korea and if so, to what extent? Read ahead to find out!
Is there internet in North Korea?
Yes, there is internet in North Korea but it is strictly controlled. The World Wide Web as we know it is typically only available to certain government departments, educational institutions, enterprises and foreign residents or visitors (tourists!)
It may surprise you to learn that a growing number of North Koreans are spending their time glued to their smartphones and tablets. However, the overwhelming majority do not have access to the global internet. Instead, there is a local intranet (closed service) named Kwangmyong where state-approved content can be accessed such as educational material, local company portals/websites, weather forecasts, games and news sources such as the Rodong Sinmun (Workers' Newspaper). The intranet also includes its own search engine and email service. Kwangmyong intranet can be accessed wirelessly over cell networks and as of recently in Pyongyang, over Wi-Fi, but cannot be accessed from outside North Korea. Conversely, outside websites on the global internet cannot be accessed from the Kwangmyong intranet.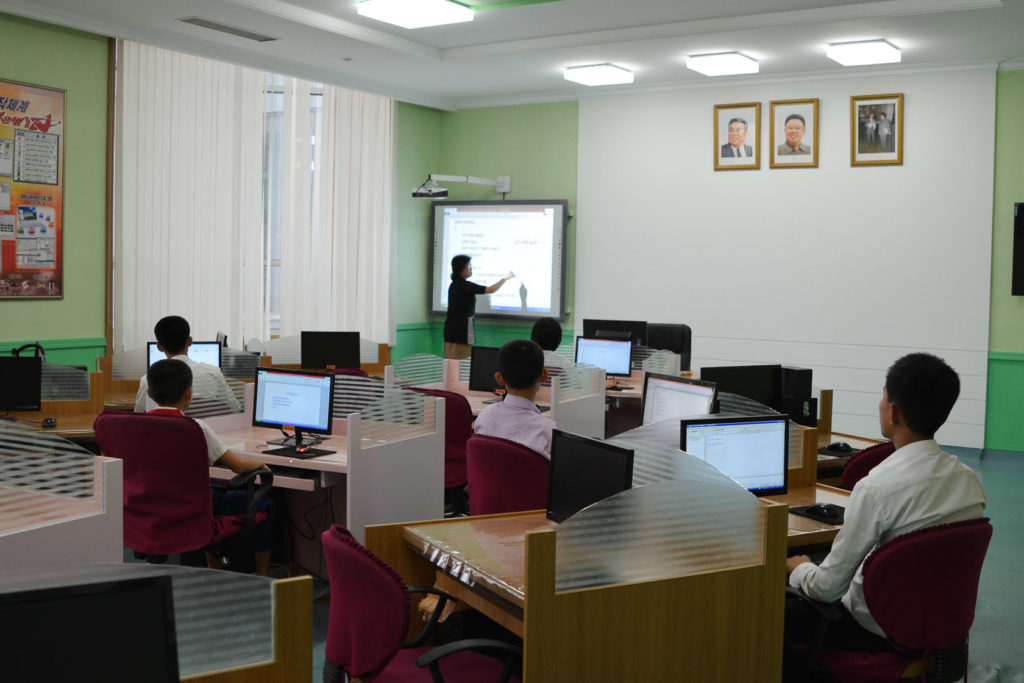 Will I have the internet during my visit?
As a general rule, you will not have internet access during your visit to North Korea. However, there are exceptions to this, as below.
Mobile Internet
While no foreign SIM cards will have roaming capability inside North Korea, there are three local telecommunications providers and one of them, Koryolink, offers a 3G network available to foreigners (residents or tourists) which provides access to the global internet.
For travellers on a private tour with us, it's possible to purchase a Koryolink SIM card and get set up at the Koryolink booth at the airport (not always open) or alternatively arrange a visit to the International Communications Centre or Pottonggang Hotel in Pyongyang which also provides Koryolink services. The registration and setup process can take considerable time out of your itinerary. SIM cards cannot be arranged in advance.
The initial purchase and setup of the Koryolink SIM card, including 3G/internet registration, costs 200 USD and it comes preloaded with 50MB data. Additional data costs are high at 0.18 USD/MB and there is a further 22 USD monthly fee to keep connectivity. You can top up with foreign currency in major international hotels, at a Koryolink booth or with a Narae debit card. Topping up comes with free minutes and texts.
The network coverage is great and connectivity is fast in Pyongyang and other major cities, but the signal strength can be sporadic or drop out completely when in transit or in rural areas. Most social media such as Facebook, Instagram and YouTube are blocked.
Koryolink has two networks, one for locals and one for foreigners. With this SIM card, you won't be able to call local Koreans and vice versa, but you can call other foreigners or domestic locations with international phone lines such as international hotels and foreign embassies.
While 3G is the most convenient way to stay in touch back home, the high setup costs and data rates ensure the service is only used when absolutely required.
Hotel Internet
There are a handful of accommodations (which we stay as default on our tours!) which offer rudimentary internet access.
The Hyangsan Hotel in Mt. Myohyang, the Masikryong Hotel near Wonsan and the Majon Hotel in Hamhung offer in-room internet connectivity, albeit sporadically. Connectivity costs extra and there is no Wi-Fi which means you must connect directly via ethernet cable, ruling out most modern portable devices. The Hyangsan Hotel also has a shared computer with internet access in paid blocks of 30 minutes. The Pothonggang Hotel in Pyongyang is the only hotel to offer Wi-Fi connectivity, accessible in the lobby in paid blocks of 10 minutes
Other Access
Foreigners on longer-term stays such as embassy staff, humanitarian workers, students or teachers typically have access to the global internet through the dedicated landline of their relevant institution (which are on the international network). The internet can be accessed via direct ethernet connectivity. Unapproved Wi-Fi hotspots have not been permitted since 2014.
How else can I contact home?
Although you'll unlikely have internet access throughout your tour, you'll easily be able to contact home during your stay. The hotels included in our itineraries have an 'international communication centre', allowing you to call internationally, send/receive an email or simply send a postcard (great souvenir!) You can also make international calls directly from your room, but the price is higher than in the centres.
Importantly, don't be shy to ask your (foreign) Uri Tours guide if you need to send an important message or make an important call. Our foreign staff have Koryolink 3G sim cards to ensure we're always in direct contact!
Join us on an upcoming scheduled group tour or a tailored private tour, however, you'll have to wait until you get home to share those selfies on social media!