Is Air Koryo a One-Star Airline?
Air Koryo is the flag carrier of North Korea and its only airline. Over the years, Air Koryo has been branded by media as the 'worst airline in the world' and labelled a 'one-star airline', a stigma that's proven tough to shake.
But is Air Koryo really a one-star airline? Is this rating deserved? What's it like to fly Air Koryo?
As a North Korea tour operator with over 15 years of flying Air Koryo, we're in a great position to share our experience!
Who gave Air Koryo the one-star rating?
The 'one-star' badge was given to Air Koryo by a privately owned airline and airport review website named Skytrax. Skytrax ranks airlines based on the overall flight experience, including aspects such as frequent flyer program, lounge access and in-flight entertainment.
Despite this Skytrax rating being unofficial, and of unknown derivation, the 'one-star airline' tagline gained legs with tabloids, travel blogs and videos as great clickbait. Ironically, that may be how you found this article!
Skytrax has since changed their rating for Air Koryo to 'Airline Not Rated', and as at 2020 Air Koryo is rated 6/10 by user reviews on the site.
What's it really like to fly Air Koryo?
While Air Koryo is not perfect, based on our experience, we strongly disagree with the 'one-star' rating.
From the aircraft itself down to the in-flight meals, you'll find flying Air Koryo to be an undoubtedly familiar yet unique airline experience. You won't be powering through the latest Hollywood blockbusters or window-shopping Gucci in a duty-free magazine, but you will be reading the Pyongyang Times and treated to a Moranbong Band performance on your overhead monitor. As a tourist, flying Air Koryo is as much about the transit as it is an intriguing encounter with the quirks of an airline serving a country largely isolated from the international community. It's on Air Koryo where your North Korea adventure will begin!
We've broken down different aspects of Air Koryo below to give you an idea of what to expect.
Air Koryo pre-flight
Destinations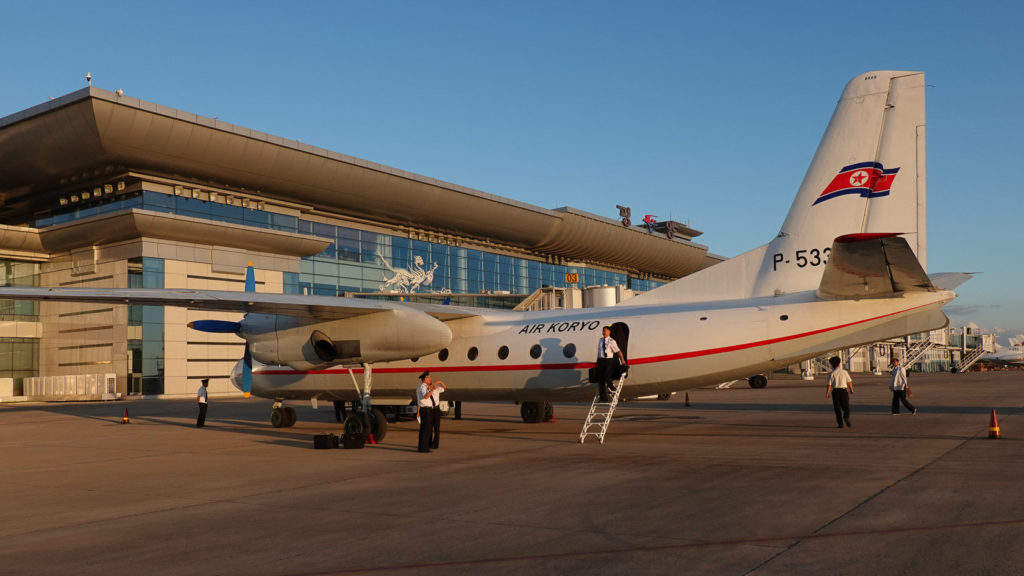 Air Koryo only flies a handful of international routes. Currently, scheduled flights run between Pyongyang and Beijing, Shanghai, Shenyang, and Vladivostok. We're able to operate tours between any of these destinations.
Domestically, Air Koryo flies regional legs between Pyongyang, Sinuiju (Uiju), Mt. Paektu (Samjiyon), Chongjin (Orang), Hamhung (Sondok) and Wonsan (Kalma).
Aircraft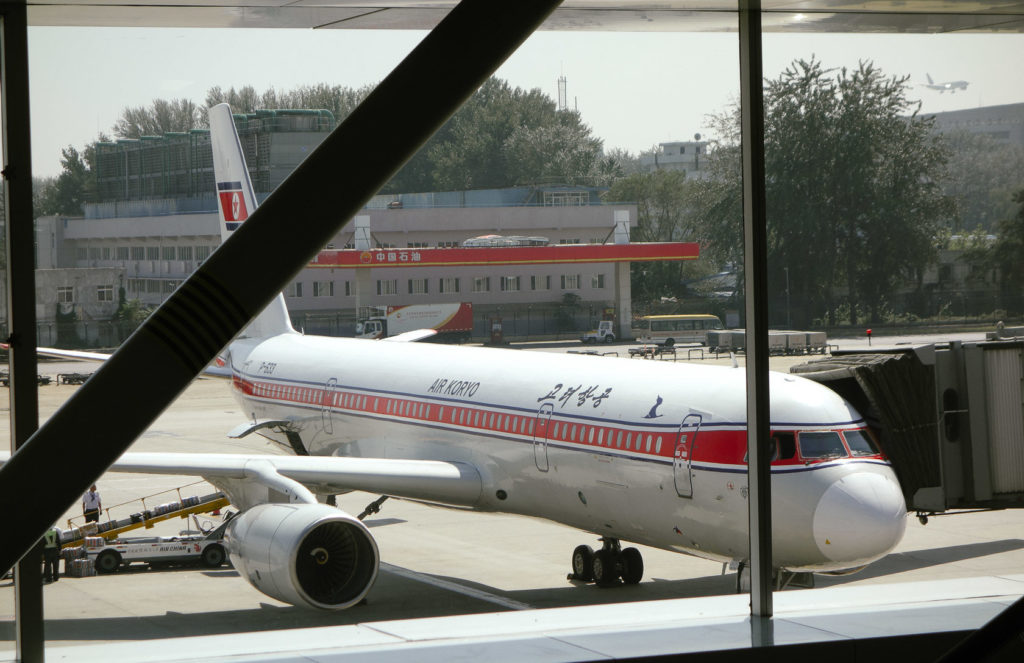 Air Koryo's small fleet comprises largely of aging Soviet-era jetliners. However, these older aircraft of the 'golden age of flight' are typically only used for domestic routes. On major international routes such as Beijing and Shanghai (the primary routes of our tours), Air Koryo's go-to is their modern Tuplolev TU-204-300 commercial airliners, which are of international standard and permitted into EU airspace.
Scheduling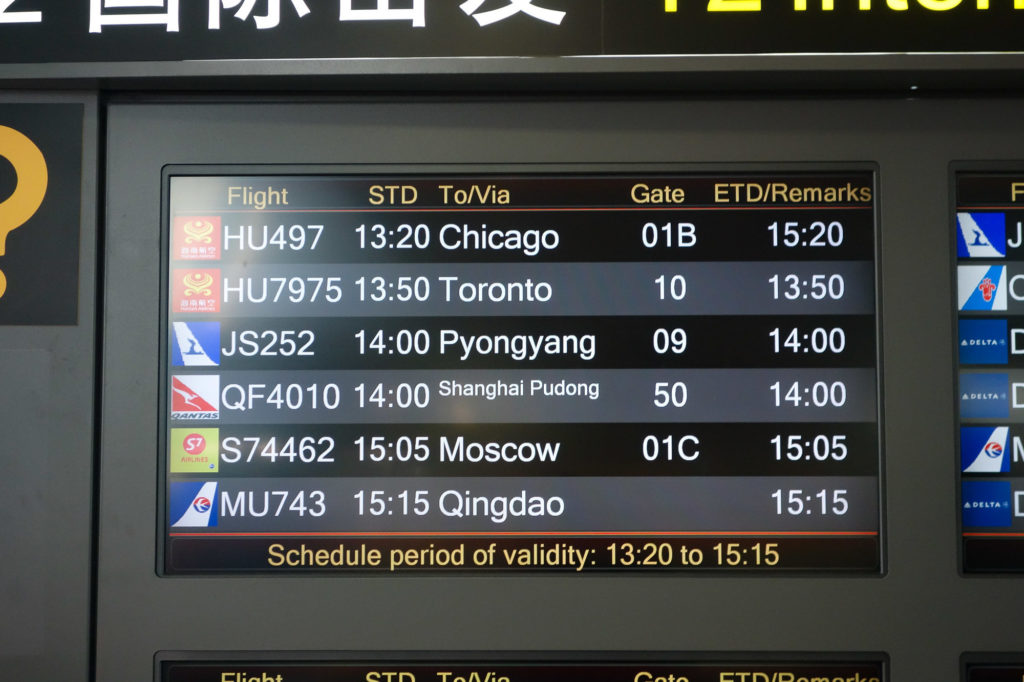 We all remember that flight that's jetlagged us for days. This won't happen on Air Koryo as flights are short (sub 3 hours, regardless of route) and departures are during sane daylight hours. The only exception is their late-evening departure from Shanghai, which has its own benefits!
Booking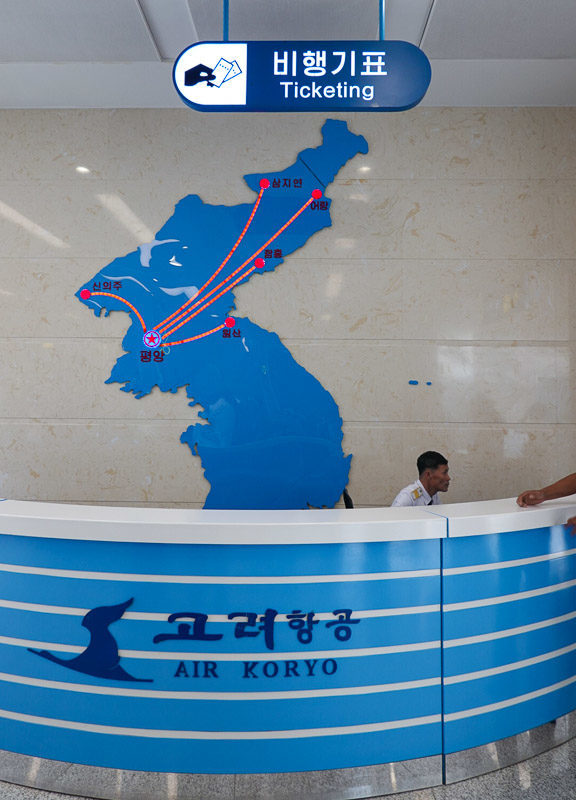 Despite promising 'Cheap Deals to Pyongyang Now!', your favourite flight aggregator won't be able to book your flight on Air Koryo. It's also not possible to book Air Koryo flights yourself online. Instead, your arrangement will be seamlessly handled through your tour operator or host agency, who'll send through your flight details.
Frequent Flyer
As the only airline serving North Korea year-round, and with frequent flyers to Pyongyang few and far between, there's not much incentive for Air Koryo to offer a loyalty program. Our staff would love if they did, though! 😊
Check-in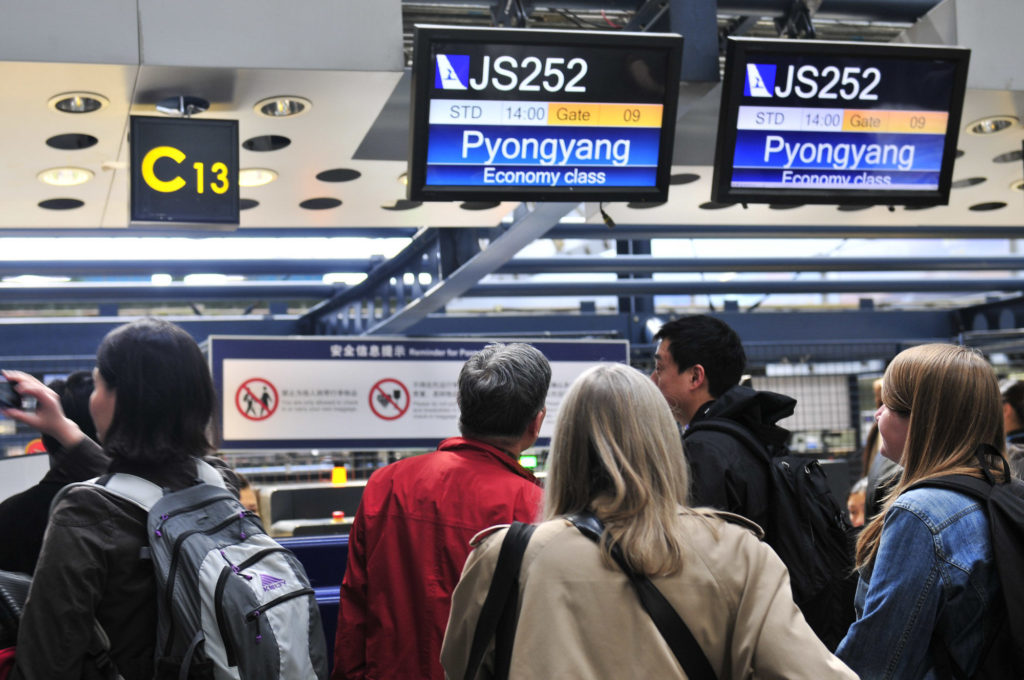 With a full flight, check-in with Air Koryo in China can take time. Checking in passengers is a well-oiled but manual process against a passenger manifest, and security-screening of checked luggage is performed on the spot which can bank up the line when there's an issue. It's common to see North Koreans heading home with a trolley of checked suitcases and boxes! Check-in staff are kind and will give you a window seat if requested (and possible).
Luggage
Luggage allowance on Air Koryo is 23kg for economy, and 30kg for business. This reflects international standards for full-service airlines and well beyond budget airlines. Officially, the carry-on limit is 5kg but this is loosely enforced.
Boarding and Punctuality
The boarding experience is no different to any other flight. Boarding is by air bridge in Beijing and by shuttle bus in Shanghai. Air Koryo is almost always on time, especially true when departing Pyongyang (no other air traffic!) Delays can happen on the China side, particularly Beijing or Shanghai, as these airports see high volume and air traffic congestion can delay taxi to the runway.
Business Class
Separate check-in is provided for Business Class. Air Koryo have their own lounge in Pyongyang (you'll likely have it to yourself!) but in China you'll get access to the Air China lounge instead.
Air Koryo in-flight
Seating
Seating on Air Koryo is comfortable and spacious and you won't be shortchanged that 2cm legroom just so the airline can fit in another row. Seats are otherwise standard to anyone that's flown internationally. Seats don't have headrest monitors.
Cabin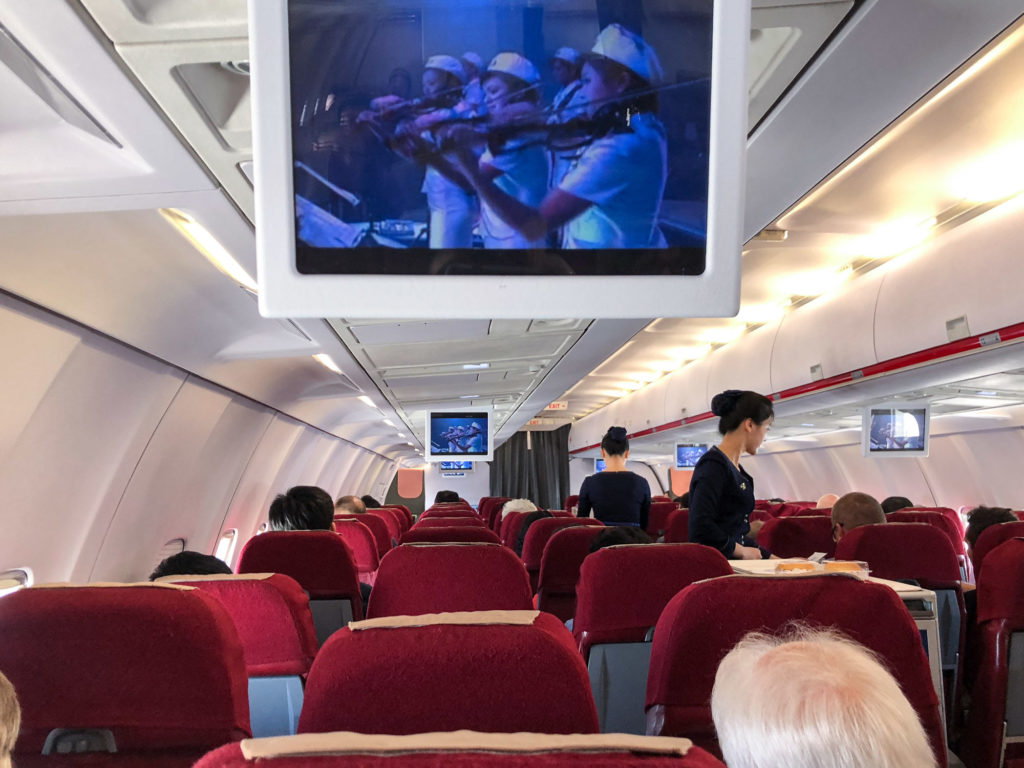 Cabins are in good condition, but timeworn. The cabin temperature is a contentious issue, typically being too hot almost to the point of sweats in the summer months. There's a safety briefing video in Korean subtitled in English, an emergency procedure card in the seat pocket, and announcements are made during the flight. Smoking is prohibited and international safety precautions are followed, such as seatbelt on, tray table stowed away, and window shades up for takeoff and landing.
Inflight Entertainment
It now becomes abundantly clear you're traveling to North Korea! The air stewardesses will hand out reading material published in Pyongyang, such as today's Rodong Sinmun (Worker's Newspaper), the Pyongyang Times (in English), and magazines such as Korea Today and Foreign Trade. They have limited copies, so if you sit near the back you may be out of luck!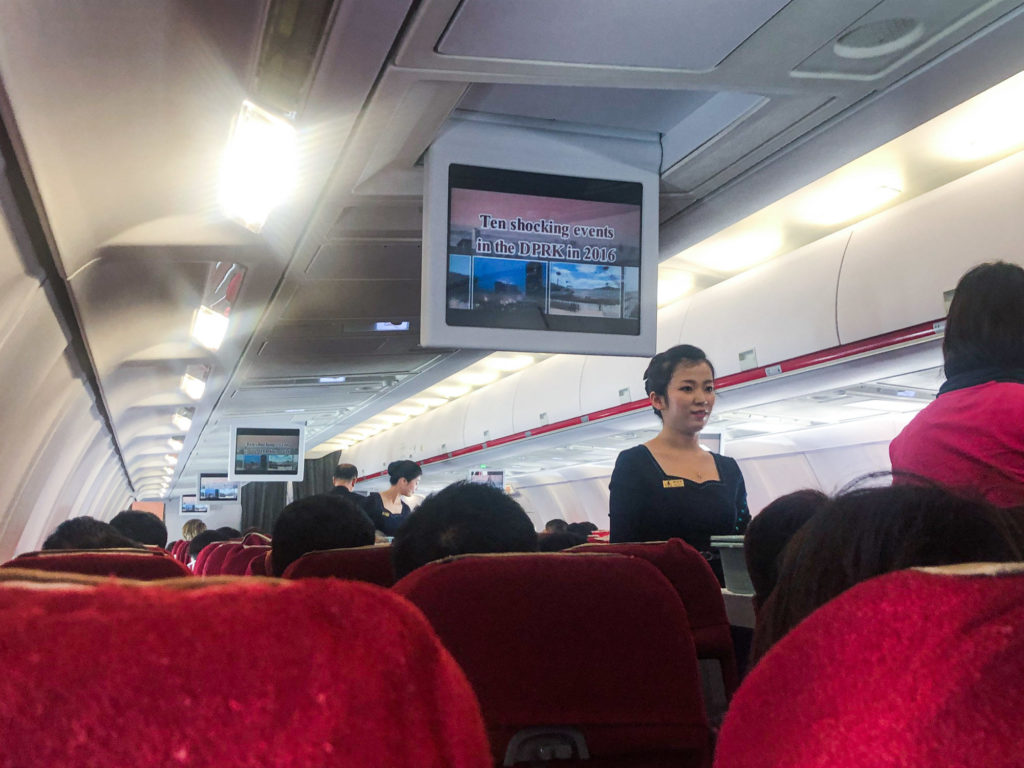 After takeoff, an overhead monitor will play wildcard content for the cabin. This ranges from North Korean music performances, patriotic introductions to tourist sites, a North Korean movie or TV show, Buzzfeed-Esque countdowns of recent achievements, or even advertisements for North Korean medical products. Whatever is showing, it'll be on repeat and played through the cabin speakers – no headphones needed (or muting possible!)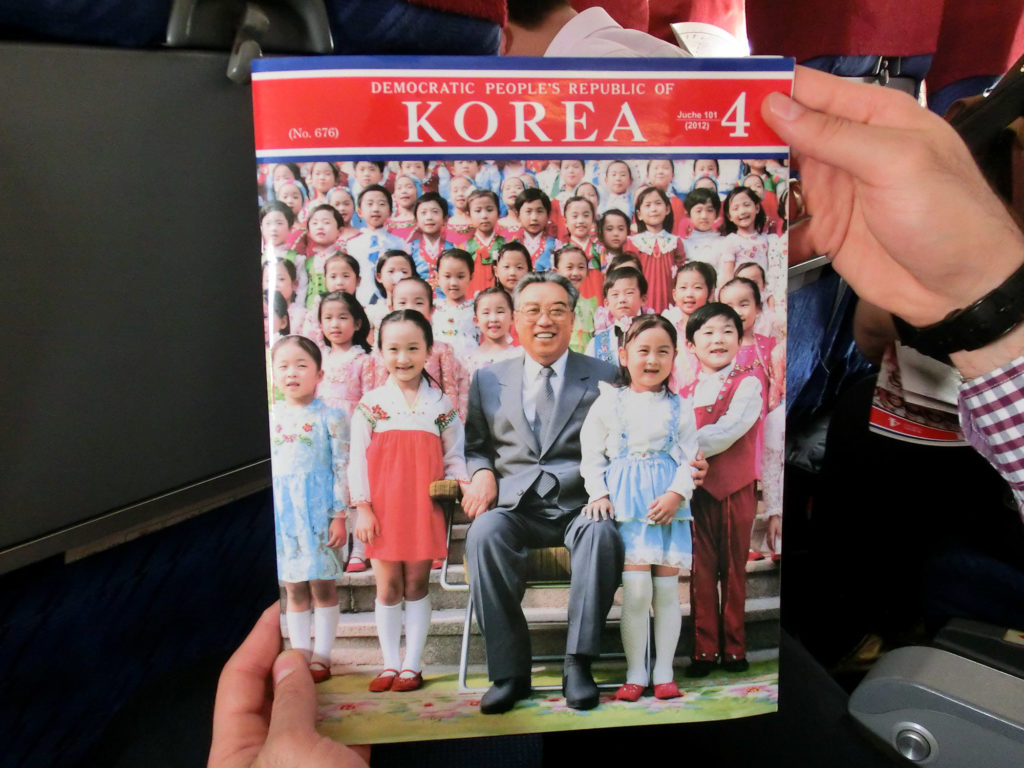 Inflight Meal and Drinks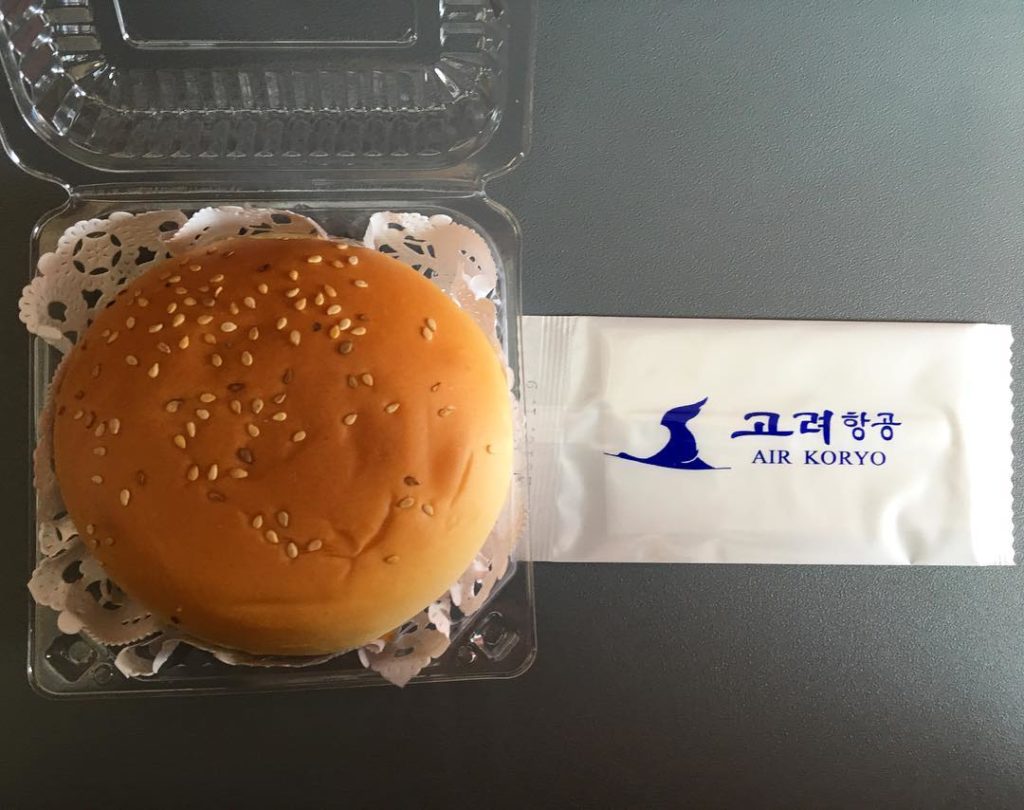 The famous Air Koryo burger, what more needs to be said? This burger has attained somewhat of a cult following, a glistening bun of countable sesame seeds encasing what's dubbed a 'mystery meat' patty topped with cheese and lettuce, served cold on an ornamental mat. Whether it's good is polarizing, some swear by it while others turn it down as it's handed out. It's thought to be chicken, but we'll let you be the judge!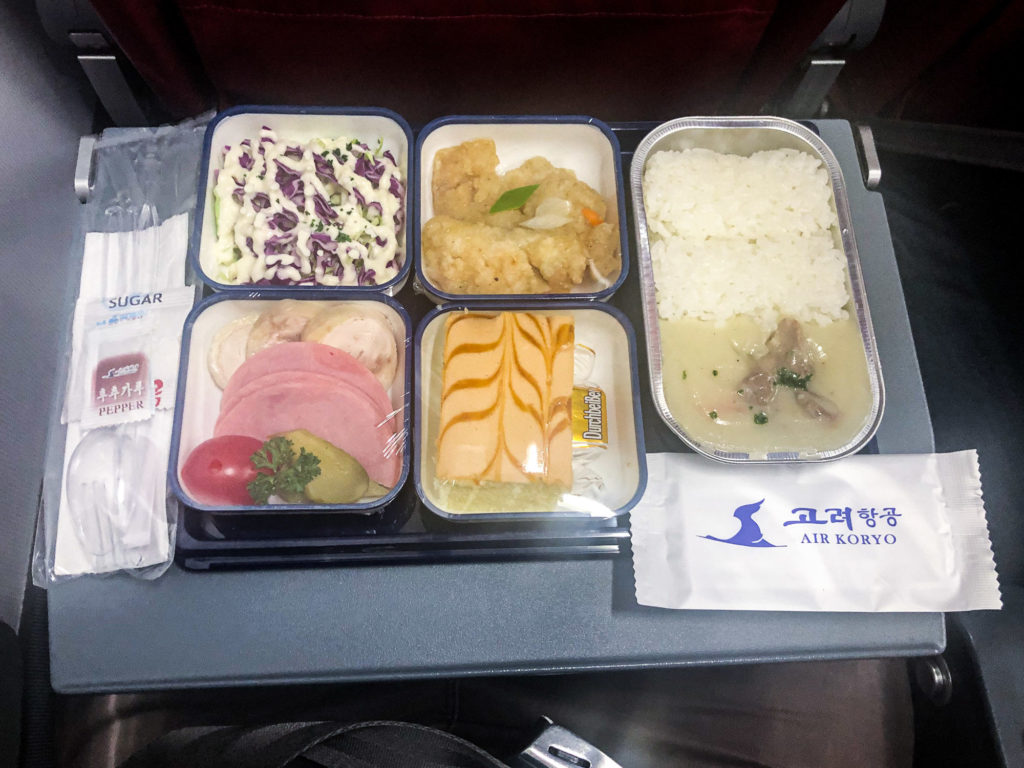 You've no choice in meals, but it's untrue that the Air Koryo burger is served every time. A triple-decker sandwich of cheese, ham, and cucumber often replace the Air Koryo burger, and on the Shanghai route you'll get a familiar tray of airline nibbles, and we've even been served a mini loaf of plain bread without any spread or condiments before. The food selection can be a lucky dip and somewhat peculiar.
Complimentary water, soft drink (Air Koryo branded), tea or coffee are all available. Alcohol isn't available in Economy Class.
Duty-free
On flights departing Pyongyang, a duty-free cart of North Korean-made goods will be hastily shuttled down the aisle. Products typically include ginseng, souvenir dolls, embroidered pouches, notebooks, and tea. There's no catalog to look through, so you'll need to keep your eyes peeled and hail down the stewardess as they head past!
On departure from Pyongyang, there's last-minute duty-free shopping to be had airside after security, and souvenir outlets such as a bookshop, 'newsstand' and 'cd' shop. There's also a medicine shop and a coffee shop (with sporadic wifi!)
Flight Attendants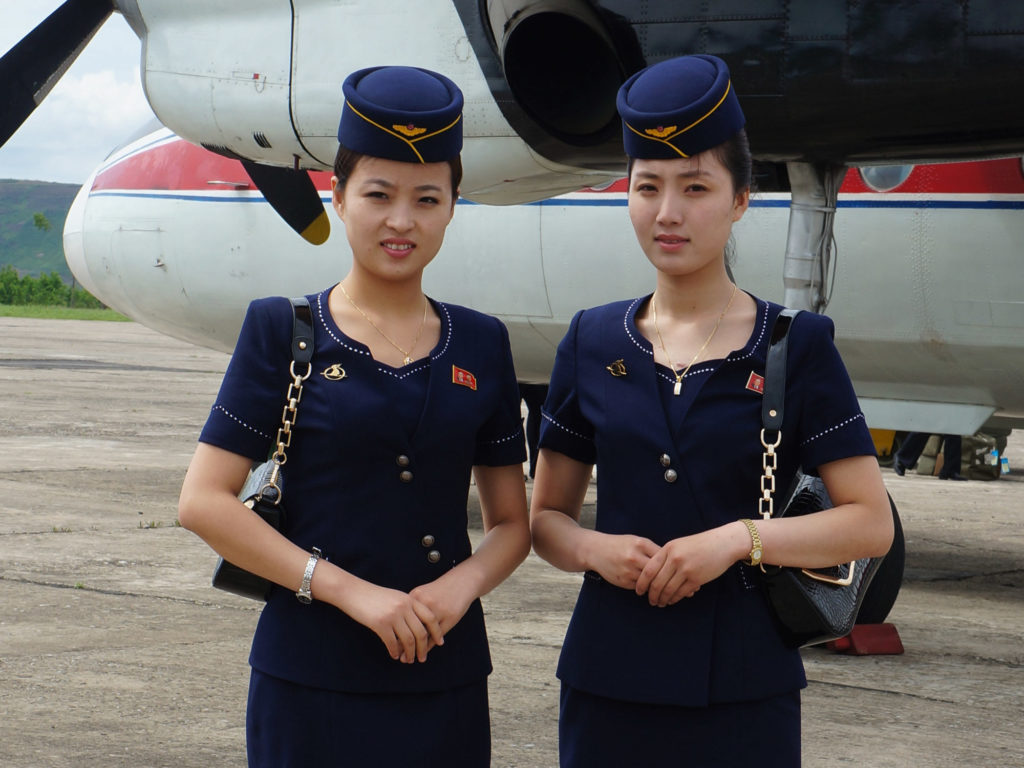 An all-female cast draped in spotless navy-blue uniforms, an upgrade from the bygone red, Air Koryo's flight attendants are professional, polite, and stern at the sight of a camera. Multilingual ability varies, but as a rule, it can be difficult to communicate in English beyond asking for a 'cola, thank you'. In any case, you'll be well looked after during the flight. Air Koryo's stewardesses featured prominently in a past calendar spread which you may like to check out!
Forms and Arrival Preparation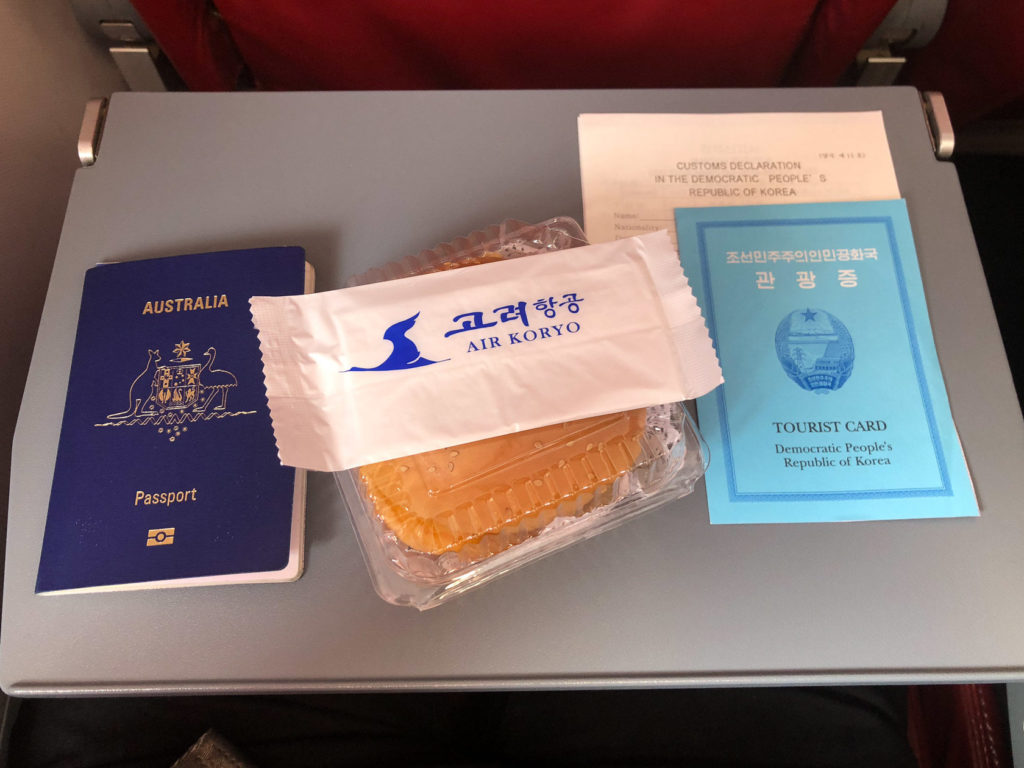 During the flight, the cabin crew will hand out an immigration, quarantine, and customs form for your arrival in Pyongyang. Along with your passport and North Korea visa, you'll now have a handful of paperwork. It's not uncommon to receive a form in the wrong language, or with one missing, but this is always quickly fixed. The forms are quite extensive, so we recommend filling them out well before arrival or you'll be awkwardly scribbling against the wall at quarantine!
Business Class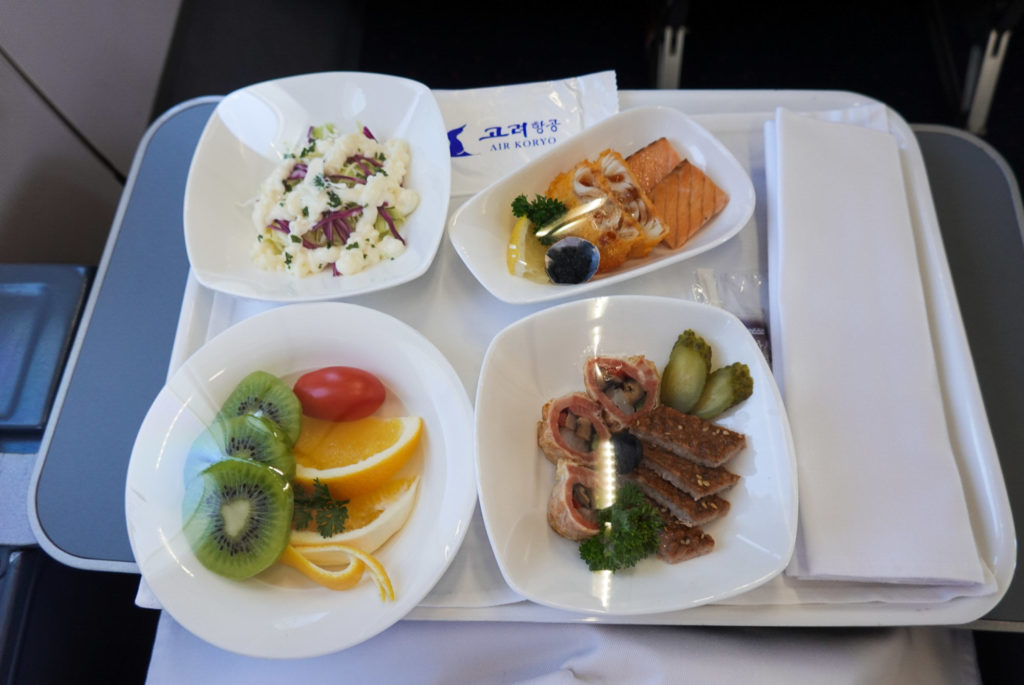 There are 12 Business Class seats in a standard 2-2 layout on Air Koryo's Tupolev TU-204-300. Seats are spacious with legs rests and are a comfortable leather with silk pillow. Complimentary hot towel and a welcome drink are provided, you'll enjoy a high-quality meal (missing the Air Koryo burger is bittersweet) and you'll get your first taste of North Korean beer!
Disembarkation and Airport Terminal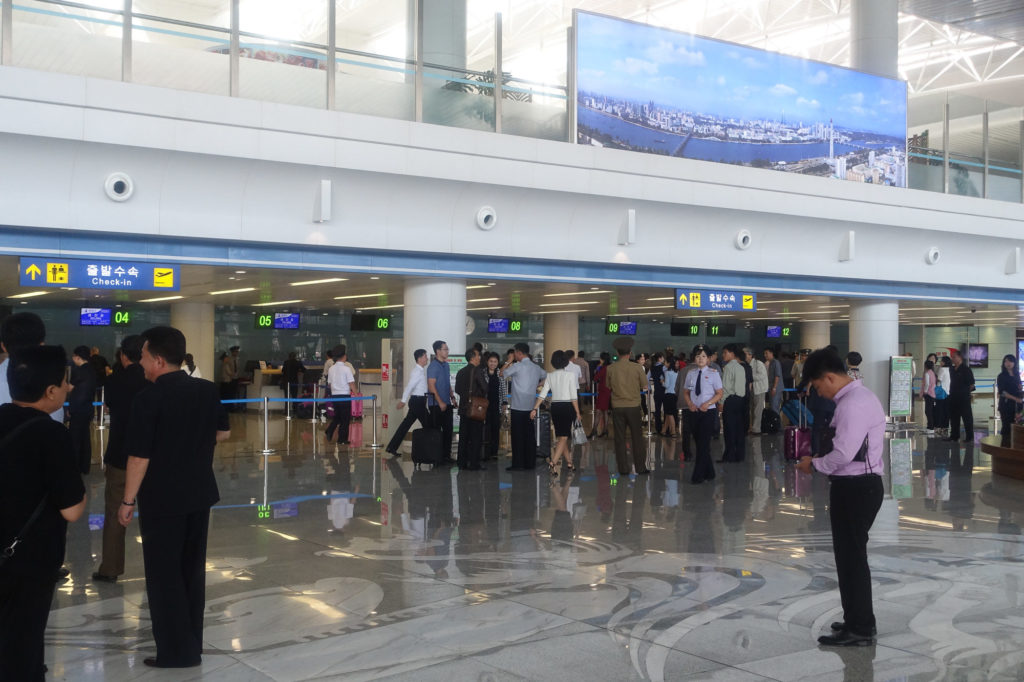 The years of disembarking into the rain onto an antiquated Air Koryo shuttlebus are in the past. You'll now disembark through a jet bridge and filter through a spotless, modern airport renovated in 2015. All immigration counters are manned, even for just one flight. There's no walk to the baggage carousel and the efficiency of quarantine and immigration can often leave you feeling like you've waited forever for your bags to arrive. Cargo can be unloaded amongst passenger bags, so expect a full carousel, but lost luggage is extremely rare. After finding your suitcase, head through customs to be warmly greeted by our guides to begin your tour!
What's the verdict on Air Koryo?
Flying on Air Koryo at its core is a standard flight of familiar procedure and service, in a typically modern aircraft. The overall experience teeters on the edge of full-service, well clear of budget.
Based on its current product, it would be simply unjustified and groundless to rate Air Koryo a one-star airline. To do so would be an arbitrary ranking of novelty or hyperbole.
However, a lack of attention to detail on inflight comfort, odd and unappealing food selections, and limited multilingual service from air stewardesses leave room for improvement. It'd be nice to see incentives for regular flyers, too!
Importantly, for most travellers, the unique chance to fly North Korea's flagship airline will be memorable and trump any minor gripes with the flight.
In our experience, Air Koryo is a reliable and historically safe airline and has been the bread and butter of our North Korea tours for over a decade. We highly recommend including a leg on your trip!
Interested in flying Air Koryo? Our group tours include return flights on Air Koryo as default! We can arrange charter flights or domestic flights for your perfect private tour, simply contact us!