Mt. Myohyang Travel Guide
Mt. Myohyang ('Mysterious Fragrant Mountain') is one of North Korea's five celebrated mountains and is located 150km northeast of Pyongyang in North Pyongyan Province. Piro Peak is the highest point at 1909m, making Mount Myohyang the third highest mountain in North Korea.
Popular as a vacation hotspot, the Mount Myohyang range stretches 128km and is weaved with hiking trails and dotted by preserved ancient remains dating back to the 7th century. Legend says that King Tangun, widely regarded as the founding father of the Korean nation, called these mountains his home.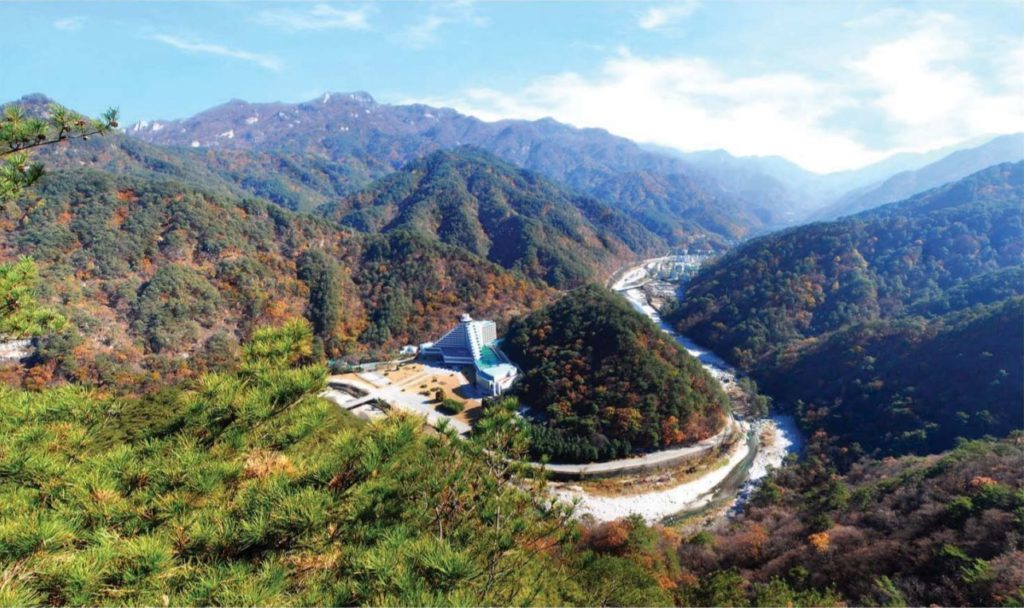 The landscape of Mt. Myohyang is comprised of spectacular woodland scenery, with waterfalls flowing over white granite outcrops, relaxing clear streams and a unique ecosystem of plants and animals which has earned its place as a World Biosphere Reserve by UNESCO. Within the sunken valleys, you'll find peaceful hermitages with practicing Buddhists, and ancient pavilions that have become favourite spots for an impromptu picnic. Mount Myohyang is particularly beautiful in autumn, where the dense pine forest is brushed with reds, yellows and oranges.
How do you get to Mt. Myohyang?
By Road: Mt. Myohyang is connected directly to Pyongyang by multi-lane road, the Pyongyang-Hyangsan Motorway. The 150km journey typically takes 2.5 hours. This proximity to Pyongyang makes Mount Myohyang the most accessible nature reserve for travellers with limited time. On the drive to Mt. Myohyang, it's possible to detour through Pyongsong city which is an important science and cultural hub. Anju city is also visitable but there is very little to draw tourists. Roughly halfway along the Pyongyang-Hyangsan Motorway there is a rest stop to buy snacks or have a coffee.
By Train: Mount Myohyang is also connected by railway between Pyongyang Station and Myohyangsan Station in Hyangsan town. However, to take this option, the train must be privately chartered.
By Helicopter: For those looking for something truly special, we can charter a Soviet-era Mil Mi-17 helicopter to reach Mount Myohyang from Pyongyang. There is a helipad just outside Hyangsan town.
What's the weather like in Mt. Myohyang?
Enclosed by towering peaks, the Mt. Myohyang area is protected from strong winds and remains relatively warm. The annual average temperature is 8 degrees Celsius, with temperatures ranging from below zero in January to 24 degrees Celsius in August. Annual precipitation is 1300mm of which 60% falls in July and August. The heat and rainfall of these months make hiking challenging, but the waterfalls will be at maximum capacity and after the rain settles and mist envelopes the valleys you'll see how Mount Myohyang got its name!
What is there to see in Mt. Myohyang?
On visits to Mount Myohyang, Hyangsan county will be your base for excursions into the range for the following sights and activities.
International Friendship Exhibition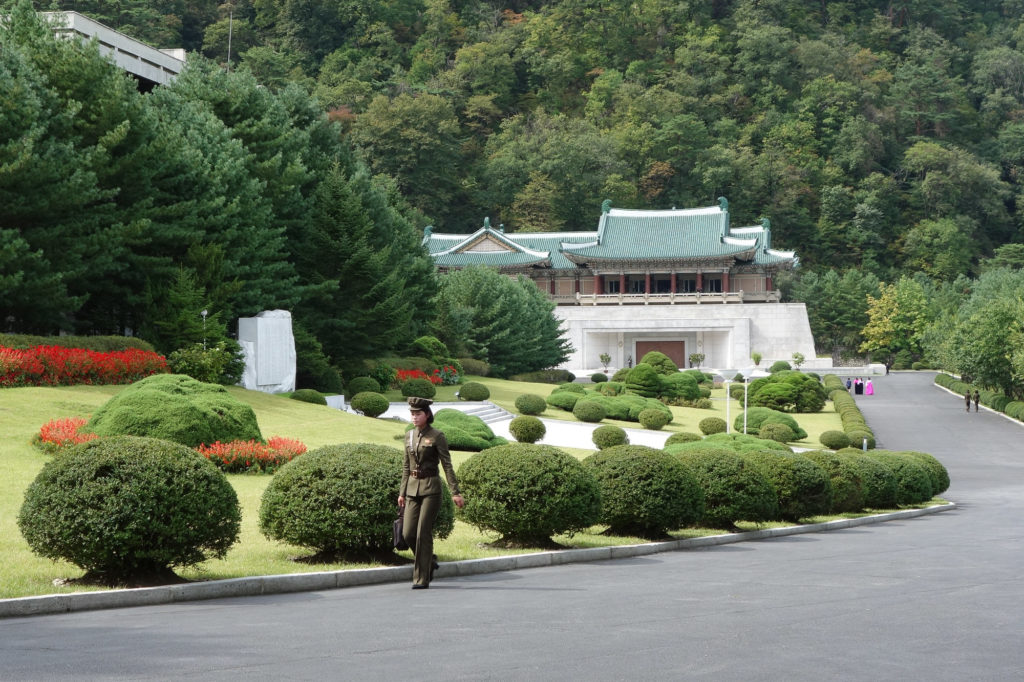 The jewel of Mount Myohyang, the International Friendship Exhibition is a massive complex opened in 1978 housing the lavish, practical and often eccentric gifts given to the Great Leaders by foreign dignitaries. Gifts date back decades right up to the present day, many of which were given to the leaders posthumously. The exhibition is said to symbolize friendship, reverence and admiration, and you can expect to find gifts given by people of history you may expect, and some you may not! The treasures are displayed in over 150 rooms across two traditional Korean buildings and are ordered by continent and country, including some nations which no longer exist. You'll find everything from gem-encrusted swords to tea sets, bear rugs, a train carriage from Mao Zedong, an entire aircraft from the USSR, and famously the basketballs signed by NBA stars Michael Jordan and Dennis Rodman.
Pohyon Temple
The ancient Pohyon Buddhist Temple was built in the 11th century under the Koryo Dynasty and became the centre of Buddhism in areas north of the Chongchon River. It remains an important national heritage site and perhaps the best-preserved temple complex in North Korea. Sections destroyed during the Korean War have since been restored to their original state. Pohyon Temple remains active with practicing Korean Buddhist monks, and after kicking off your shoes you'll be welcome to enter the Taeung Hall to partake in ritual. The site is a serene place for a walk, picturesque with gardens of bright flowers complimenting the early Korean architecture, with Mt. Myohyang as its backdrop. Relics such as the granite 13-story pagoda in front of the Taeung Hall, built in late Koryo dynasty, are particularly impressive.
Hiking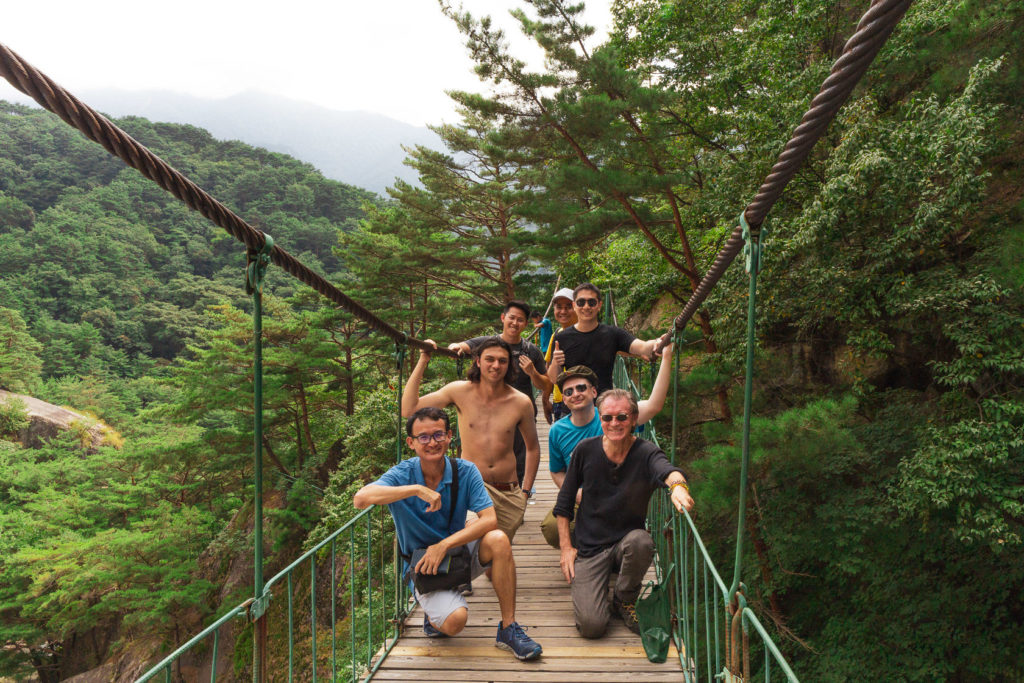 Mt. Myohyang offers some of the most beautiful hiking in North Korea. Hikes vary in length and difficulty, and are flexible to be undertaken as either return routes or interlinked across the Myohyangsan range for longer, and even overnight, hikes. There's no obligation to reach the peaks, and the scenery on these hikes is breathtaking throughout. Hiking Mount Myohyang is accessible to hikers of all fitness levels.
Manphok Valley
Manphok Valley means 'ten thousand waterfalls' and is the most popular hiking route on Mt. Myohyang. The name does not disappoint, as the Manphok Valley trail follows a succession of waterfalls cascading the mountain into crystal-clear pools. The hike begins with an ascent up Sogok Falls so one does not need to hike far to be rewarded with North Korea's untouched nature. The trail is lined with rugged rock formations topped by pavilions which make great rest stops to take in breathtaking views over the pine forest. The Manphok Valley track is well maintained and while steep in certain sections, there are steel handrails and treading installed. The hike to Kuchung Waterfall (9-Tiered Falls) is a 6.2km round trip.
Sangwon Valley
The Sangwon Valley hike is the least strenuous on Mount Myohyang, yet highly rewarding for those that complete the 6.6km round trip to Sangwon Hermitage. The hike begins beneath shaded canopy where you'll cross suspension bridges over gentle streams laden with waterfalls. You'll pass a myriad of historic relics including pavilions, temples and a unique monks' graveyard containing 44 stone stupas. The final stretch to Sangwon Hermitage is the most demanding, but dramatic views quickly emerge from the forest, and you'll be greeted at the top by perhaps the luckiest monk in North Korea thanks to the unrivaled outlook and serenity surrounding the hermitage. The route can be continued to Popwang Peak which is a further 3km of steep hiking.
Chonthae Valley and Chilsong Valley (Piro Peak)
Piro Peak is the highest point of Mount Myohyang. This trail is reserved for serious hikers with appropriate equipment. At 18km return, the hike should be approached as a two-day hike with an overnight spent wild camping. Both the ascent in Chonthae Valley and the descent in Chilsong Valley are on a steep unmaintained track, and a local guide is necessary. The full route to Piro Peak is rarely undertaken, but the 5.8km return trip to Isonnam Falls is an accessible choice. The 16th century Habiro Hermitage is a highlight en route to Isonnam Falls, nestled above the confluence of streams from each valley.
Ryongmun Cavern, Paengnyong Cavern and Songam Cave
Ryongmun (Dragon Gate) Cavern is an expansive limestone cave formed 480 million years ago by erosion from rainwater. The subterranean system is 6km long, broken into two major sections spanning over 30 wings. As far as caves go, Ryongmun Cavern is genuinely impressive and the local guides can be best described as cheeky and entertaining, with a repertoire of lude connotations and mythical legends up their sleeve as you pass notable stalagmites and stalactites. Bring a jumper as it's always cold underground!
Paengyong Cavern and Songam Cave are alternative cave systems, but are less impressive than Ryongmun Cavern and rarely visited by non-enthusiast foreigners.
How do I include Mt. Myohyang in my itinerary?
Due to its proximity to Pyongyang, there are flexible options to visiting Mt. Myohyang and the length will depend on your interests and desire for hiking.
Day-trip: Day trips to Mt. Myohyang from Pyongyang are possible but you can expect an early start, a late return and an overall exhausting day. The drive is 2.5 hours each way. We don't recommend this option unless you're extremely limited with time.
Overnight trip: This is the typical way to visit Mt. Myohyang and comes highly recommended. You'll make efficient use of your time, stay overnight in Mount Myohyang, and have breathing space for activities. Hiking can be arranged either the afternoon of arrival or left until the day after.
Multi-night trip: This option is recommended if you're planning to undertake at least two hikes in Mt. Myohyang. Without a focus on longer or multiple hikes, there's no need to stay more than one night in Mount Myohyang, one night is enough time to include the highlights.
Tips for visiting Mt. Myohyang
Bring a warm jacket for the visits to the International Friendship Exhibition and Ryongmun Cavern, which can get cold inside.
Bring comfortable shoes for hiking. If hiking in summer, bring a rain jacket and a waterproof bag to place valuables (camera) if caught in a rain shower.
Plan for a picnic in nature rather than eating back at the hotel
The International Friendship Exhibition and Pohyon Temple are best visited in the morning, with hiking after lunch.
Where to stay in Mt. Myohyang?
The 6-star Hyangsan Hotel in Mt. Myohyang is North Korea's finest accommodation, and it's our default on all tours that visit Mount Myohyang. The hotel's unique 15-story pyramid design occupies prime real estate, snug within the valleys beside a trickling stream. It perfectly encapsulates the mountain atmosphere. The decor is opulent with marble finishing, rooms have a private balcony and you'll be able to recover from that hike with ease at the indoor pool, spa, sauna or massage parlour. There are multiple bars and a karaoke room for those late nights, and table tennis and pool tables are there to challenge the locals. Hyangsan Hotel is one of very few places in the country to offer internet connectivity to foreigners, although availability is sporadic.
Chongchon Hotel is a third-class lodging located in Hyangsan town on the banks of the Chongchon River. Balcony views over the water are lovely and the hotel is built in charming Korean style with an internal courtyard, but the hotel overall has seen better days. Rooms are basic with relatively hard beds, the hotel has limited hours of hot water and power cuts are not uncommon.
Huichon Hotel is another option, unique for its location in Chagang Province which is rarely visited by foreigners. The hotel is basic and outshined by the Hyangsan and Chongchon hotels in both quality and convenience, but staying here can be arranged if you have a burning desire.
Interested in a getaway to nature? Mt. Myohyang is a fixture on most of our group tours and we can arrange visits privately for longer hiking adventures. Contact us!