Mt. Paektu and Samjiyon Travel Guide
Mt. Paektu is North Korea's tallest peak, the peninsula's most sacred mountain, and a dormant volcano. An enormous eruption formed its summit caldera which is now a sparse and deep crater lake named Lake Chon (Heaven Lake). Due to the white volcanic rock and year-long snow found covering the summit, it was named as 'Paektu' in Korean which means 'white top'.
Beyond its sheer scale and beauty, Mt. Paektu has a place in the hearts of all Koreans, considered to be the origin of the first Korean people. The mountain is said to be the birthplace of North Korea's late leader, Kim Jong Il, and the region is deeply rooted in the revolutionary history of the country. The surrounding forests are scattered with important historical sites of Kim Il Sung's early revolutionary activities in leading a guerrilla army to liberate Korea from Japanese colonial rule.
Mt. Paektu is located in North Korea's remote north-east within Samjiyon County, the mountain itself straddling the border and geographically shared with China.
How do you get to Mt. Paektu?
Currently, the only way to reach Mt. Paektu is by chartered flight to Samjiyon County. This is typically a return flight between Pyongyang Airport and Samjiyon Airport, but it can be combined with a charter flight between other domestic destinations in North Korea. We arrange our own charter flight to Samjiyon with Air Koryo every year in either August or September, and this is a great opportunity to fly one of the Antonov AN-24's in their fleet.
When is the best time of year to visit Mt. Paektu?
The winter at Mt. Paektu lasts from October until late-May, with the lake frozen over and conditions not ideal for visits. We've found that September is the best month to make the trip. Visiting in August is warmer but with a higher chance of rainfall. Even during August and September, you'll need to bring warm and waterproof clothing as the weather can be cold, windy and can change from one moment to the next. The maximum temperature is 20 degrees Celsius during summer.
Can I arrange to visit Mt. Paektu on any tour?
Due to the requirement of a charter flight, it means Mt. Paektu is difficult to reach and cannot be added as an extension to most tours. If the dates of our annual group tour aren't suitable, it's possible for us to charter flights to Samjiyon for private groups but this is typically cost-prohibitive unless your private group is large. If you're an individual or a small group, we're able to arrange you a private tour aligning with the set dates of our charter flight — simply ask us and we'll provide the options!
What is there to see at Mt. Paektu and Samjiyon?
The majority of visits to Samjiyon County are arranged as either a day trip or an overnight two-day trip from Pyongyang. The itinerary will typically be comprised of the following sites:
Lake Chon (Heaven Lake)
Lake Chon is the jewel of the region and the primary reason to visit Samjiyon County. After ascending Mt. Paektu you'll be rewarded with awe-inspiring, dramatic views of Lake Chon at the summit. Photos don't do this place justice! You don't need to hike the 2750m to reach the top, there is bus access just shy of the summit to hike the final stretch which only takes 30 minutes. There is also a sporadically-running funicular. It's possible to descend down to the lake either on foot or by cable car.

The revolutionary history of Mt. Paektu is studied by all North Koreans, and many students have the opportunity to visit this spiritual mountain for themselves. You'll often run into groups of locals marching the hillside in military garb mirroring that of the Korean People's Revolutionary Army of that time.

The border between China and North Korea cuts through the center of the lake, with North Korea controlling just over half. On clear days and with eagle-eyed vision, you may be able to spot Chinese tourists who've ascended the opposite side!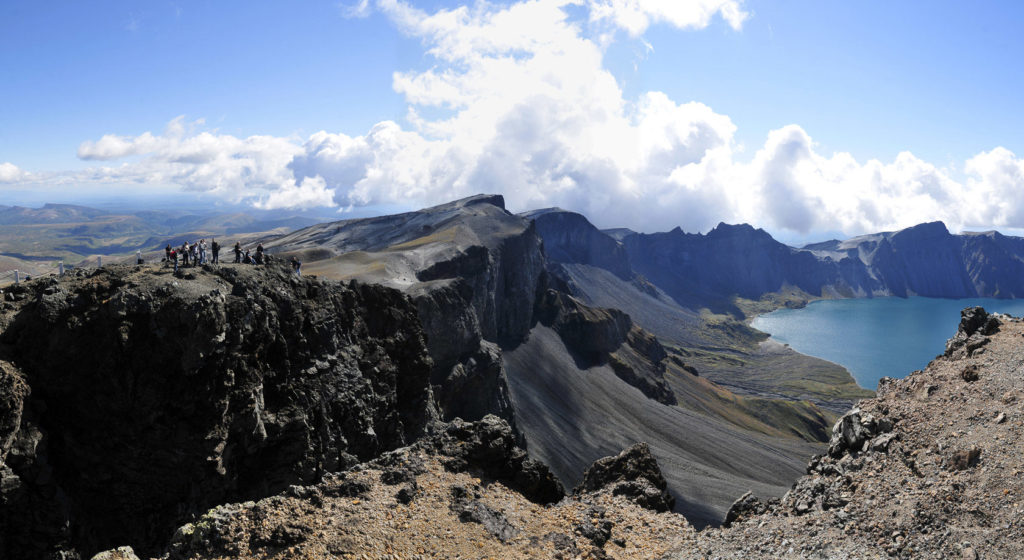 Rimyongsu Waterfall
Topped with a pavilion, the Rimyongsu Falls is a stunning scenic spot in Rimyongsu village nearby Samjiyon town. Underground streams reach the basalt rockface and flow out of the fissures to form 15-meter cascading waterfalls. The falls never freeze in winter and as the water escapes the embankment, it's said to look like white frosted flowers. Great to visit all year round if you're in the area!
Paektusan Secret Camp / Kim Jong Il's Native Home
Paektusan Secret Camp is one of North Korea's most important revolutionary sites. Hidden within the forests, the modest cabins preserved here once formed Kim Il Sung's headquarters as he led the guerrilla Korean People's Revolutionary Army in the fight for liberation from Japanese colonial rule.
Among the monuments, murals and relics here is the log cabin where Kim Jong Il is said to have been born on February 16, 1942. Towering above the valley you'll also find Jong Il Peak where his name is carved.
Chongbong Secret Camp
Another of the secret camps in the area, this one is famous for its 'slogan trees'. When these camps were uncovered, trees were found bearing slogans praising Kim Il Sung's efforts to liberate the country from the Japanese. These inscriptions are said to have been done by the guerrilla army hiding here. The slogan trees are now encased in glass and have hoods on them to protect them from the elements. There are famous stories of guerrillas protecting slogan trees from forest fire with their lives.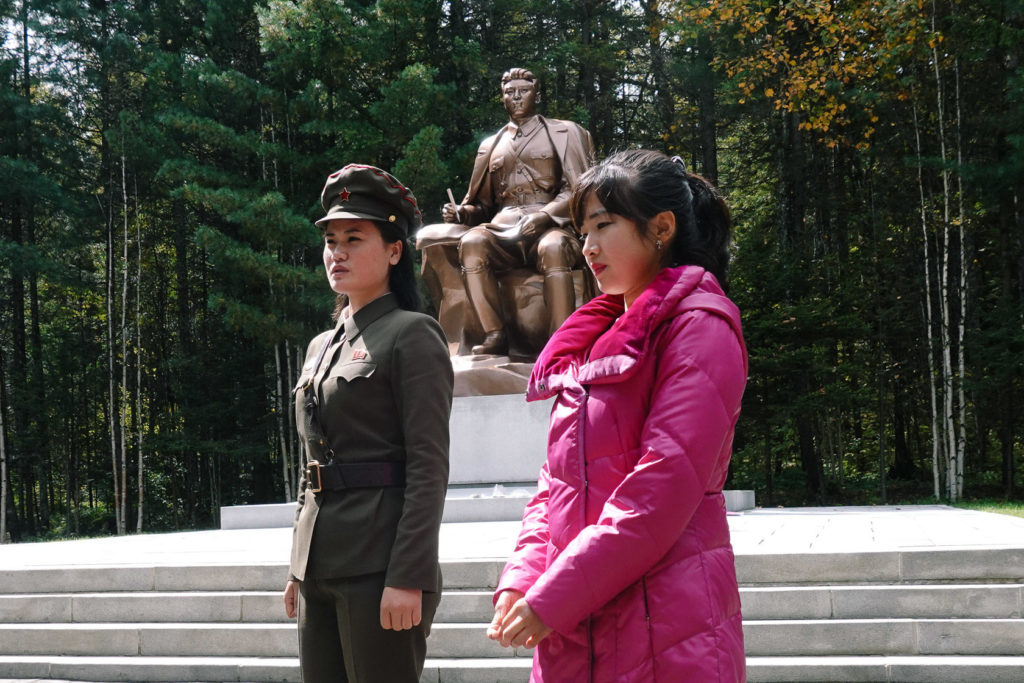 Samjiyon Ski Resort
While it's possible to ski here, chances are you won't be visiting during winter. Even in warmer months, it's worth driving to the top of the slopes for a picnic with an unmatched view of Samjiyon town!
Samjiyon Grand Monument and Lake Samji
The Samjiyon Grand Monument complex features the second tallest bronze monument of Kim Il Sung in North Korea at 19.7 meters. It depicts a young Kim Il Sung in guerrilla uniform holding binoculars and was unveiled in 1979 to commemorate the victory in a nearby battle. The complex sits on the shore of Lake Samji formed by lava from an ancient eruption. On a clear day you'll be able to spot the summit of Mt. Paektu from here. The complex is enclosed by a series of monuments depicting the Korean People's Revolutionary Army.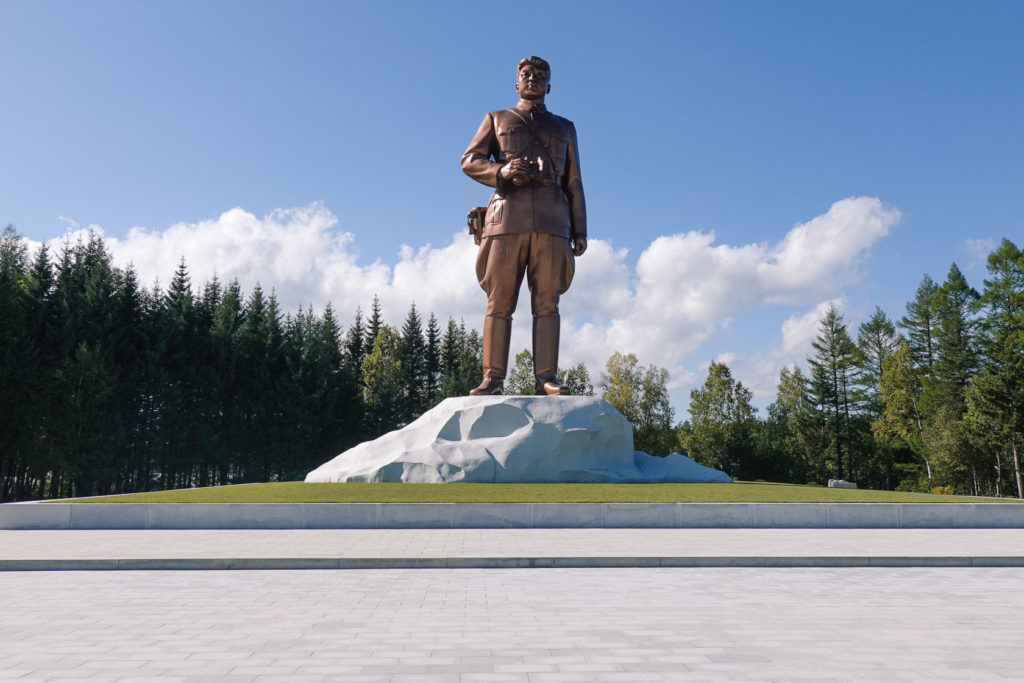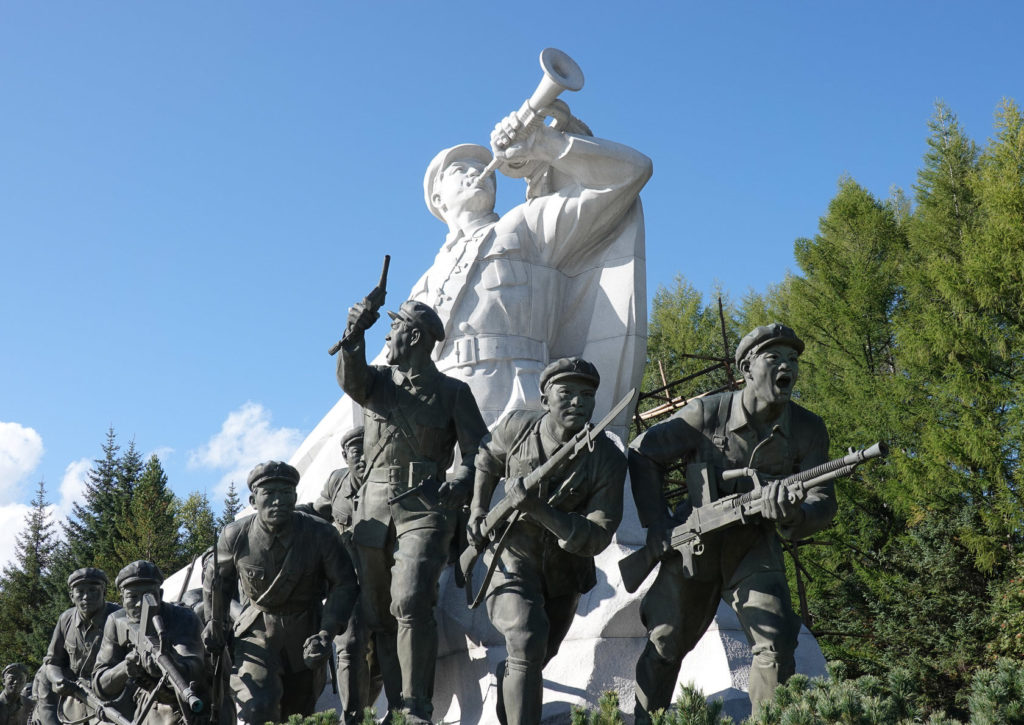 Samjiyon Revolutionary Museum
Revolutionary museums are found all over North Korea. They document the revolutionary activities of the Great Leaders within that particular region. They're laid out chronologically with exhibits across multiple rooms showcasing relics, maps, models, dioramas and historic photographs. Mt. Paektu and Samjiyon County were the staging ground to the anti-Japanese struggle so naturally, this museum focuses heavily on Kim Il Sung's activities here with the Korean Peoples Revolutionary Army.
Samjiyon Schoolchildren's Palace
The Samjiyon Schoolchildren's Palace is an extra-curricular facility for children to learn performance arts, science and technology, and sports. You can tour the facilities here and see a performance put on by the children!
Where can you stay at Mt. Paektu and Samjiyon?
At the time of writing, there's only one hotel available in Samjiyon to stay for visits to Mt. Paektu. This is the Pegaebong Hotel, a basic yet clean accommodation of 122 rooms hidden away in the forest just outside the town center. Time is running out now to stay at the Pegaebong Hotel as it's likely to be consumed by new modernized hotels that are nearing completion nearby. Samjiyon town is currently undergoing a monumental renovation and expansion project, touted to include the construction of over 400 new buildings and upgraded tourism infrastructure. What does the future hold for the Pegaebong Hotel? We're currently unsure, but roasting potatoes over the campfire out the front will surely be missed!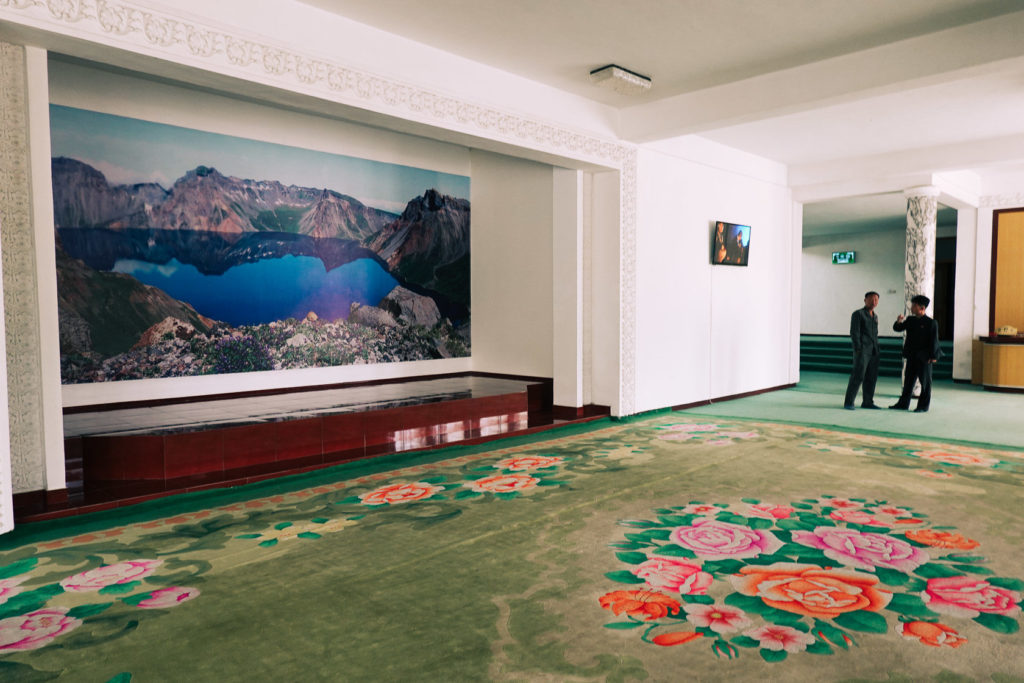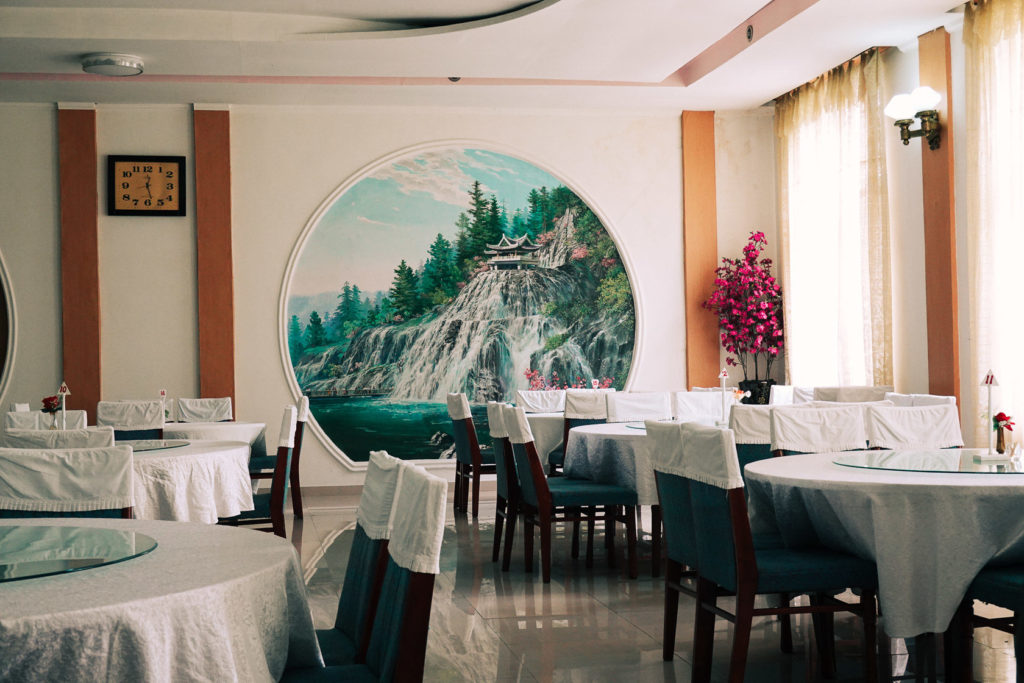 Interested in visiting Mt. Paektu and Samjiyon? Check out our scheduled group tours in August or September for this year's tour, or simply contact us for the dates of our charter flight and we'll arrange a private tour for you!