New DPRK Site Spotted: Haedanghwa Health Complex 해당화관
The Haedanghwa Health Complex opened earlier this year on the new Changjon Street in Pyongyang. This 6-story modern health spa is equipped with a gym, pool, sauna, stores, restaurants, massage parlor, karaoke and a recreational room. Doors are open from 10:00 a.m. to 10 p.m., but if you enter before 10:00 p.m., you can stay all night!
So, who uses this health complex? It's open to the public. It probably gets the most use from Pyongyang elites, business people who want to impress their clients (yes, business does happen in North Korea), and anyone else who can pay the entrance fees. It's also open to foreign tourists! Pampering yourself in a fancy health complex in North Korea of all places may sound odd. But if you can, why not?
Here's a virtual tour:
You walk into the marble lobby and there are 2 notable stores: one is a children's clothing store and the other is a luxury department store selling brand name wallets, handbags and cosmetics. To give you an idea of price, a tube of mascara starts at about $80!
An informational board shows the layout of the complex. There's a parking garage in the basement. First floor is where you can find the department stores. Third and fourth floors contain the swimming pool, gym, billiards room, massage parlor and hair salons. The top floors have restaurants, banquet halls and a coffee shop.
It costs about $15 to utilize the sauna, pool and water park.
Entrance to the gym is $5 per hour
Ping-pong: $5 per hour
Billiard: $10 per hour
Facial and massage prices range based on type of service and number of hours.
Coffee is about $4-5 at the cafe
Hibachi restaurant!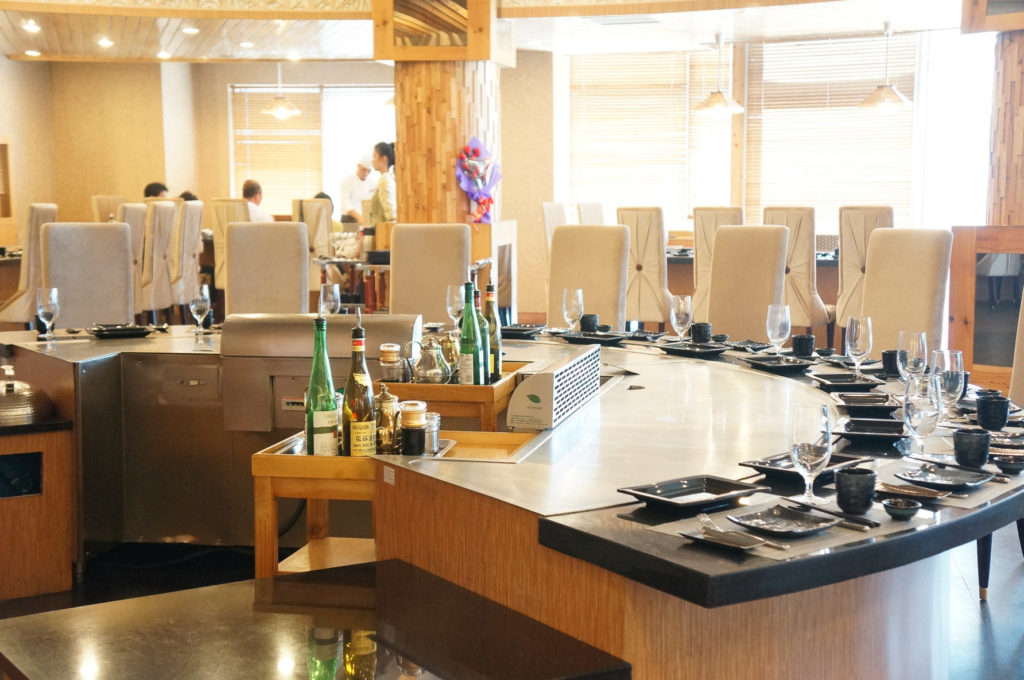 Banquet hall upstairs:
If you're interested in visiting the Haedanghwa Health Complex on your next DPRK trip, Contact Us.
——
For more information on how to travel to North Korea, see our 2013-2014 tour offerings.
You can see more pictures of the Haedanghwa Health Complex and other DPRK sites on our Flickr page.