North Korean Restaurant in Shanghai
The DPRK has several state-owned and run Pyongyang style restaurants in Shanghai, and other cities in China like Beijing. We went to the Xuhui location in Shanghai and it's worth a visit.
Although we've had better North Korean cuisine in the DPRK, the highlight of dining at this DPRK exported restaurant is the live entertainment. Every night at 7:30pm, North Korean female singers take the stage to sing all of the favorite North Korean songs (Arirang included) in glittery sequined minis and the traditional Korean dress called "Choson-ot" or 조선옷.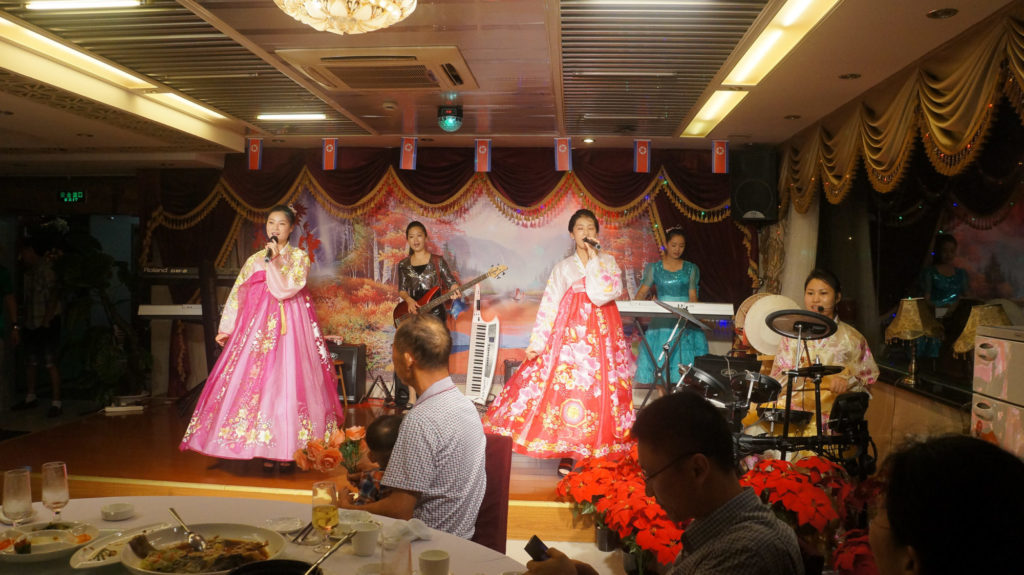 The digital menu is presented in tablet form. A dolsot bibimbap (rice with mixed vegetables in a hot stone bowl) will cost you about 48 RMB or 8 USD. Pyongyang cold noodles (naengmyun 랭면) comes in two sizes and starts at 48 RMB or 8 USD. Kimchi, ordered separately here, is 28 RMB or 5 USD and kimchi jun (pancakes) are about 38 RMB or 6 USD.
Expect it to be packed with Chinese diners. Get there early to find a seat near the front.
This particular Xuhui location is a bit tricky! Look for the neon signs showing women in the Korean outfit and take the stairs to the 2nd floor.
ADDRESS
359 Zhaojiabang Lu, 2nd floor, near Jiashan Lu
徐汇区肇嘉浜路359号2楼(近地铁9号线嘉善路5号口)
Telephone: +86 21 6417 1777
For other locations, see THIS article from Culinary Backstreets.