The Nuts & Bolts of Phone and Internet Access in North Korea
Rodman tweets from North Korea, and so can you! Visitors can now access the Internet and make international calls from within the country! We have been traveling to North Korea regularly for well over a decade and we can confidently say that this is a positive breaking point in DPRK travels. Thanks to Koryolink, a joint venture between Orascom Telecom Holding, an Egyptian company, and the DPRK state-owned Korea Post and Telecommunications Corporation, now North Korea's only 3G mobile operator.
So, what does this mean for you as a North Korea tourist? Historically, tourists had to leave their cell phones in China, or check their phones at the Sunan International Airport in Pyongyang before embarking on their journey. But now, you can bring your cell phones, smart phones and iPads with you and make full use of it during your North Korea trip. After passing immigration and customs, make your way to the Koryolink counter and rent your local SIM card and/or pick up your USB modem. Passport and patience required.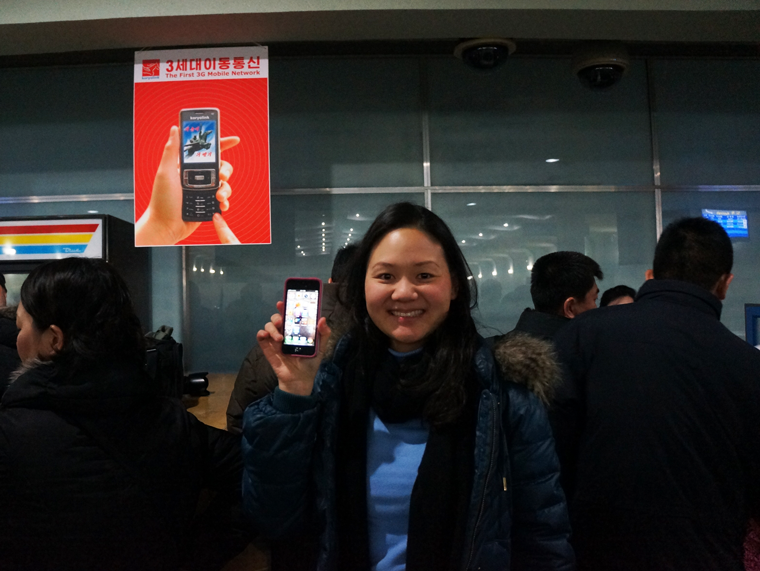 Rent a local SIM card to make calls from your own WCDMA phone
If you are visiting North Korea for a short period of time, you can rent a local prepaid SIM card. Nano SIMs for iPhone 5s are also available. There are three options:
50 Euros will get you a preloaded balance of 30 Euros, valid for 14 days.
75 Euros will get you a preloaded balance of 55 Euros, valid for 1 month.
100 Euros will get you a preloaded balance of 80 Euros, valid for 2 months.
The local calling rates for a short-term plan are as follows:
.2 Euros per minute for outbound calls
.2 Euros per minute for inbound calls
.2 Euros per SMS or MMS
Purchase a local SIM card for monthly use
If you are a foreign resident of Pyongyang, or travel there frequently, you can also buy a SIM card for a monthly fee. The activation fee for a new line is 50 Euros. The monthly fee of 800 KPW gets you 200 free minutes and 20 free SMS.
The local calling rates for a monthly plan are:
4.2 KPW per minute for outbound calls
3.5 KPW per minute for inbound calls
2.8 KPW per SMS
7 KPW per MMS
10 KPW per video call
Note: the [official] exchange rate is roughly 100 KPW to $1.
International calls are also permitted with a local SIM. The international calling rates per minute are as follows:
U.S.: 5 Euros / 700 KPW
China: 1.43 Euros / 200.2 KPW
Mongolia: 1.73 Euros / 242.2 KPW
Russia: .68 Euros / 95.2 KPW
France: .38 Euros / 53.2 KPW
Germany: 1.58 Euros / 221.1 KPW
England: 1.58 Euros / 221.1 KPW
Switzerland: .38 Euros / 53.2 KPW
Poland: 1.58 Euros / 221.1 KPW
Iran: .98 Euros / 138.2 KPW
Egypt: .68 Euros / 95.2 KPW
A local SIM card, both short-term and monthly, will allow you to make domestic calls on the foreigner network, which connects with the Pyongyang international hotels, the foreign embassies and some other offices that have international phone lines. Reception is good in Pyongyang, other major cities and major highways (fully tested and we are pleased).
You can top off your SIM card at any Narae debit card machine in Pyongyang or at the International Communications Center. Dial *900*# to check your balance.
UPDATE: If you are a U.S. citizen, the Foreign Trade Bank which issues the Narae debit cards is currently a recently sanctioned entity under the U.S. Sanctions program against the DPRK. We advise that you do not use the Narae debit cards to fill your balance, but rather go to the ICC directly.
Access 3G mobile Internet on your smartphone
Tweet or Instagram your pictures straight from your phone in Pyongyang! [Caveat: 3G mobile internet is only available on purchased SIM cards on a monthly plan.]
The activation fee is 75 Euros.
10 Euros per month gets your 50mb of data.
Each mb thereafter is .15 Euros.
To activate the 3G, dial *#FD75A# on your phone.
To deactivate the 3G, dial *#FD75D# on your phone.
Access Internet on your laptop by renting the mobile Internet USB modem.
Connection fee is 150 Euros
Three types of monthly plans are:
150 Euros per month for 2 GB, overage fee of .05 Euros per MB
250 Euros per month for 5 GB, overage fee of .04 Euros per MB
400 Euros per month for 10 GB, overage fee of .02 Euros per MB
It's interesting to note that while you can't tweet or facebook in China, you can from North Korea. It doesn't appear that the Internet is censored in the same way that it is in China. We're able to access Facebook, Twitter, Instagram and all of the major social media sites. We have yet to come across a site that is blocked using this 3G service. Although, however, DO NOT attempt to access your financial institution (i.e., online banking) from the DPRK – your financial institution will block your account due to the North Korean IP address. Check out our Instagram feed with up-to-date photos from our trips to the DPRK: Instagram @uritours
We'll miss the days of not being reachable, the essence of true vacationing, but now traveling to North Korea will be easier and more convenient.