Victory Day in North Korea – 67th Anniversary of the Korean War
July 27th is known as Victory Day in North Korea, and this year marks the 67th anniversary of the Korean Armistice Agreement which ceased the hostilities of the Korean War. While the armistice ended the armed aggression between North and South Korea, no peace treaty was signed and both Koreas remain technically at war today. The Korean War continues to shape geopolitical affairs on the Korean peninsula as a result.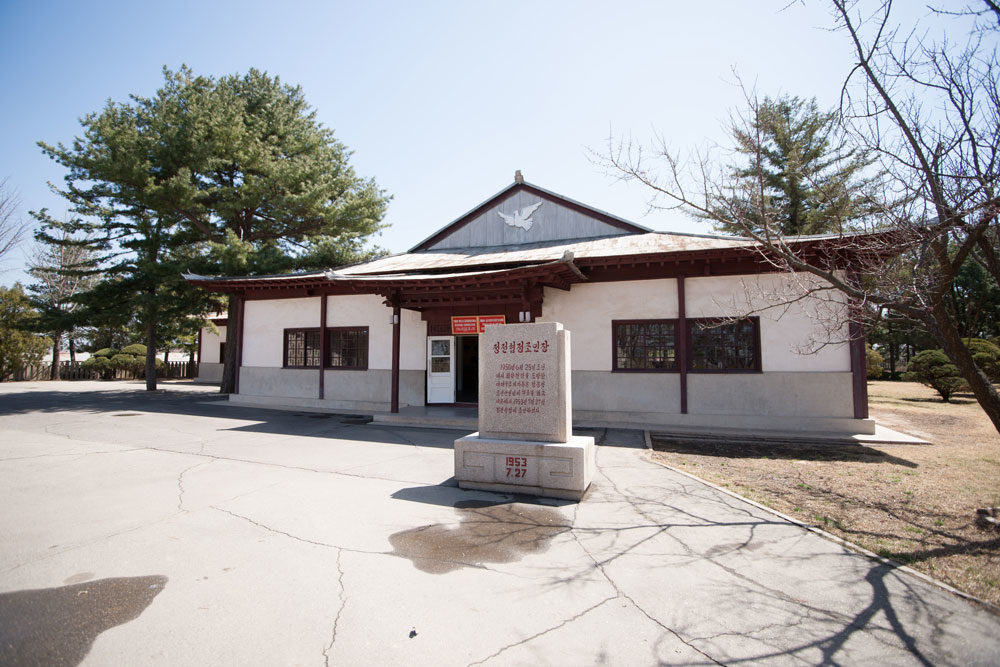 Victory Day is a major national holiday in North Korea, locals have the day off to enjoy the summer weather in local parks and public squares, visit friends and family, show their respects at venerated monuments, and celebrate with North Korea's famous mass dances. Outside the capital, the festive atmosphere can be found at crowded picnic spots and beaches, always a great chance for travelers to join the occasion!
North and South Korea do not agree on who provoked the Korean War, and by visiting North Korea over Victory Day you'll gain an understanding of the North Korean perspective, which often remains unheard internationally.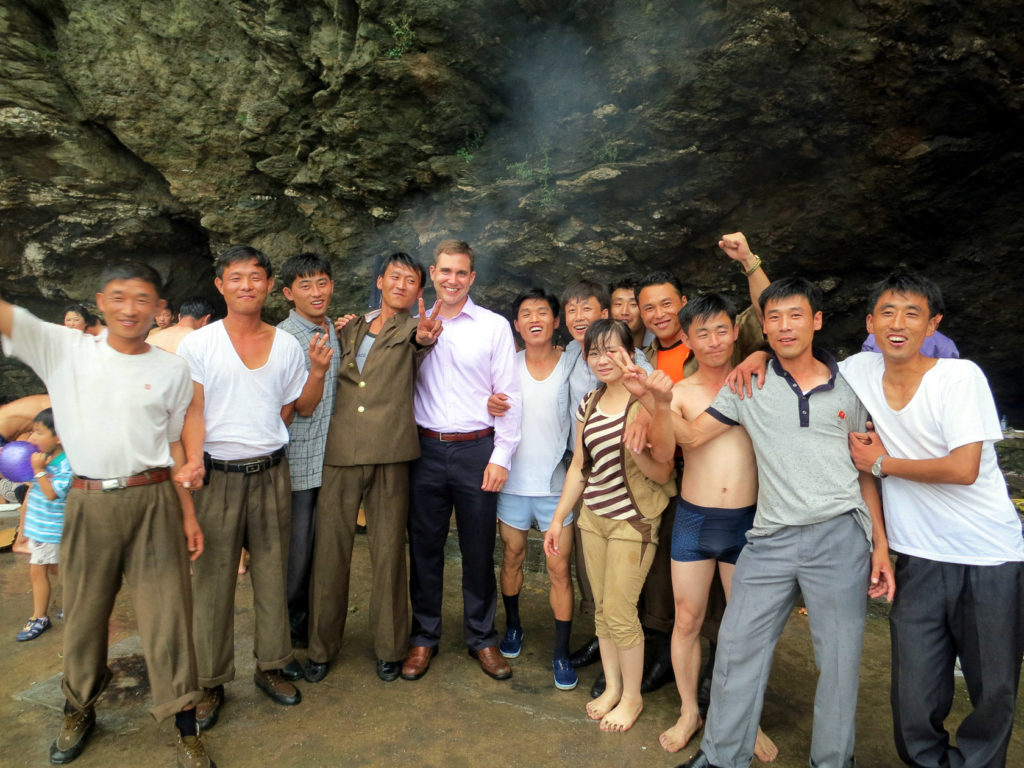 Where to Visit on Victory Day?
There are many relevant sites and celebrations that are particularly important to experience during a visit to North Korea over Victory Day. Find these below!
Victorious Fatherland Liberation War Museum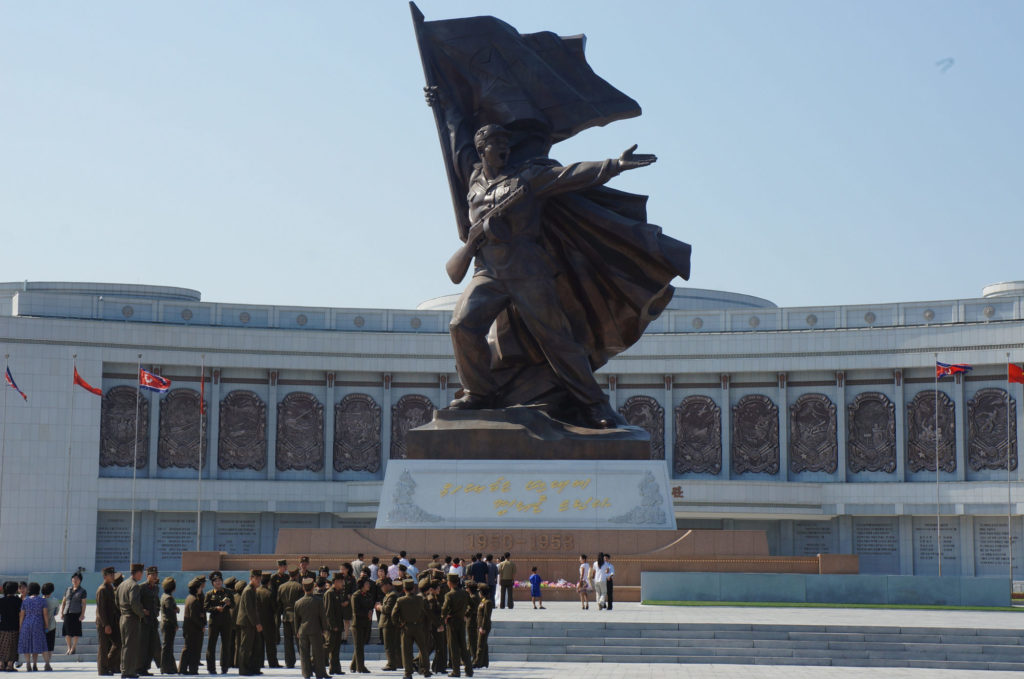 Visiting the Victorious Fatherland Liberation War Museum is fundamental to understanding how the conflict is perceived North of the 38th parallel. Far from a dry historical visit, the museum is extensive and engaging, with exhibits of war remnants, dioramas, and videos that tell the story of the Korean people's struggle against foreign invaders. Adorning the gardens is the 'Victory Monument' with a 7-metre-high pedestal and 27-metre-high statue symbolising the number '727', or July 27, Victory Day. You'll often see military units saluting this monument on a visit to the museum. Docked alongside the main museum is the USS Pueblo, the U.S spy ship captured by North Korea.
Fatherland Liberation War Martyrs Cemetery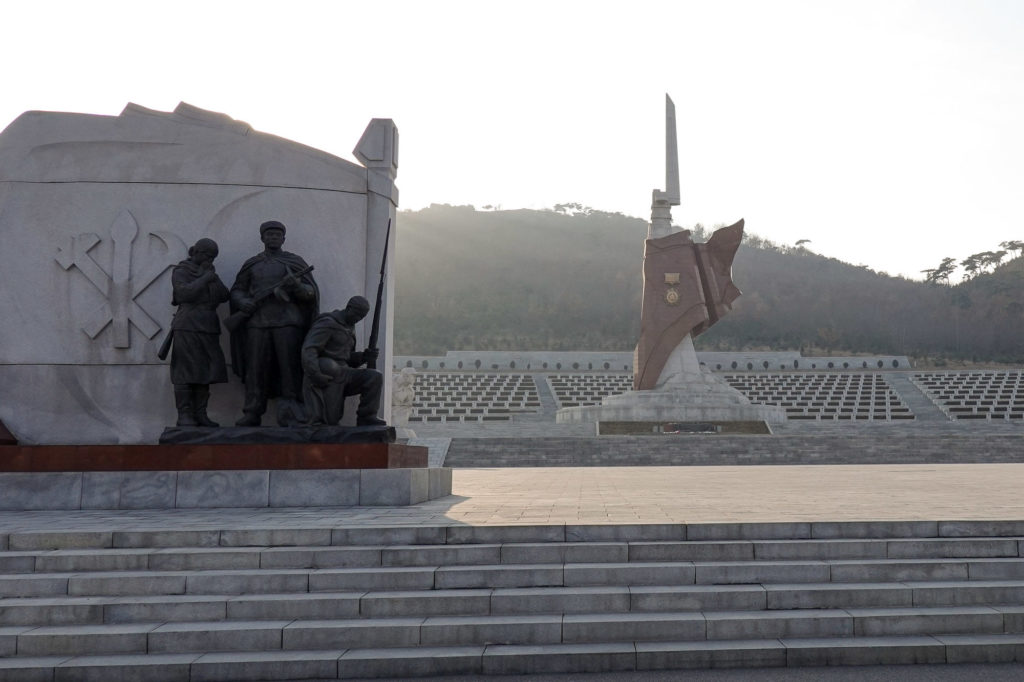 Recognisable by its striking bayonet monument, this cemetery is where the most decorated heroes of the Korean War are buried. Each tombstone has an inscribed 'Hero of the Republic' medal, an embedded official photograph, and names engraved on the back to signify any family members who are also buried with them. Korean War veterans that pass away even today are being buried in this cemetery if their achievements are deemed heroic enough. This cemetery isn't to be confused with the Revolutionary Martyrs Cemetery, which often sees ceremonies on Liberation Day.
Korean Demilitarized Zone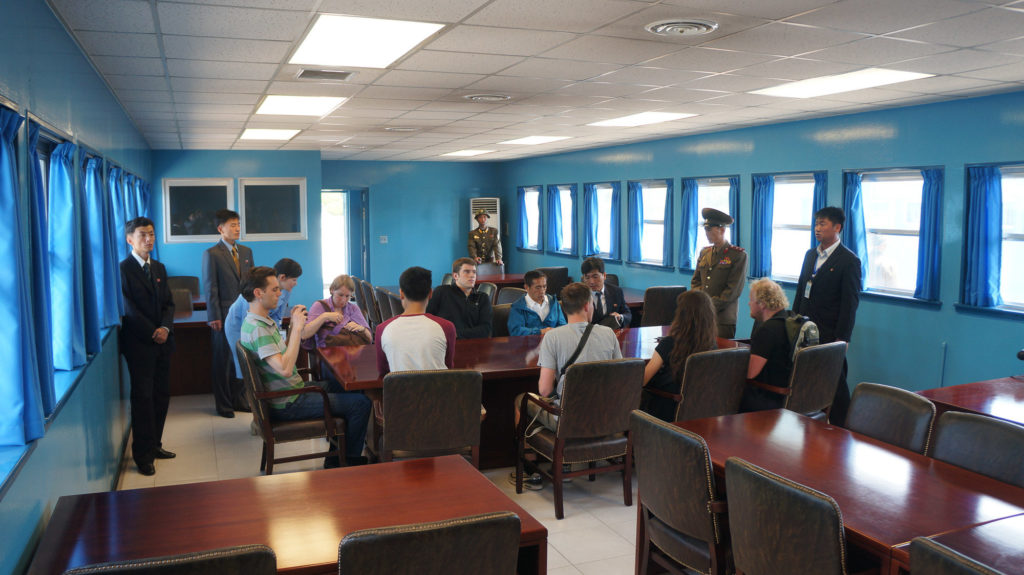 The Korean Demilizaried Zone (DMZ) is a 4km-wide buffer zone spanning the entire width of the Korean peninsula, separating North and South Korea. On our tours, you'll visit the most familiar reminder of this division, the Joint Security Area (JSA) at Panmunjom, which is the only section of the DMZ where the soldiers of both Koreas come face-to-face. The Korean Armistice Agreement was signed in Panmunjom in a purpose-built hall on the North side that's now the Peace Museum, so only on a visit to North Korea can you see it!
Concrete Wall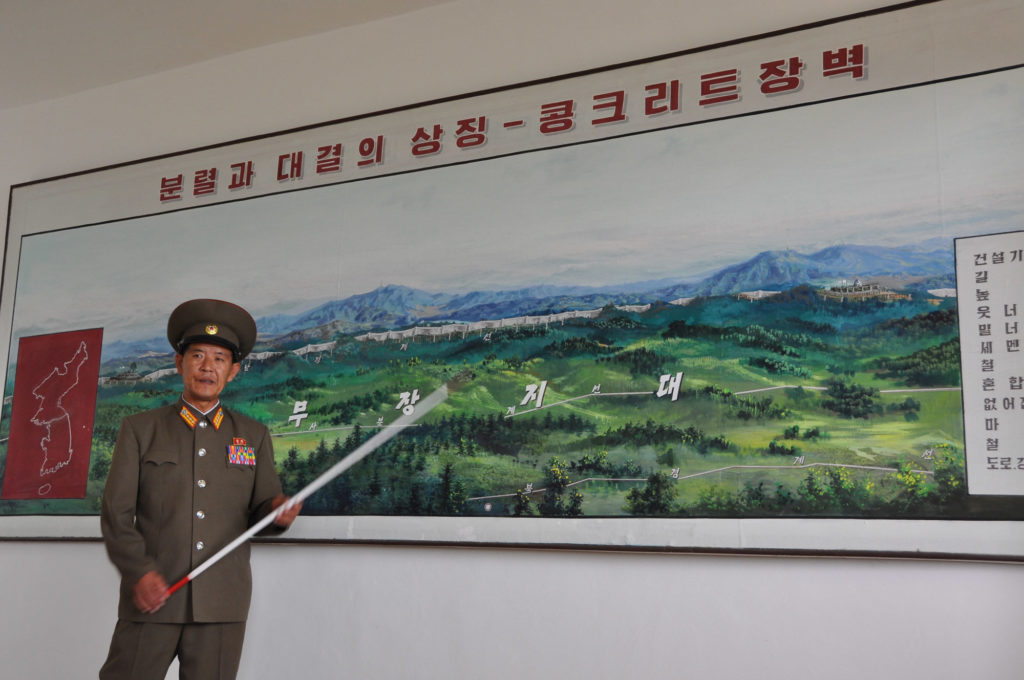 A countryside drive from Kaesong is a bunker and viewing area manned by the Korean People's Army that peers over the DMZ towards South Korea. With binoculars, you'll see numerous guard posts and most notably a vast concrete wall said to be built by the South Koreans and the U.S to prevent reunification by creating a physical division between the Koreas.
Jonsung Revolutionary Site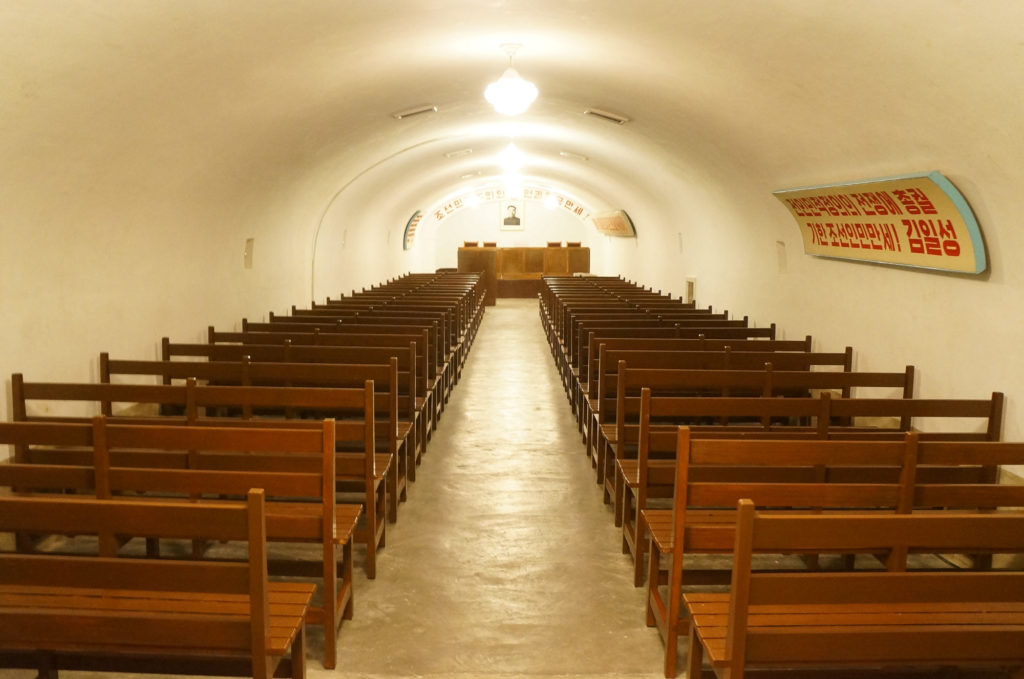 A system of tunnels underneath Pyongyang that formed the secret headquarters of Kim Il Sung and his military operations during the Korean War. It was here that Kim Il Sung ratified the Korean Armistice Agreement after its delivery to Pyongyang after the ceremony with representative signatories at Panmunjom.
Konji-Ri Revolutionary Site
This covert site, hidden in the hills of Pyongsong about 30 minutes drive from Pyongyang, was once the headquarters of the Korean People's Army during the Korean War. Extensive measures have gone into preserving this site, with some buildings encased in a metal hanger and decorated to capture the atmosphere of the time period. There are living quarters and a bunker tunnel system to explore, and evidence of aerial bombing from the U.S.
Mansudae Grand Monument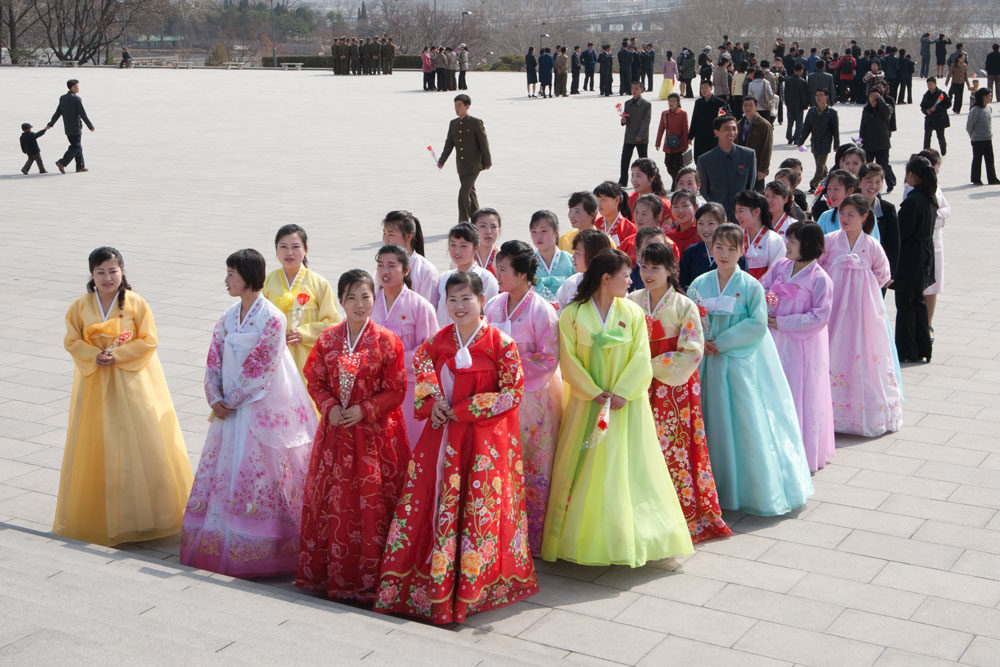 The Mansudae Grand Monument is a sacred site to the Korean people and you'll find large numbers of visitors on national holidays such as Victory Day to lay flowers and wreaths. Expect a sea of colour as formal dress is dusted off for the occasion!
Moranbong Park
A central park in Pyongyang where the party never stops during national holidays. Expect to be invited over for a picnic, dancing, karaoke and no shortage of Soju, Korean rice wine!
Public Squares for Mass Dancing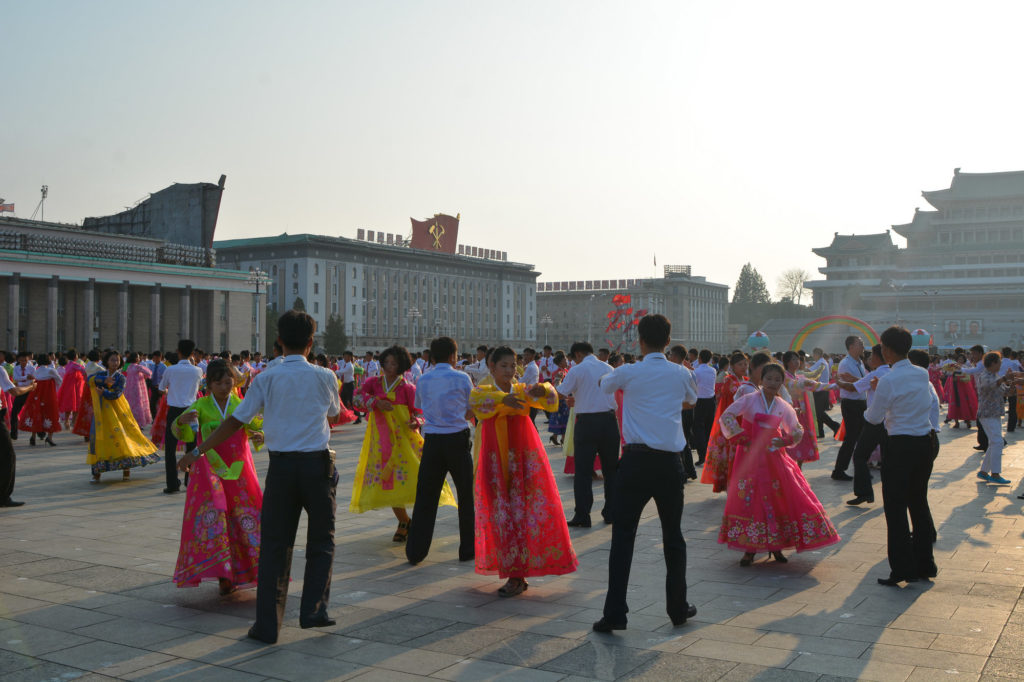 On major holidays such as Victory Day you can expect to see, and even join, one of North Korea's famous mass dances which are held across the capital in public squares such as Kim Il Sung Square. This is an iconic experience that you simply cannot miss on a visit to North Korea!
If you want to freshen up your knowledge, we've included two excellent videos below on the Korean War by well-known historian Bruce Cummings. Also feel free to check out our reading list.
Victory Day Tours
Updated July 2020.
See our new 2021 Victory Day Tour options:
3 Night Victory Day Tour (July 26 – 29, 2021)
5 Night Victory Day Tour (July 26 – 31, 2021)
Bruce Cummings on the Korean War (Part I)
Bruce Cummings on the Korean War (Part 2)