Wonsan Travel Guide
Wonsan is a port city in North Korea's Kangwon Province on the east coast of the Korean peninsula. First established as an important trade gateway, contemporary Wonsan is a charming seaside town of 360,000 people with immaculate yellow-sand beaches lined by holiday homes, summer camps, and sport and recreation facilities. Fisherman can be seen throwing lines from the piers, families cook BBQ clams on wooden stoves by the rocks and couples hit waterside vantage points for wedding photos. Back from the seaside, you'll find a burgeoning light industry and a hub of renowned universities and colleges.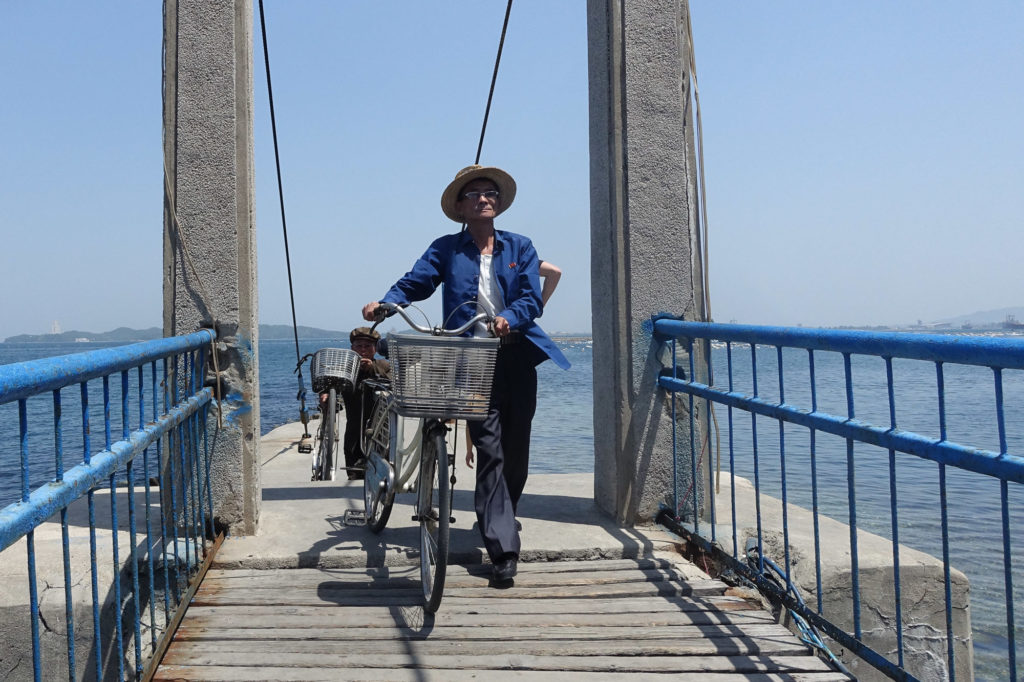 Wonsan city is the vital link between North Korea's west and east coasts. All travelers heading to Hamhung or Mt. Kumgang will go through Wonsan. Wonsan is part of the Wonsan-Mt. Kumgang International Tourist Zone which also includes Masikryong Ski Resort, Ullim Waterfalls, Sokwang Temple, Thongchon County and Mount Kumgang.
Due to its role as a coastal supply route, Wonsan was heavily bombed during the Korean War and endured the longest naval blockade in modern history. The city has since been completely rebuilt. In 1968, the famous 'American spy ship' USS Pueblo was captured by North Korean forces off the east coast and docked in Wonsan harbour before eventually reaching Pyongyang, where it remains moored to this day.
How do you get to Wonsan?
Wonsan is located 200km from Pyongyang and can be reached directly by road on the Pyongyang-Wonsan Motorway. The drive takes approximately 4 hours. The east coast of Korea is extremely mountainous and this road includes bridges and a total of 22 tunnels cutting through the terrain. The road, while paved, is rough and if traveling this route in the winter or in bad weather the journey will take longer. Sinpyong Rest Stop is located roughly halfway to stretch your legs and grab a coffee.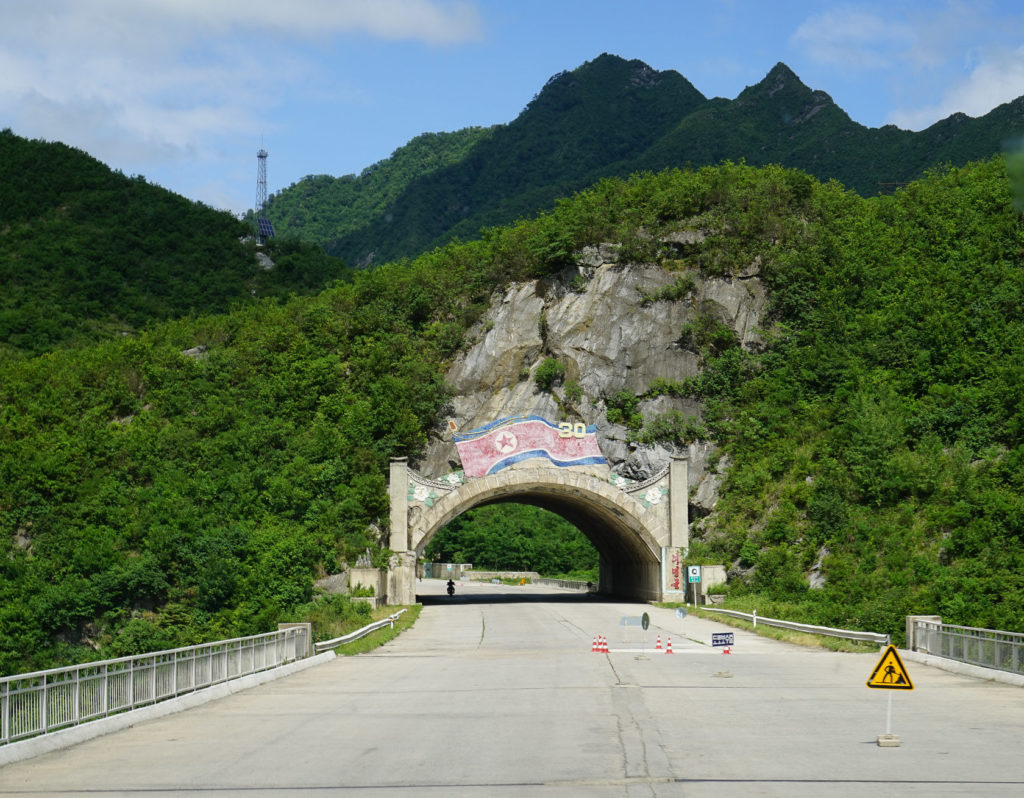 It's possible to fly domestically between Pyongyang and Wonsan Kalma International Airport. Scheduled flights are not regular, but charters can be arranged anytime. This option can be appealing during winter months for visits to the nearby Masikryong Ski Resort. Hopefully, we'll see international flights scheduled to this airport in the future!
Wonsan is also a railway junction linking the east and west coast, but it's very rare to take this train journey as a foreigner.
What is there to see on the way to Wonsan?
During the drive to Wonsan, there are a number of sights to check out to break up the journey.
Tomb of King Tongmyong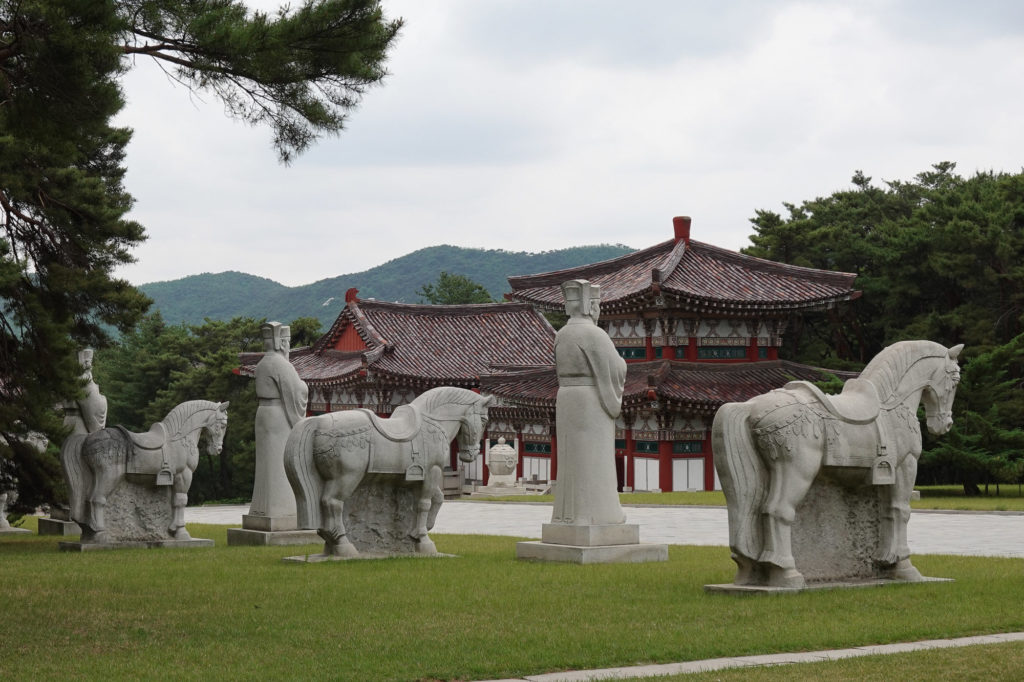 Located just 25km along the Pyongyang-Wonsan Motorway is the Tomb of King Tongmyong, a UNESCO World Heritage site and National Treasure which is part of the complex of Koguryo Tombs. Koguryo was an ancient Korean kingdom and King Tongmyong was its founding monarch over 2000 years ago. You'll find unique wall paintings here providing a glimpse into everyday life and the Buddhist influence of that time.
Ullim Waterfall
Ullim (Echo) Waterfall is a 75-metre waterfall appropriately named due to the roaring sound it emanates through the valleys. The falls are hidden within some unforgiving landscape, and in 2001 it was finally opened to the public after road access was built by Korean People's Army soldiers. The year '2001' was carved into the rockface in commemoration. You'll often find locals from Wonsan enjoying a picnic at the waterfall, a fun opportunity to throw our frisbees around or share in some soju. The road from Ullim Waterfall links with Chonnae County and back to Wonsan, both of which are cycling routes on our annual North Korea bike tour!
Masikryong Ski Resort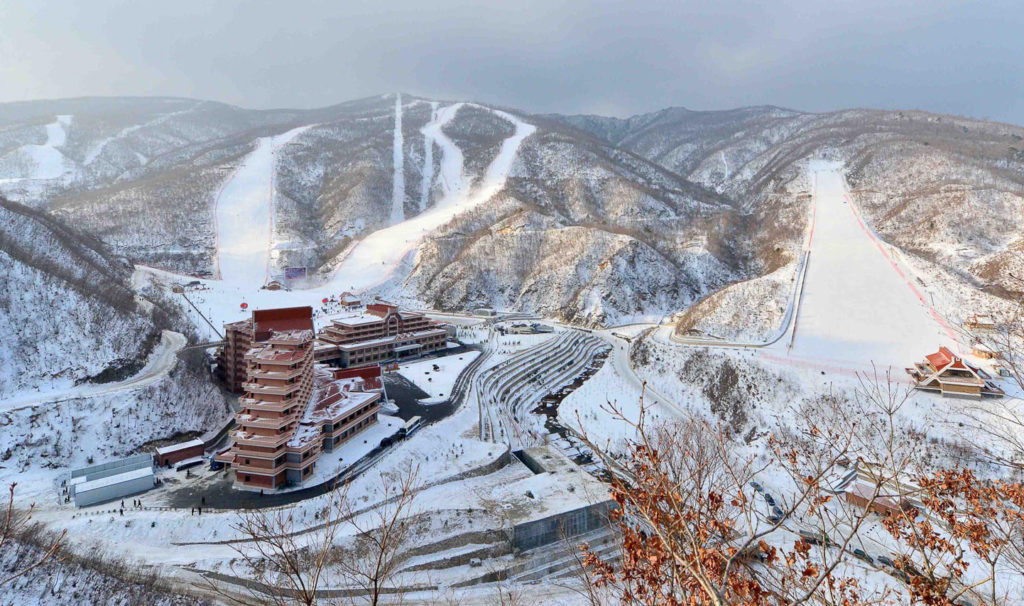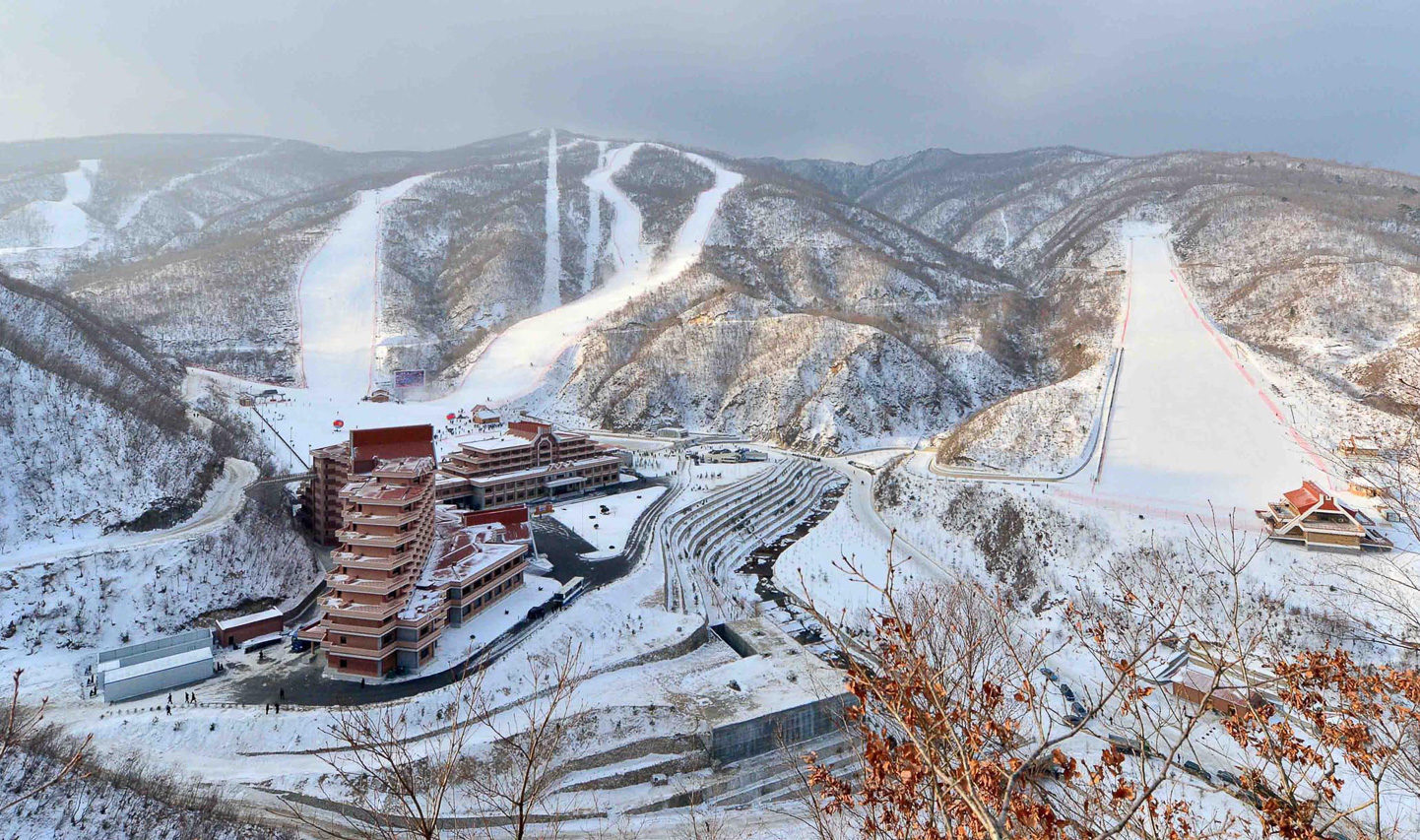 Veering off the motorway just 24km before Wonsan, you'll reach the world-class Masikryong Ski Resort opened in December 2013. It took the Korean People's Army just 10 months to construct the resort. We were among the first to visit and we've arranged annual ski and snowboard tours ever since! Capped by Taehwa Peak at 1360 metres, there are are 10 slopes including 2 for beginners and enough facilities to keep you occupied during a long stay.
Sinpyong Rest Stop
Singpyong Rest Stop is approximately 100km from Pyongyang, halfway to Wonsan. It's located on a picturesque lake and in summer, boating (or paddle boarding) can be enjoyed here beneath the towering cliffs. You can try Hwanggurongi liquor (yellow serpent liquor) which is a specialty to the area said to freshen up any drinker after one cup!
What's the weather like in Wonsan?
Being a coastal town, Wonsan itself experiences more moderate temperatures than inland. The climate is relatively mild with an annual average temperature of 10℃ with highs in the summer of 27℃. The annual average precipitation is 1400mm. We can arrange visits to Wonsan all year round.
What is there to see in Wonsan?
Jangdok Islet
Jangdok Islet is a concrete pier extending into Wonsan harbour headed by Changdokdo Lighthouse. The causeway, made up of a number of suspension bridges, is a hive of activity with local fishermen, seafood vendors, and picnickers enjoying the view and cool breeze off the seas. You can buy freshly caught seafood here and it's a fantastic spot for photos looking back on Wonsan city. If the lighthouse is open, we'll head to the top for the best views.
Wonsan City Docks
We'll walk through downtown until we reach Wonsan City Docks, the port's ship terminal and the location of Wonsan's main city square highlighted by bronze statues of President Kim Il Sung and General Kim Jong Il. The docks are a fisherman's hotspot lined with locals holding long rods and buckets trying to haul in that catch of the day. If you ask nicely they may let you take the reins! Wonsan Park is nearby, particularly busy on public holidays where locals will play volleyball or try their luck at carnival shooting games. The Mangyongbong-92 ship is also moored here, once constructed to transport passengers and cargo between North Korea and Japan but has rarely sailed since 2006.
Songdowon International Children's Camp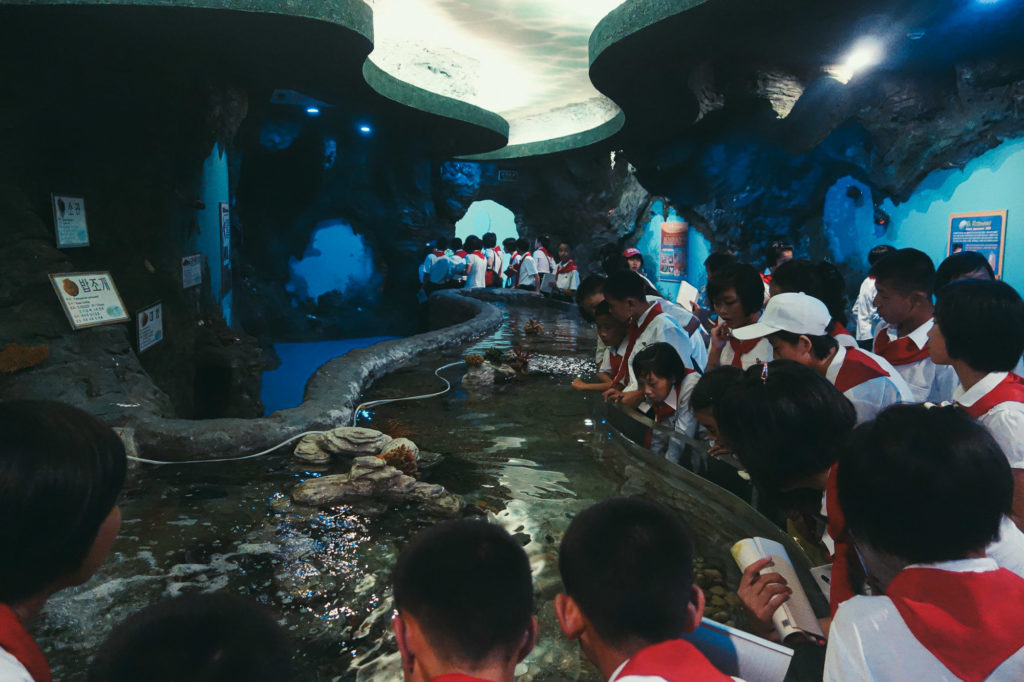 Songdowon International Children's Camp is a beachfront socialist-style summer camp. Students participate in programs focussed on socialist values, acquiring new skills and enjoying new life experiences. The camp is open between January and October, with both local Korean students and foreign students able to holiday here. We'll take a look at the facilities, learn more about their unique programs and potentially see some inter-camp sporting rivalries in action!
Beaches
Songdowon Beach & Songdowon Sea Bathing Resort
Songdowon Beach lies northwest of Wonsan. It's a picturesque sandy beach with crystal clear waters backed by a sea of green 700-year old pine trees. In summer the beach is packed with local families dusting off their bright inflatable beach tubes and umbrellas to soak in the sun. On the water, there are floating diving boards to swim out to if you're feeling adventurous. It's always great fun here, and we stop for a dip on any visit to Wonsan, weather permitting!
Myongsasimni Beach
This relaxing yellow-sand beach stretches well over 4km along the Kalma Peninsula, a stone's throw from the airport. Having been popular as a vacation area for locals in the past, the area is undergoing a transformation into the Wonsan-Kalma Coastal Tourist Area, a construction project of massive scale with over 10 beach resorts and an assortment of leisure facilities set to open in 2020. Once this opens, we'll be sure to provide the details on our website.
Sokwang Temple
Sokwang Temple is an over 600-year old cultural heritage site built in the closing days of the Koryo Dynasty. The site was expanded under the Choson Dynasty with the addition of the Puri Gate and Jogye Gate which are still standing today in their original form. Sadly, much of the site was destroyed by U.S aerial bombings during the Korean War, with the remnants since reconstructed.
Chonsam Cooperative Farm
Founded in 1952, Chonsam Cooperative Farm remains a fixture of Kangwon Province, supplying the agricultural needs to surrounding communities. There are 1700 people living within the farm, 800 of which are farmers cultivating rice, vegetables, maize. The farm specializes in persimmon, which is for sale for you to taste-test. We'll learn about cooperative farming, walk through the settlement and typically see inside a caretaker's home and/or witness a special performance put on by the children at the local kindergarten.
Wonsan Revolutionary Site
Wonsan Revolutionary Site, otherwise known as the Wonsan Railway Museum, is an important site in North Korean history. This preserved railway station of Japanese colonial times is where President Kim Il Sung stayed overnight in the guesthouse on return from exile after the liberation of the Korean peninsula from Japan in 1945. This was President Kim Il Sung's first overnight back in Korea, and the steam train he caught onwards to Pyongyang is on display here.
Kangwon Province Art Gallery
The Kangwon Province Art Gallery is an exhibition of socialist-realistic and landscape style artworks by locally acclaimed artists. The exhibition is quite small, but artworks are available for purchase so are rotated out often.
Wonsan Agriculture University
Wonsan Agricultural University is North Korea's first and largest agriculture university, established to train scientists in agricultural chemistry and production. The university holds a fascinating history as it's buildings were once the Territorial Abbey of Tokwon, an active Catholic monastery during pre-war times. Western architecture is extremely rare in North Korea and this is one of the only examples still standing!
Wonsan Kalma International Airport
Aside from Pyongyang Airport, this is North Korea's only other international airport. The airport is brand new, having been completed back in 2015 and remains without any scheduled international flights, currently operating on a limited domestic schedule. In 2016 this airport was host to the Wonsan International Friendship Air Festival where much of North Korea's air force was exhibited, and there's a chance this could return in future years! While the airport is typically not open to visits without a ticket, if you get a chance to fly from here it'll be worth the experience.
Wonsan Seafood
Put simply, no visit to Wonsan would be complete without a table spread of freshly caught seafood. Or perhaps live sashimi? We recommend trying the BBQ clams!
How do I include Wonsan in my itinerary?
Assuming your starting point is Pyongyang, at least one night is required to visit Wonsan. You'll depart Pyongyang early in the morning, arrive into Wonsan for lunch followed by an afternoon filled with activities before retiring to a local hotel. The next day, continue sightseeing or enjoy the beaches and then return to Pyongyang in the afternoon.
Alternatively, Wonsan is the launchpad for overnight (or longer) journeys to the famous Mt. Kumgang or to North Korea's second-largest city, Hamhung. Wonsan can be enjoyed as a half-day trip en route to either of these destinations.
Where to stay in Wonsan?
On visits to Wonsan, we typically stay at the stunning Masikryong Hotel within the Masikryong Ski Resort complex, a short drive away. The Masikryong Hotel has a high standard of amenities, reliable facilities, and endless entertainment options.
When staying in Wonsan City itself, the Dongmyong Hotel is a great option with large rooms that have unobstructed views of the beach, harbour and the East Korea Sea. The Songdowon Hotel next door shares the view and with a larger number of rooms but its retro interior has seen better days. The food in the restaurant is unique, offering hot stone BBQ. Both the Dongmyong Hotel and Songdowon Hotel have no lifts, limited hours of hot water, and experience regular power outages.
The Kalma Hotel is a deluxe accommodation out on the Kalma peninsula itself. Tourists are not often permitted to stay here, but VIPs, delegations and journalists have been known to spend the night.
The accommodation options in Wonsan could drastically expand after the Wonsan-Kalma Coastal Tourist Area is completed!
What does the future hold for Wonsan?
The Wonsan-Kalma Coastal Tourist Area is expected to be completed in 2020 and is sure to cement Wonsan City as the heart of leisure and recreation in North Korea. The city is expecting large-scale tourism, and the new accommodations, restaurants, and planned activities will be welcomed, making longer recreational stays in Wonsan viable. Wonsan may become easier to reach in the future, with Wonsan Kalma International Airport prepared to cater to any increased demand. Time will tell!
Interested in visiting Wonsan? Check out our group tours or arrange a private tour with us. Keep up to date with developments in Wonsan by following us on Facebook!