7 Nights – from €1580
** DPRK Visa and return flights from Beijing included! Taking the train is possible and you'll be eligible for a discount. Contact us! **
Our North Korea Bike Tour is unlike any tour ever offered! It's geared towards the active traveler rather than professional cyclists, offering a healthy mix of traditional sightseeing opportunities and intimate encounters with North Korea's untouched landscape and culture. We cover an unprecedented number of routes, take a look at our blog post for an inside look!
Cycle west for 12 km on the Road of Youth Heroes and tackle 30 km of beautiful, winding roads leading from Chonnae County to the picturesque Ulim Waterfalls. Our longest ride will be 50km into the Mt. Jangsu scenic area, a route just recently opened to tourists. These treks are supplemented with leisurely rides like our 20km city ride along the streets of Pyongyang or a morning beachfront ride through the city center in Wonsan. On top of that, we'll provide as many opportunities as possible for you to experience North Korean culture. Expect to meet wonderful people and broaden your world perspective!
Note: We'll always have a support bus following behind our group. There is no obligation or pressure to cycle each route in its entirety, and flexibility is available to take rests as you wish.
---
DAY 1 – DEPART FOR PYONGYANG
At 10:30am, meet us inside Terminal 2 of the Beijing Capital International Airport to check in for our scheduled departure of 13:05pm. We will hand out your DPRK visas at this time.
We will then fly to Pyongyang, the capital of the DPRK and home to many of the most iconic monuments and political sites. Our Korean tour guides will be meet us at the airport with a warm welcome. First, we will stop at the Arch of Triumph, the world's largest triumphal arch. Afterward, visit the Mansudae Grand Monument, an important site famous for its large, bronze statues of President Kim Il Sung and Chairman Kim Jong Il. It's customary to bow and lay flowers here.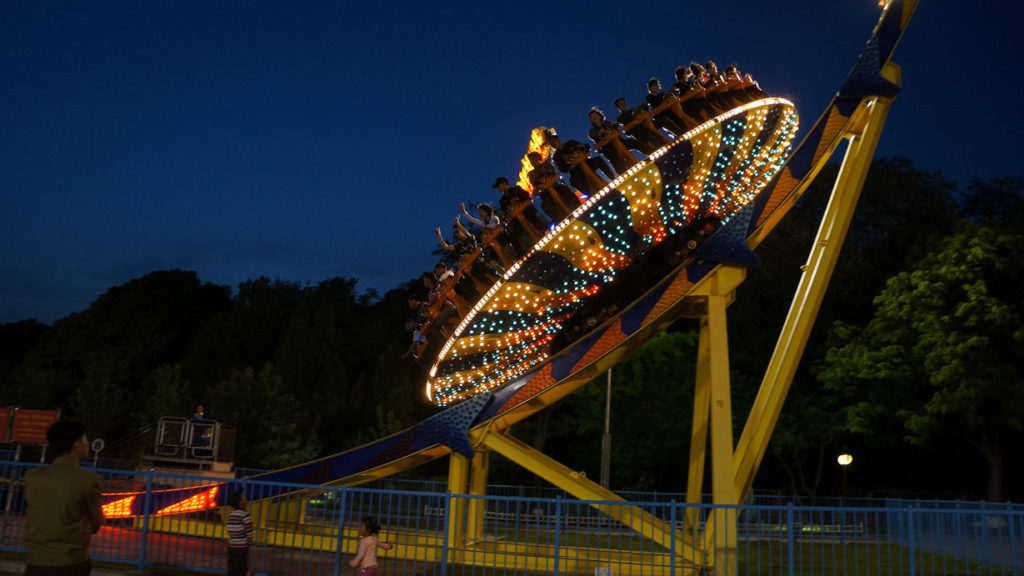 Check into the Koryo Hotel, a deluxe accommodation in the heart of Pyongyang popular with local residents, foreign diplomats, delegations, NGOs. We will enjoy a welcome dinner in the revolving restaurant before an optional visit to the Kaeson Youth Amusement Park where the thrillseekers among us can brave the rides with Pyongyang locals on a night out.
Accommodation at the Koryo Hotel.
(Meals: B, L, D)
DAY 2 – PYONGYANG CITY TOUR
After breakfast, visit the Mansudae Art Studio, the most prestigious fine arts studio and gallery in North Korea. This studio is the only one given permission to depict the Great Leaders in monuments, murals, and mosaics.
Take a tour through the Grand People's Study House, an extensive library used to further education and the heart of study on the national Juche ideology.
We will begin our cycling on a 6km route from the Chongchun Sports Village to the busy Kwangbok Street where we will make a stop at a local restaurant for lunch!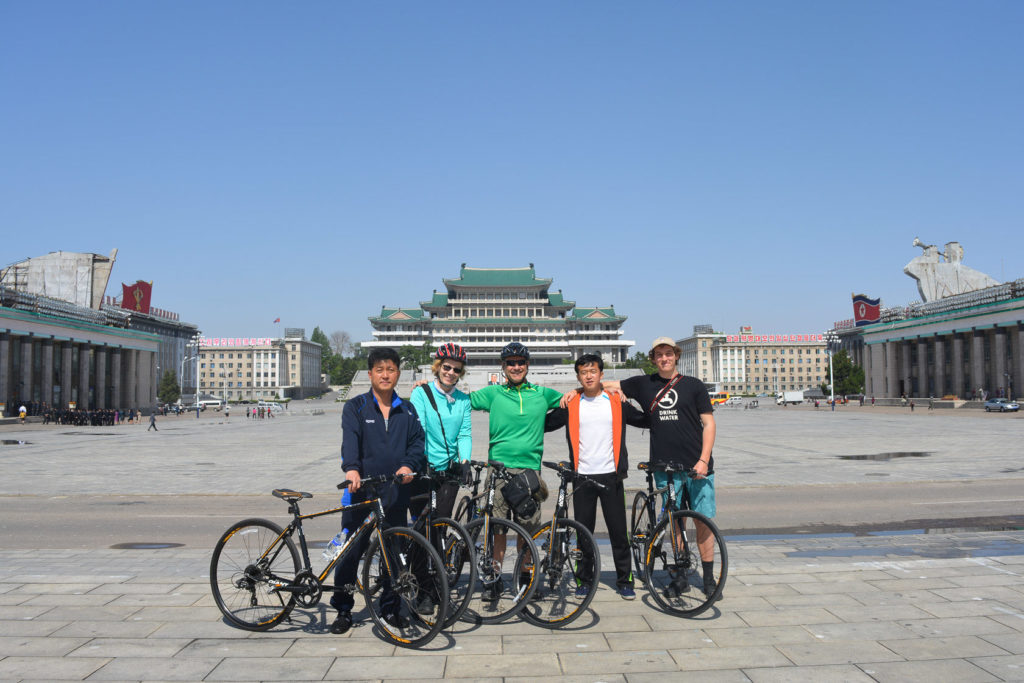 After lunch, visit the Mangyongdae Native House, the birthplace of President Kim Il Sung. Pick up some supplies at the Kwangbok Supermarket, a five-story department complex filled with local and imported products where foreigners are able to exchange and use local North Korean Won.
We will then continue cycling through Pyongyang on an 8km route between the futuristic Mirae Scientists' Street and Changjon Street, two iconic boulevards contributing to the capital's skyline. As part of this route, we'll cycle through Kim Il Sung Square, the 3rd largest public square in the world and home to many of the North Korean military parades broadcast internationally. We'll also stop at the Foreign Languages Bookshop which provides the best chance in the DPRK to pick up postcards, publications, posters and other trinkets that make perfect souvenirs.
Begin an additional route (6km) across the Okryu Bridge to scenic views of the Taedong River, stopping in at the Tower of the Juche Idea, where we'll take the lift to the top for a 360-degree unobstructed panorama of the capital city!
Continue the ride to the massive Monument to Party Founding, built to commemorate the 50th anniversary of the foundation of the Workers' Party of Korea. Our route will end at the Munsu Water Park, where we'll relax for a swim, coffee, indoor rock climbing or even to have a haircut if you wish!
Accommodation at the Koryo Hotel.
(Meals: B, L, D)
DAY 3 – MASIK PASS AND CYCLING IN WONSAN
This morning, get ready to journey to the east coast! We'll start off with a drive to the luxurious Masikryong Ski Resort where we will check-in, enjoy lunch and then take the cableway up to the summit of Taehwa Peak. We'll begin today's 30km cycling route here with an exhilarating downhill route from Taehwa Peak with far-reaching mountain views.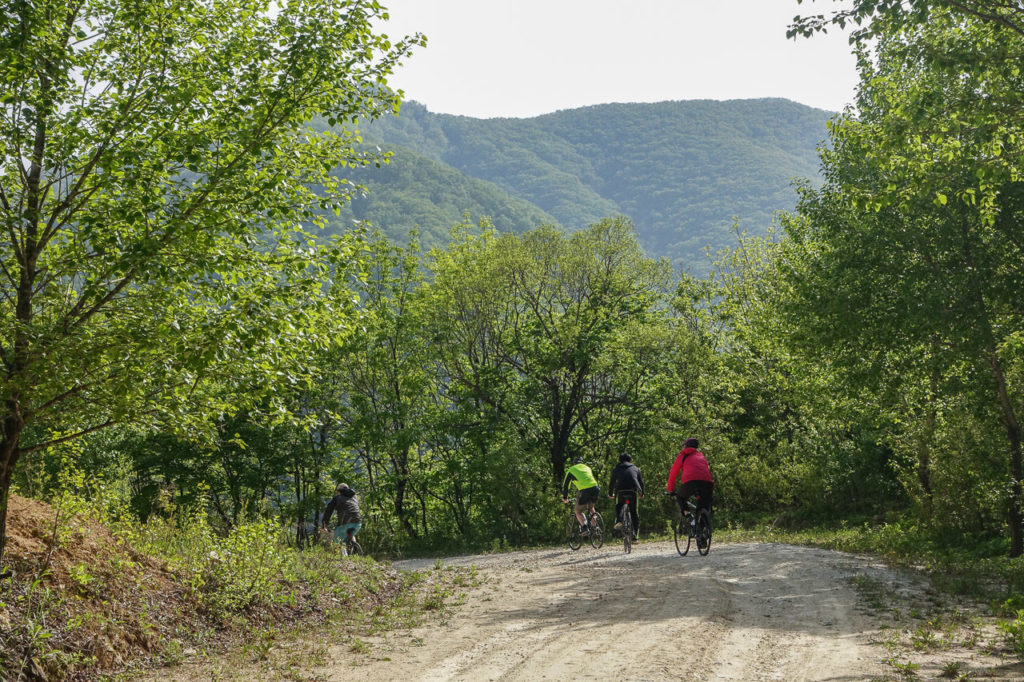 Continuing our route inland, we'll cycle an off-road track nearby the Masikryong Ski Resort. This region boasts a number of bushland trails laden with creeks, small waterfalls, and dense green forest. This is a primarily downhill path leading to a scenic lake.
On return to the Masikryong Hotel, relax and enjoy the amenities, activities and services available at what is one of North Korea's finest hotels!
Accommodation at the Masikryong Hotel.
(Meals: B, L, D)
DAY 4 – CHONNAE COUNTY, ULIM WATERFALLS AND RETURN TO PYONGYANG
After breakfast, we'll drive to the coastal city of Wonsan. To views of yellow sandy beach, we'll make our way to the Songdowon International Children's Camp, a typical socialist-style summer camp where we'll have a guided tour of the facilities.
We'll hop on our bikes here and begin our cycling beachside with a stop for swimming and a dive from the floating platforms. Continue our riding in the sea breeze along the Wonsan city docks to Wonsan Square, the heart of the city with grand bronze monuments to the Great Leaders. We'll stop at a local restaurant here for a fresh seafood lunch!
After lunch, we'll walk between dozens of fishermen to the Jangdok Islet where you can buy seafood that was caught just seconds ago by local vendors. The view back of the Wonsan city skyline is fantastic here.
Drive further into Kangwon province to Chonnae County, to begin our cycle of a dazzling 30 km of untouched countryside from Chonnae County to the majestic Ulim Waterfalls, a 45m cascade engraved with Kim Jong Il's handwriting that we'll hear well before we'll see.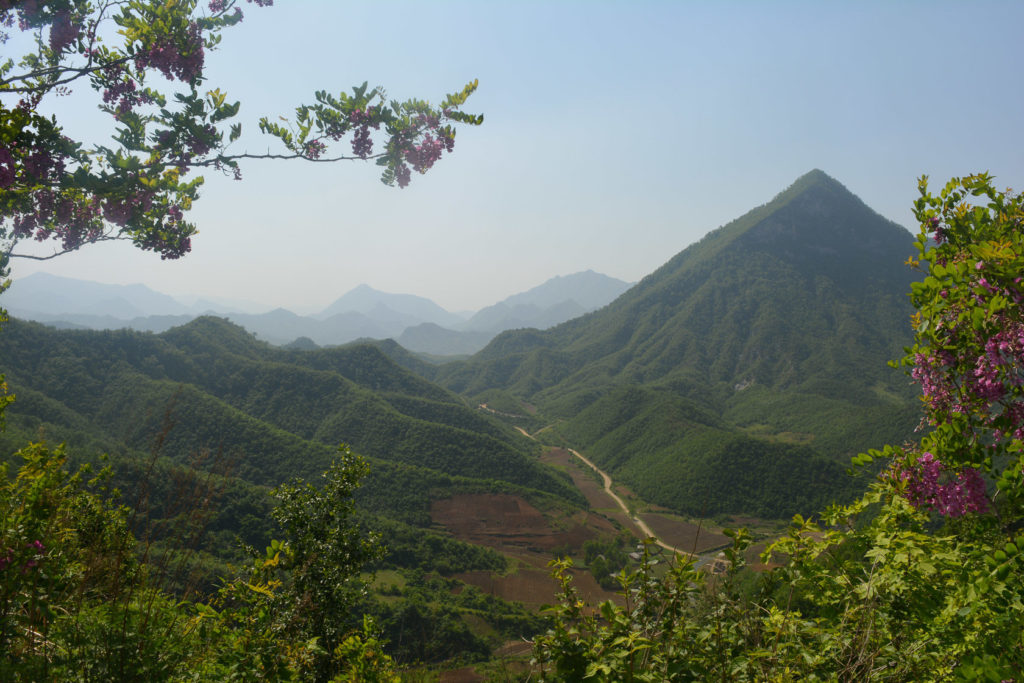 Afterwards, we'll drive back to Pyongyang for dinner and some well-deserved beers at the bar brewery beside the Koryo Hotel!
Accommodation at the Koryo Hotel.
(Meals: B, L, D)
DAY 5 – SARIWON, MT. JANGSU AND KAESONG
We'll first drive south to Sariwon, home to the Folklore Street built by Kim Jong Il as a model example of the traditions and customs of ancient Korea. We'll get a view of the city from an overhanging pavilion before embarking on the longest cycle in our trip of 50km into the Mt. Jangsu scenic area which can only be described as breathtaking. You'll be among the first foreigners to have ever cycled this region.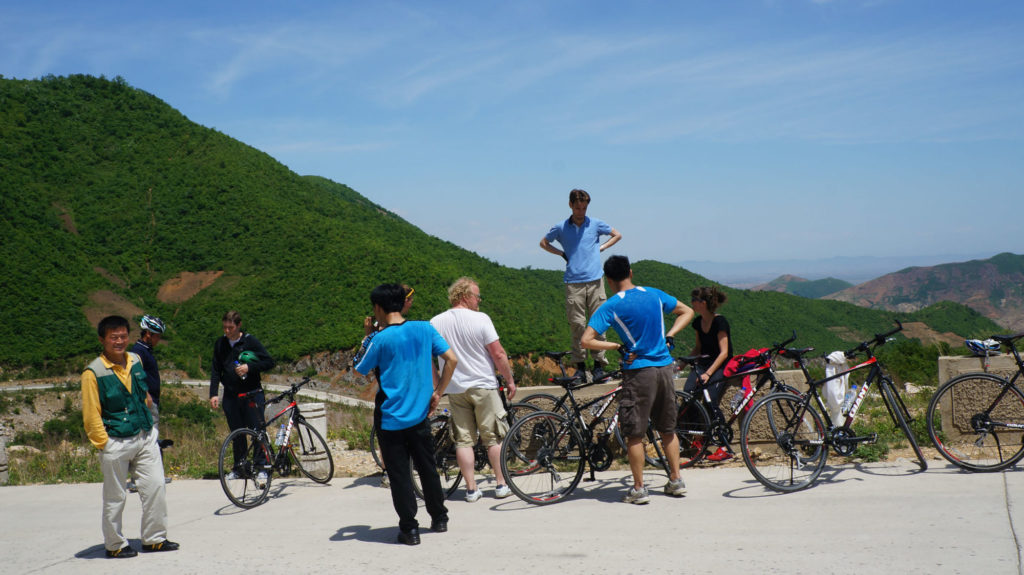 We'll picnic in the serenity here before driving to the border city of Kaesong. On the way, we will make a stop at the Tomb of King Wanggon, an ancient royal mausoleum for the founder of the Koryo Dynasty.
Our overnight stay will be at the basic but clean and comfortable Chanamsan Hotel.
Accommodation at the Chanamsan Hotel.
(Meals: B, L, D)
DAY 6 – KAESONG AND THE DMZ
First up we will walk through the colorful streets of Kaesong to Janam Hill where you'll get a great view of the historic district in the presence of massive statues of President Kim Il Sung and Chairman Kim Jong Il.
Afterward, we will head for the DMZ where we'll hear from our guides a perspective of the Korean War that often gets discredited or unheard. At the DMZ, explore Panmunjom, shake hands at the exact place that the Armistice Agreement was signed between UN forces and the DPRK, and wave hello to the South at the blue houses in the Joint Security Area.
We will head to the Koryo History Museum, a UNESCO site, to learn about the Koryo Dynasty (where the name Korea originates). You'll also have a chance to pick from the most varied range of postcards in the country at the Koryo Stamp Shop.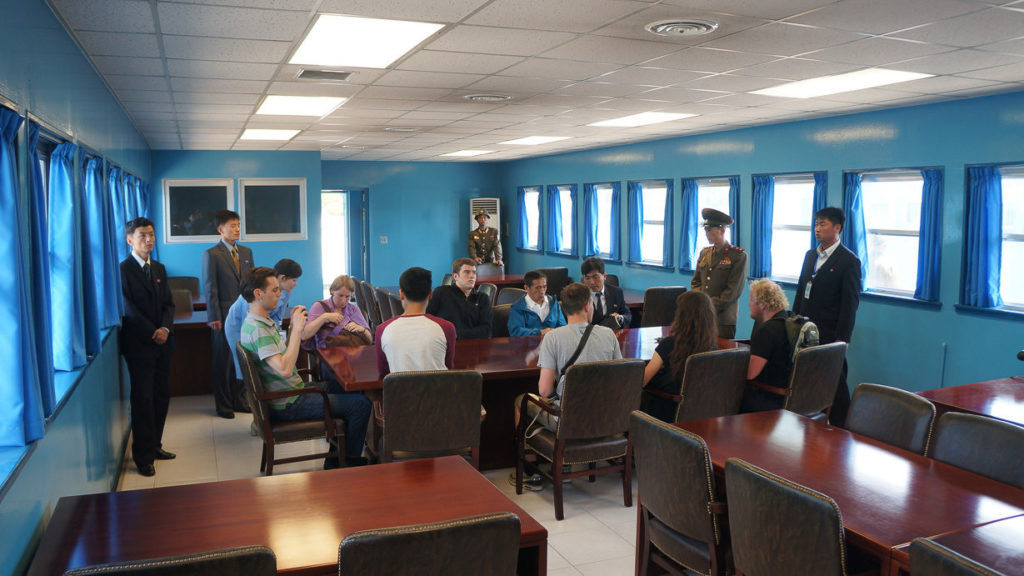 For lunch we'll enjoy pansanggi, a Kaesong cuisine traditionally served for royalty.
Back on our bikes, we'll cycle 8km to Pakyon Waterfall, a popular spot for locals to relax and enjoy a soju-inspired picnic.
Return to Pyongyang and make a stop at the Arch of Reunification, built to commemorate the proposals for Korean reunification put forward by President Kim Il Sung.
Head deep underground to take a 5-stop ride on the Pyongyang Metro, the deepest metro in the world also filled with mosaics, monuments, and plaques commemorating the DPRK's revolutionary history.
Before dinner, get the chance to taste local Korean draft beers at the Taedonggang Microbrewery.
Accommodation at the Koryo Hotel.
(Meals: B, L, D)
DAY 7 – NAMPO AND RETURN TO PYONGYANG
After breakfast, we depart for the western industrial port city of Nampo. Our first stop will be the Chongsanri Cooperative Farm, a model collective farm catering to the agriculture needs of surrounding communities. We will meet a local farming family and see inside their home here.
This will be the starting point for our 20km cycle on the Road of Youth Heroes into Nampo itself to see local port life go by. We'll stop at the Nampho Square featuring large monuments depicting the Great Leaders.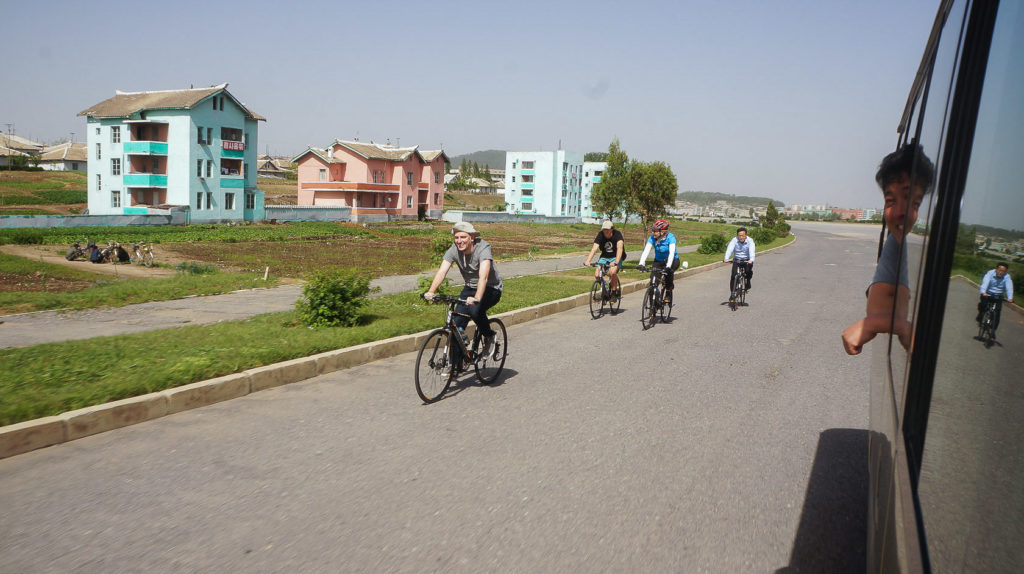 After lunch, it's onward to the jewel of Nampo, the West Sea Barrage, a massive dam and tidal wall built in five years across a 8-kilometer section of rough sea. This is a major achievement well known to all North Koreans and a common backdrop in official state media.
On return to Pyongyang, we'll cruise the Taedong River with a farewell dinner and performance on the Taedonggang Dining Boat!
Accommodation at the Koryo Hotel.
(Meals: B, L, D)
DAY 8 – FAREWELL
All good things must come to an end. We will have a morning departure to Beijing with an estimated time of arrival is 09:50am local time, although flight times are subject to final confirmation. Please reserve connecting flights departing after 14:00pm local time, to allow sufficient time for immigration/customs clearance, baggage claim and re-check-in. Timings to be confirmed.
(Meals: B)
This itinerary is subject to change at any time.
What's included in this tour:
DPRK visa fees and handling
Round trip ticket from Beijing to Pyongyang on Air Koryo
7 nights' DPRK hotel accommodations (double occupancy, 4 stars)
3 meals per day
Coach transportation in DPRK
Two local DPRK guides
One local driver
Admission fees (except those listed otherwise)
Bike rental fees (let us know if you wish to bring your own bike, excess baggage fees apply. See HERE)
What's not included in this tour:
Round-trip airfare to Beijing from home country
Beijing hotel accommodations
Chinese visa fees and processing, if applicable
Travel and medical insurance
Personal expenses (laundry, telephone, etc.)
Souvenirs
Extra drinks during meals (one complimentary beer included)
Beer at microbreweries (1-3 EUR per mug)
Extra a la carte items incurred during meals
Tips for guides and drivers
EXCLUDED ENTRANCE FEES FOR OPTIONAL EVENTS
Entrance fees are priced in EUR but RMB and USD accepted.
Elevator to the top of the Juche Tower, 5 EUR
Elevator to the top of the Arch of Triumph, 5 EUR
Flowers to be laid at the Mansudae Grand Monument, 3-5 EUR
Pyongyang circus (if playing): 20 EUR
Taedonggang Dining Boat: 10 USD
Meari Shooting Range: rifle and per bullet fees apply
Kaeson Amusement park entrance and rides, 1-7 EUR per ride
Ski lift or cable car to Taehwa Peak in Masikryong Ski Resort: 15 USD
For more information on the booking process, see How to Book a North Korea Tour
See Terms and Conditions for our refund policy and other disclaimers.
Experience level: some cycling experience required. Most terrain will be flat, but there will be long uphill routes. If any portion of the route is too strenuous, cyclists will have an option to ride in the bus. Giant road bicycles supplied.
Max participants: 10