5 Nights – from €1290
** DPRK Visa and return flights from Beijing included! Taking the train is possible and you'll be eligible for a discount. Contact us! **
This 5-night special tour of North Korea will join the festivities of National Day on September 9 and is designed to visit all the major must-see sights in one extensive action-packed itinerary you'll never forget! Visit the major political highlights in Pyongyang such as the Tower of Juche Idea, Mansudae Grand Monument, Victorious Fatherland Liberation War Museum. Witness rural life go by with a day-trip to Kaesong and the DMZ, and spend a night at North Korea's self-confessed finest hotel in the secluded valley of Mt. Myohyang!
---
DAY 1 – DEPART FOR PYONGYANG
At 10am, meet us at Terminal 2, Air Koryo counter E, of the Beijing Capital International Airport to check in (flight times to be confirmed but usually Air Koryo flights depart at 1pm). We will hand out your DPRK visas at this time. We will then fly to Pyongyang, the capital of the DPRK and home to many of the most iconic monuments and political sites. Our Korean tour guides will be meet us at the airport with a warm welcome.
En route to the hotel, our guides will point out the Fatherland Liberation War Martyrs Cemetery with its striking monument of a bayonet before we stop at the Arch of Triumph, the world's largest triumphal arch. From the top, we will get our first panorama view of Pyongyang city! Check into the Koryo Hotel, our deluxe accommodation in the heart of Pyongyang popular with local residents, foreign diplomats, delegations, NGOs. Visit the Kaeson Youth Amusement Park where the thrillseekers among us can brave the rides with Pyongyang locals on a night out. Our welcome dinner will be in style at the Koryo Hotel's top floor revolving restaurant!
Overnight at the Koryo Hotel.
(Meals: L, D)
DAY 2 – DMZ
Take a morning drive through the countryside to the historic city of Kaesong. We will head for the DMZ where we'll hear from our guides a perspective of the Korean War that often gets discredited or unheard. At the DMZ, explore Panmunjom, shake hands at the exact place that the Armistice Agreement was signed between UN forces and the DPRK, and wave hello to the South at the blue houses in the Joint Security Area. Afterward, we will head to the Koryo History Museum, a UNESCO site, to learn about the Koryo Dynasty (where the name Korea originates). You'll also have a chance to pick from the most varied range of postcards in the country at the Koryo Stamp Shop.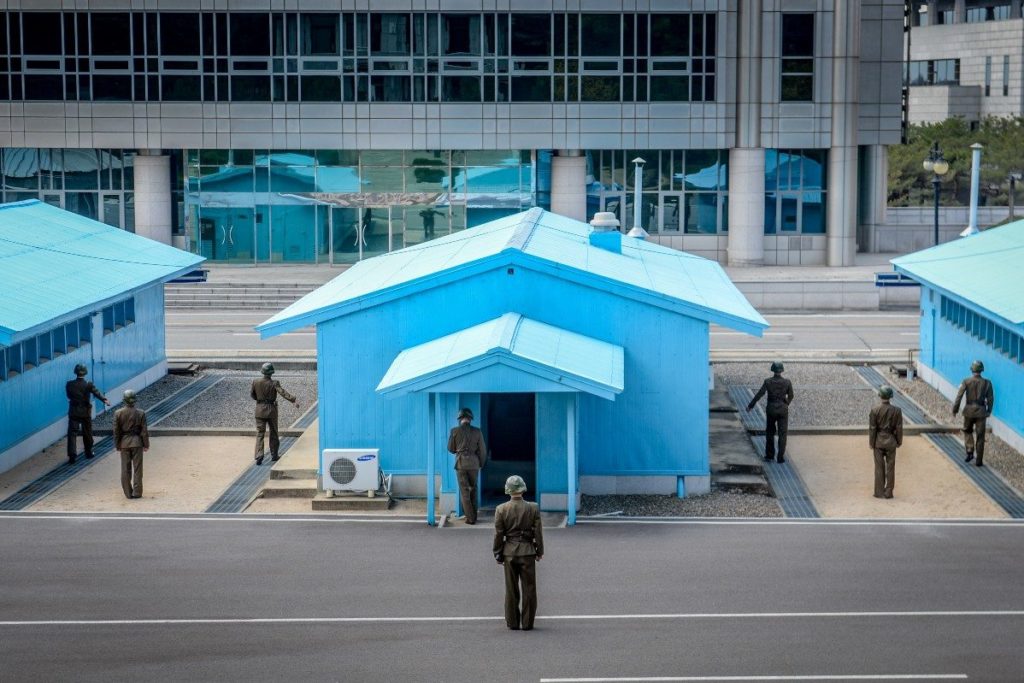 For lunch, enjoy Pansanggi, a historic Kaesong cuisine traditionally served for royalty. Afterward, stop at the original Sonjuk Bridge, a UNESCO site. On our return to Pyongyang, we will visit the newly renovated Victorious Fatherland Liberation War Museum and the USS Pueblo in its new spot (the "American Spy Ship" captured in 1968).
For dinner, enjoy Korean bibimbap and get the chance to taste local Korean draft beers at the Taedonggang Microbrewery.
Overnight at the Koryo Hotel.
(Meals: B, L, D)
DAY 3 – NATIONAL DAY
We will start the morning off with a walk in Kim Il Sung Square, the 3rd largest public square in the world and home to many of the North Korean military parades broadcast internationally during important holiday events. Take a stroll through the city to the Foreign Languages Bookshop which provides the best chance in the DPRK to pick up postcards, publications, posters and other trinkets that make perfect souvenirs. Stroll through Mansudae Fountain Park, a serene meeting spot for students in their free time and often used as a backdrop for wedding photos. Head over to the Mansudae Grand Monument, an important site famous for its large, bronze statues of President Kim Il Sung and Chairman Kim Jong Il. It is customary to bow and lay flowers here. Visit the Grand People's Study House, an extensive library used to further education and the heart of study on the national Juche ideology. We will then visit the Mangyongdae Native House, the birthplace of President Kim Il Sung.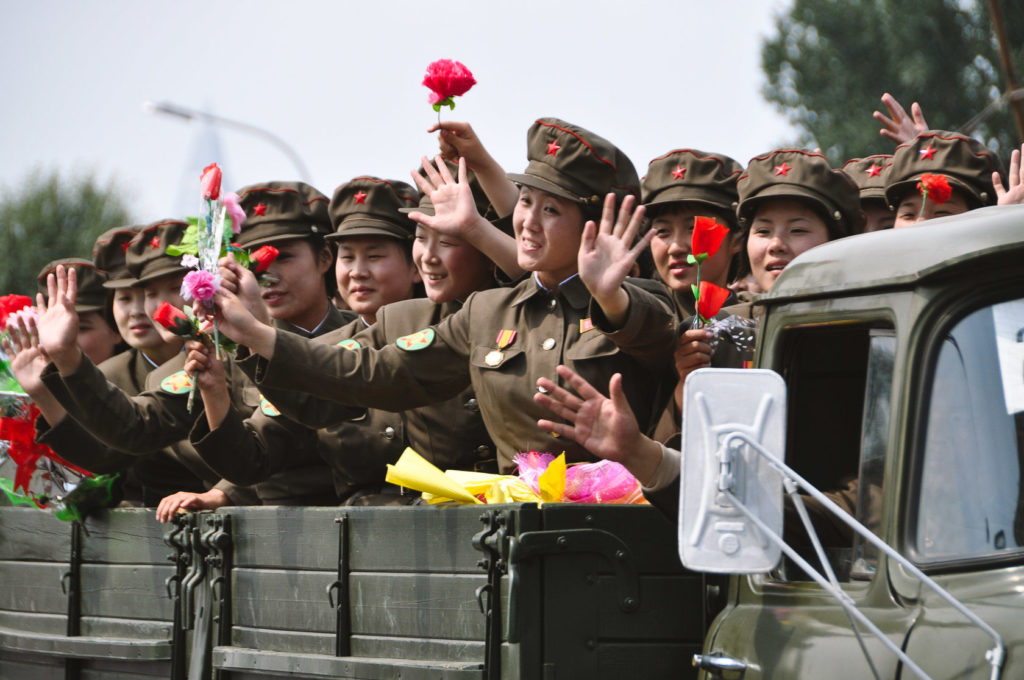 After lunch, we will go walking on Moran Hill, a park place buzzing with festivities as locals celebrate the National Day with picnics and dancing! Learn about the DPRK's defining ideology, the Juche philosophy, on a visit to the iconic Tower of Juche Idea for the best views in Pyongyang city! Then visit the massive Monument to Party Founding, built to commemorate the 50th anniversary of the foundation of the Workers' Party of Korea. Afterward, we'll witness (and take part in!) National Day festivities, usually including an unforgettable mass dance event where you can join in if you wish!
Head deep underground to take a 5-stop ride on the Pyongyang Metro, the deepest metro in the world also filled with mosaics, monuments, and plaques commemorating the DPRK's revolutionary history. Follow up with a casual evening walk on the new Ryomyong Street, home to Pyongyang's most extravagant apartment complexes and opened in just April 2017 to international media attention. Dinner will be at a local Korean BBQ restaurant, a favorite among locals where we will cook our own meats at the table!
Overnight at the Koryo Hotel.
(Meals: B, L, D)
DAY 4 – PYONGSONG AND MT. MYOHYANG
After breakfast, drive 30km to the satellite city of Pyongsong, known as the 'Silicon Valley of North Korea'. witness Pyongsong come to life as we drive through the city and into the countryside to reach the Paeksong Revolutionary Site. This is a tranquil forested area where Kim Il Sung University was relocated during the Korean War. It is now commemorated by preserved buildings, murals and monuments. Visit Pyongsong Square, the heart of the city headed by two grand monuments of the Great Leaders. It is customary to purchase and lay flowers here. We will then have a guided tour of the Revolutionary Museum of South Pyongan Province, a lavish multi-floor museum exhibiting the revolutionary exploits of the Great Leaders from the anti-Japanese period, the Korean War and the subsequent rebuilding, right through into present day.
After lunch, visit the Pyongsong Primary School where we will get to meet and interact with an English class (school supply donations are very welcome!), then enjoy a special musical performance. The children will also be eager to show off their sporting skills to you here, we urge you to play them at Ping Pong…if your ego can handle the loss, that is!
We will then road-trip to picturesque Mt. Myohyang (Myohyangsan). This is a 2-hour drive filled with countryside scenery providing a great window into rural North Korean life. Overnight will be at the Hyangsan Hotel, the self-confessed best hotel in North Korea with striking pyramid design nestled within the mountains. It's also the only hotel in North Korea with regular internet access available to foreigners!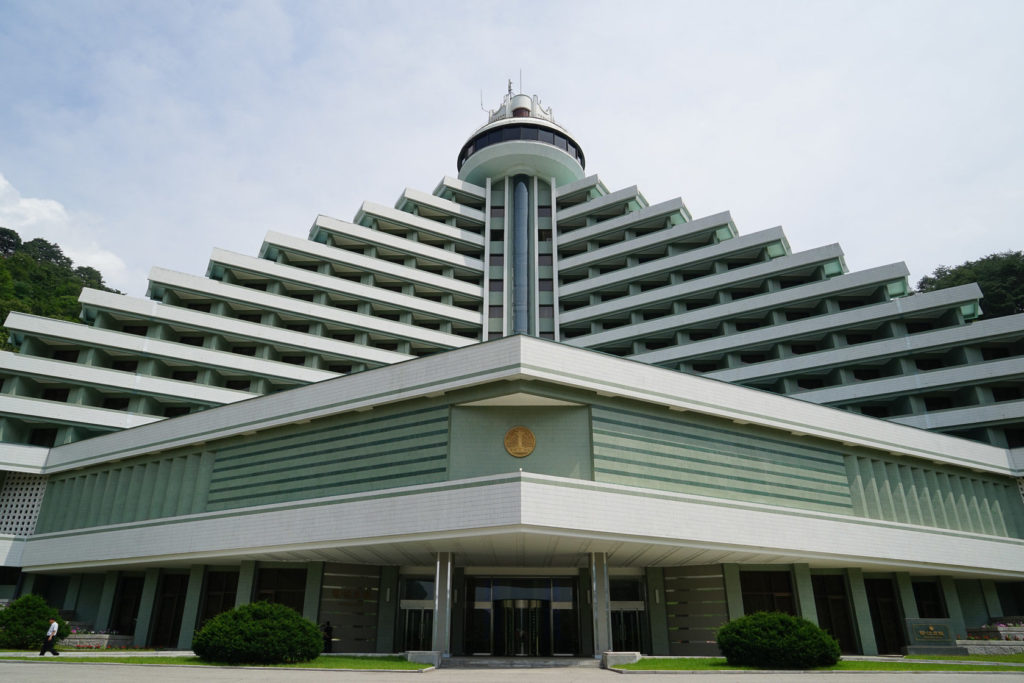 Overnight at the Hyangsan Hotel.
(Meals: B, L, D)
DAY 5 – MT. MYOHYANG AND RETURN TO PYONGYANG
Our day begins with a formal visit to the International Friendship Exhibition, a massive complex housing the gifts given to the Great Leaders by foreign dignitaries over the years, displayed proudly in over 150 rooms. There's even a basketball signed by Michael Jordan presented by former U.S. Secretary of State Madeleine Albright. Take the elevator to the top floor and enjoy the mountain view and fresh air while sipping organic mountain root tea. Then visit the ancient Buddhist Pohyon Temple founded under the Koryo Dynasty and which remains populated by practicing Korean Buddhist monks today. Join the scenery as we hike the Manphok Valley trail, an area popular with picnicking locals and filled with dense forest, waterfalls and temples with great views (bring comfortable shoes; all hiking is optional and at your own pace). There will be plenty of opportunities for photos here!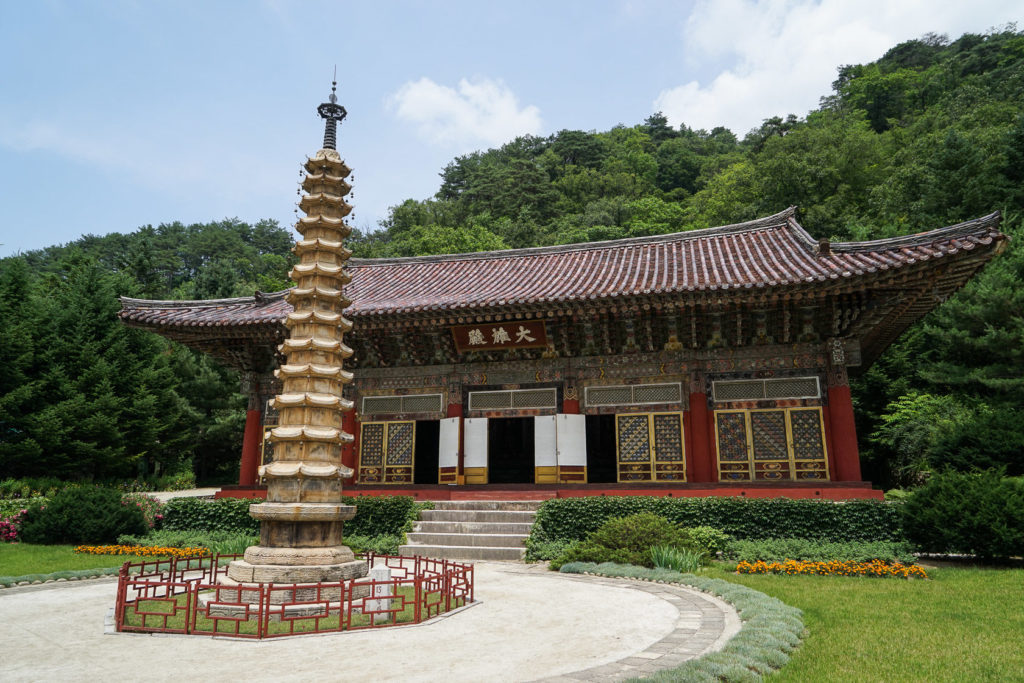 On return to Pyongyang. Return to the capital for a look into the DPRK's push towards technological advancement at the newly developed atom-shaped Sci-Tech Complex. We recommend getting the ink block paintings here. For dinner we will enjoy Jeongol, a Korean-style hotpot at a popular local restaurant before celebrating a great trip gone by with farewell drinks at a bar brewery beside the Koryo Hotel, where you'll be able to come and go as you please!
Overnight at the Koryo Hotel.
(Meals: B, L, D)
DAY 6 – FAREWELL
Morning departure to Beijing. Estimated time of arrival is 10:00 a.m. local time. Please reserve any connecting flights departing after 1pm local time to allow sufficient time for immigration/customs clearance, baggage claim, re-check-in and security.
(Meals: B)
This itinerary is subject to change at any time.
What's included in this tour:
DPRK visa fees and handling
Round trip ticket from Beijing to Pyongyang on Air Koryo
5 nights' DPRK hotel accommodations (double occupancy, 4 stars)
Meals as indicated
Coach/car transportation in DPRK
Two local English-speaking Korean guides
One local driver
Admission fees (except those listed under exclusions)
What's not included in this tour:
Private sedan transportation from Beijing International Airport to hotel (approximately $75)
Round-trip airfare to Beijing from home country
Beijing hotel accommodations
Chinese visa fees and processing, if applicable
Travel and medical insurance
Personal expenses (laundry, telephone, etc.)
Souvenirs
Extra drinks during meals (one complimentary beer included)
Beer at microbreweries ($1-3 per draft)
Extra a la carte items incurred during meals
Tips for guides and drivers (please budget $10 per day per traveler)
Excluded Entrance Fees for Optional Events
Entrance fees are priced in Euros but RMB and USD accepted.
Elevator to the top of the Juche Tower, 5 euros
Elevator to the top of the Arch of Triumph, 5 euros
Flowers to be laid at the Mansudae Grand Monument, 3-5 euros
Pyongyang circus (if playing): 20 Euros
Meari Shooting Range: rifle and per bullet fees apply
Kaeson Amusement park entrance and rides, approximately 1-3 Euros each
For more information on the booking process, see How to Travel To North Korea
See Terms and Conditions for our refund policy and other disclaimers.