3 Nights – from €1290
** Our price is all-inclusive of round-trip flights from Beijing on Air Koryo & DPRK Visa **
Pyongyang Marathon – April 7, 2019
DEADLINE: March 7, 2019
In this short tour, take a break from your day-to-day to run the Pyongyang Marathon while taking in the grand Pyongyang highlights!
Book Now! Registration begins NOW and seats are selling fast! (Standard cancellation terms apply)
Approximate registration fees, to be paid in USD cash in Pyongyang (if fees change, the difference will be nominal)
RUN THE FULL MARATHON – separate registration fee of $150 USD
RUN A HALF MARATHON – separate registration fee of $100 USD
RUN A 10K – separate registration fee of $70 USD
RUN A 5K – separate registration fee of $50 USD
Almost anyone can run in the amateur marathon, half marathon, or 10K/5K alongside professional runners. There are no official qualifying times for the amateur marathon. However, the time limits to receive a registered time and finishers certificate are: Within 4 hours for the full marathon, 2.5 hours for the half marathon, and 2 hours for the 10k and 5k events. You can still take 3 hours in the 10k event and finish to a roaring crowd in Kim Il-Sung Stadium even though you've been disqualified from receiving an official time. The entry to Kim Il-Sung Stadium will close after 4 hours for the closing ceremony, the finishing line will be moved outside for full marathoners to register their times.
All participants will receive an official award certificate, participation medal, running shirt, timing chips, and other exclusive goodies. All winners will also receive an official souvenir and finishing shirts. Merchandise subject to change.
More information on the Pyongyang Marathon HERE
---
DAY 1 – DEPART FOR PYONGYANG
At 10:30am, meet the group at the Beijing Capital International Airport for check in at the Air Koryo counter (Terminal 2).
We will then fly to Pyongyang, the capital of the DPRK and home to many of the most iconic monuments and political sites. Our Korean tour guides will be meet us at the airport with a warm welcome. Our first stop will be at the Arch of Triumph, the world's largest triumphal arch. From the top, we will get our first panorama view of Pyongyang city! Afterwards, we will head over to the Mansudae Grand Monument, an important site famous for its large, bronze statues of President Kim Il Sung and Chairman Kim Jong Il. It is customary to bow and lay flowers here. We will also view the Chollima Statue. Stroll through Mansudae Fountain Park, a serene meeting spot for students and often used as a backdrop for wedding photos. We will then check into the Koryo Hotel, our deluxe accommodation in the heart of Pyongyang popular with local residents, foreign diplomats, delegations, NGOs. Dinner will be in style at the Revolving Restaurant at the Koryo Hotel!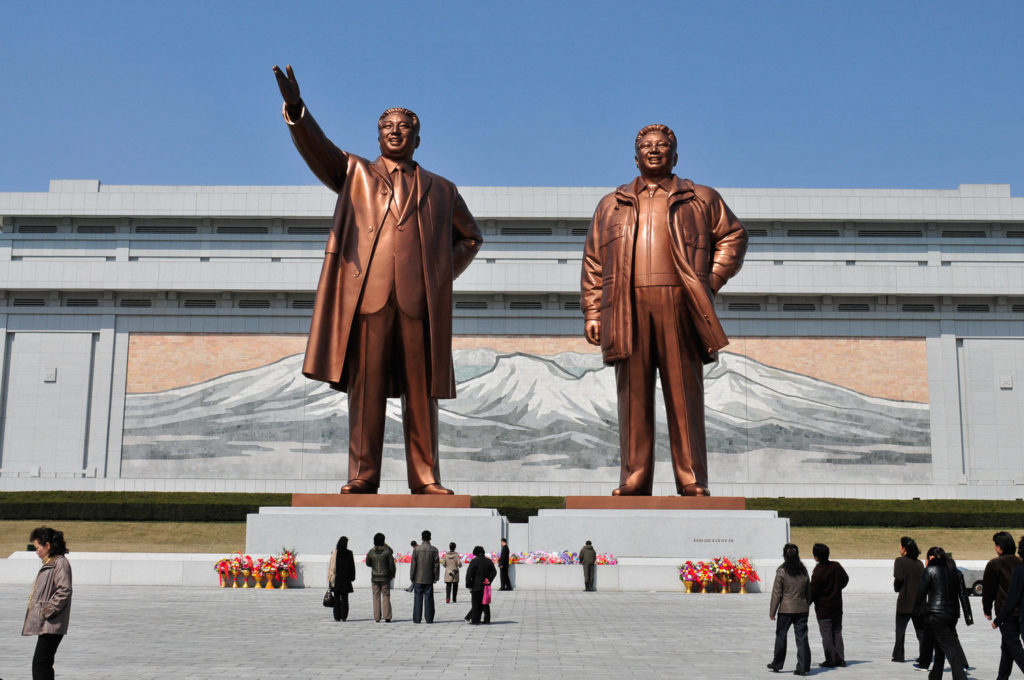 Overnight at the Koryo Hotel.
(Meals: L, D)
DAY 2 – THE PYONGYANG MARATHON!
Wake up bright and early (approximately 7am) to get ready for the PYONGYANG MARATHON! This is the sixth year in all of history that foreign amateur runners will be allowed to run in the Pyongyang Marathon. Stretch out, lace up and pound that Pyongyang pavement! The race starts at approximately 9am and is over no later than 1pm. There is a pre-race ceremony starting at 8am and a post-race award ceremony starting at 1pm. Spectators are welcome to join this tour, as there will be plenty to see at the Kim Il Sung Stadium – local soccer/football match and runners returning to the stadium in their last lap of the race.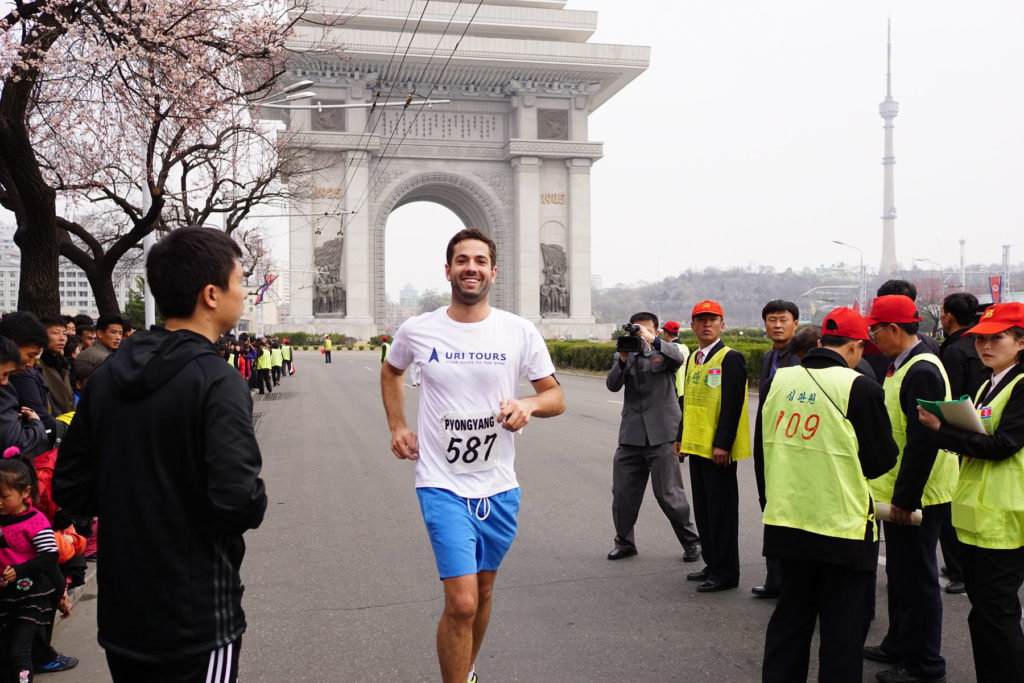 After the race we will cool down at the hotel and give you time to shower and rest up before we have lunch. After a well-deserved meal, it will be easy sightseeing by visiting the Kimilsungia Flower Festival, a multi-floor display of the flowers named after each of the late leaders which is only open during this time of year. Then visit the Mangyongdae Native House, the birthplace of President Kim Il Sung. Then visit Kwangbok Supermarket, a five-story department complex filled with local and imported product and the only place in Pyongyang where foreigners are able to exchange and use the local North Korean Won. We will have an optional visit to the Meari Shooting Range. Dinner will be at a local Korean hotpot (Jongol) restaurant, a favorite among locals. Finish the night with a the chance to taste local Korean draft beers and drink to a race well run at at the Taedonggang Microbrewery!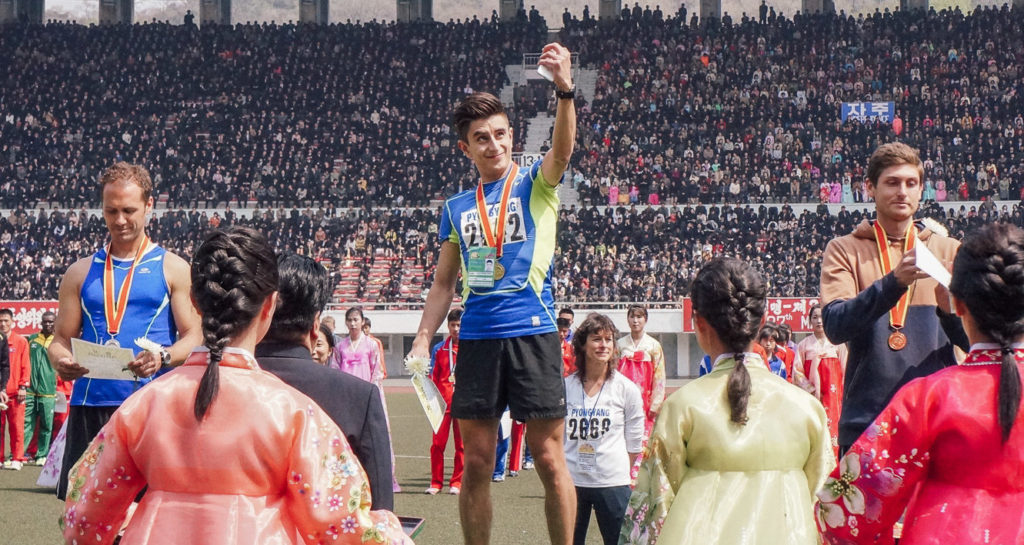 Overnight at the Koryo Hotel.
(Meals: B, L, D)
DAY 3 – PYONGYANG CITY TOUR
Begin the morning with a visit to the Kim Il Sung Square, home to many of the North Korean military parades broadcast internationally. Walk to the Foreign Languages Bookshop which provides the best chance in the DPRK to pick up postcards, publications, posters and other trinkets that make perfect souvenirs. Then visit the Victorious Fatherland War Museum where we will get a guided tour of the war remnants, exhibits, and dioramas and learn about the Korean war from the North Korean perspective! You'll also be able to board the 'American Spy Ship' USS Pueblo docked beside the museum.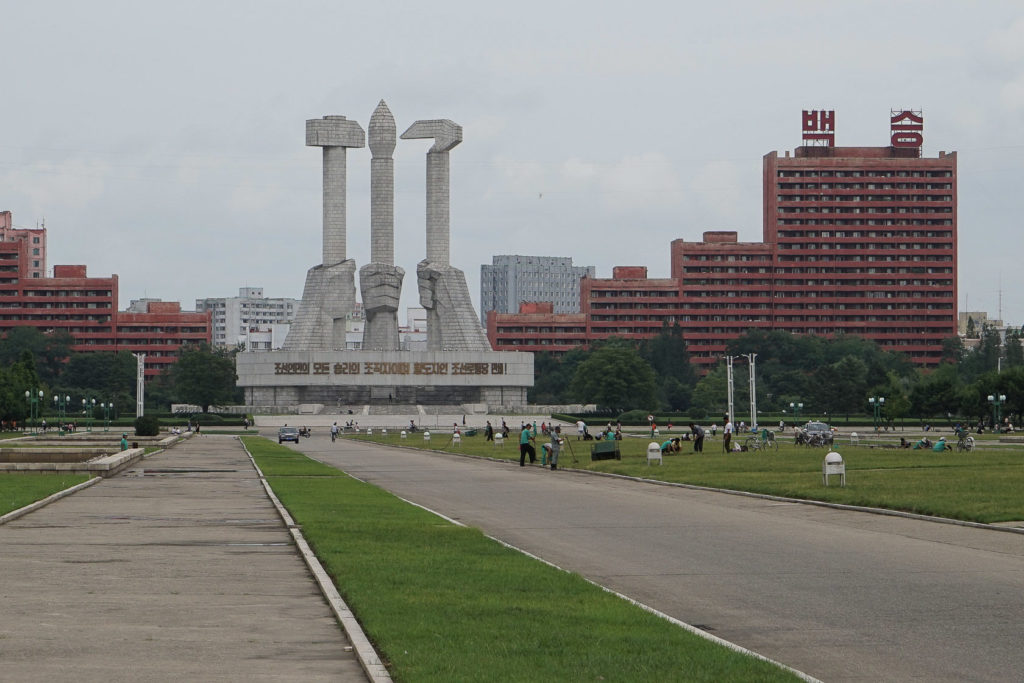 After lunch, get the best views in Pyongyang at the Tower of the Juche Idea where you will learn about the DPRK's defining ideology, the Juche philosophy. Afterwards, We will then visit the massive Monument to Party Founding, built to commemorate the 50th anniversary of the foundation of the Workers' Party of Korea, recognizable by the communist hammer and sickle but with an added North Korean twist! Close by we will pay a visit to the Pyongyang House of Culture. Then visit the Grand People's Study House, an extensive library used to further education and the heart of study on the national Juche ideology. We will see a foreign language lesson in session here. Head deep underground to take a 5-stop ride on the Pyongyang Metro, the deepest metro in the world also filled with mosaics, monuments, and plaques commemorating the DPRK's revolutionary history. Dinner will be Korean BBQ at a popular restaurant in the city! After dinner, the thrillseekers among us can take an optional visit to the Kaeson Youth Amusement Park.
Overnight at the Koryo Hotel.
(Meals: B, L, D)
DAY 4 – FAREWELL
Morning departure to Beijing. Estimated time of arrival is 10:00 a.m. local time. Please reserve any connecting flights departing after 2pm local time to allow sufficient time for immigration/customs clearance, baggage claim, re-check-in and security.
(Meals: B)
This itinerary is subject to change at any time.
What's included in this tour:
DPRK visa fees and handling
Round trip ticket from Beijing to Pyongyang on Air Koryo
4 nights' DPRK hotel accommodations (double occupancy, 4 stars)
3 meals per day
Coach transportation in DPRK
Two local DPRK guides
One local driver
Admission fees (except those listed under exclusions)
What's not included in this tour:
Marathon registration fee (detailed above) and Kim Il Sung Stadium festival for spectators ($28 USD)
Round-trip airfare to Beijing from home country
Chinese visa fees and processing, if applicable
Travel insurance and medical evacuation insurance (required)
Personal expenses (laundry, telephone, etc.)
Souvenirs
Extra drinks during meals (one complimentary beer included)
Tips for guides and drivers (please budget $10 per day per traveler)
Excluded Entrance Fees for Optional Events
Entrance fees are priced in Euros but RMB and USD accepted.
Elevator to the top of the Juche Tower, 5 euros
Elevator to the top of the Arch of Triumph, 5 euros
Flowers to be laid at the Mansudae Grand Monument, 3-5 euros
Pyongyang circus (if playing): 20 Euros
Meari Shooting Range: rifle and per bullet fees apply
Kaeson Amusement park entrance and rides, approximately 1-3 Euros each
For more information on the booking process, see How to Travel To North Korea
See Terms and Conditions for our refund policy and other disclaimers.