How to Get a North Korean Suit
Traveling through the DPRK, or North Korea, you'll immediately notice the multitudes of people wearing casual zip-up suits that may look like military uniforms from afar, but indeed they are for civilian wear. These solid-colored, multi-purpose suits have a uniquely North Korean utilitarian character about them.
Local or tourist?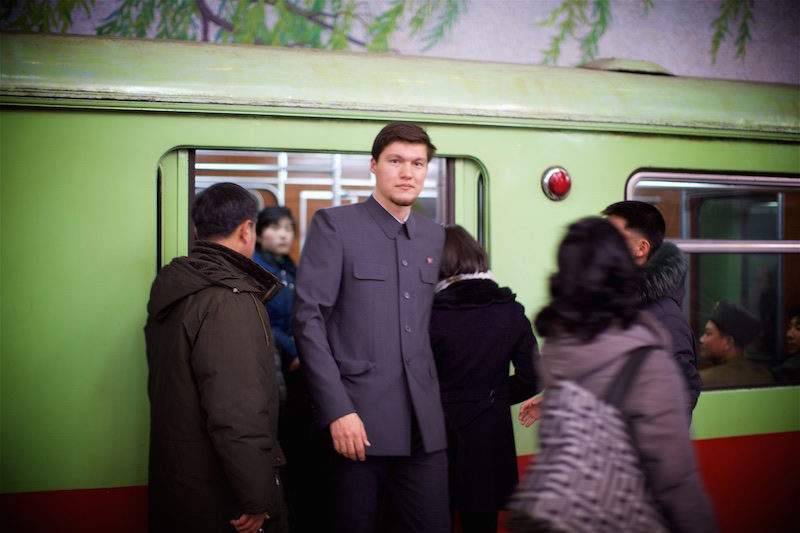 Admit it, we had you for a sec. He's a tourist.
So, you want to know how to get your hands on a North Korean suit?
Here's a step by step guide on how to get your very own North Korean suit tailor made at either the Koryo or Yanggakdo Hotel in Pyongyang:
STEP 1: GET TO NORTH KOREA
You first need to get to North Korea. Lucky for you, it's easy to travel to North Korea, despite contrary belief. Almost anyone can visit legally as a tourist, even Americans, so long as you book a North Korea tour through an authorized DPRK travel agent.
STEP 2: GO TO THE BASEMENT OF THE KORYO HOTEL OR THE 3RD FLOOR OF THE YANGGAKDO HOTEL
Once you've settled into your hotel, we recommend making your first visit to the tailor early on in your trip, because you will need to go back for a second or third fitting. The tailor at the Koryo Hotel is in the basement. At the Yanggakdo, tailor is on the 3rd floor. You can't take the elevator from the lobby. So you'll need to take the internal staircase that says "STAFF ONLY" right behind the counter for photo printing services.
STEP 3: PICK A STYLE
Try on a stock suit from the selection on the rack. Choose a color and style. Colors vary from a lighter green to a dark hunter green, to gray to navy. You can get it in short sleeve or long sleeve. You can get a pleated or straight pocket. Even the detail in the back varies from elastic closure to a more elegant button closure.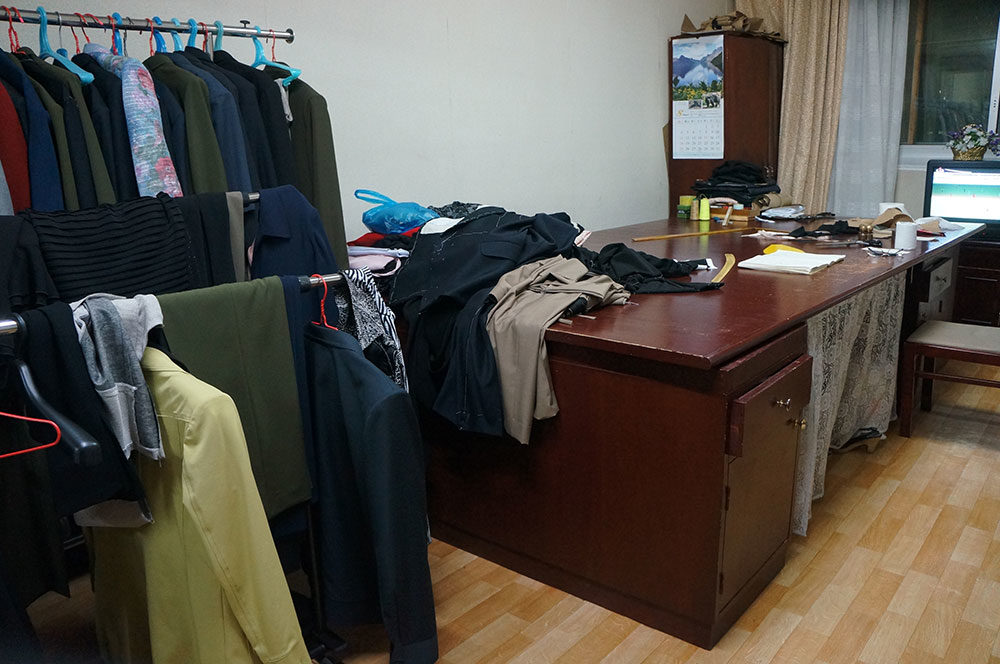 STEP 4: GET FITTED
Go behind the curtains and get fitted. The tailor will take all of your measurements, ask for a $50 deposit, and then get right to work. They are open 24 hours!
STEP 5: GO BACK FOR A SECOND FITTING
In a day or two, go back to the tailor for a second fitting. This time, the tailor will make sure the measurements are correct and that the suit will fit properly before making the final alterations. This is your last time to make any stylistic changes to your order – pleat or no pleat, elastic or no elastic, pocket or no pocket.
STEP 6: PUT IT ON AND WEAR IT HOME!
Go back to the tailor at the designated time to pick up your suit. Voila! You have your very own custom tailored North Korean suit. This is yours to keep, to wear during the rest of your trip, to bring home to show off, to wear on casual Fridays. Any way you sport it, you'll be sure to turn heads!
Other important details:
Price: approx $120 for both top and bottom (cash only; USD/EUROS/RMB all accepted). One line suits are more, about $180.
Selection: coats, dresses and other cultural outfits available
Women can get these suits tailored too, but it's more common for women to have Choson-ot 조선옷 made. Watch for our next post on North Korean women's wear and how you can get your own Korean dress!
—-
For more information on traveling to the DPRK, contact us. We offer a number of year-round North Korea tour options and we take care of the flights, visas, and all of the hard stuff, leaving you to enjoy this once-in-a-lifetime opportunity!
If you want to read a perspective on fashion in North Korea, check out "the Juche aesthetic" in Wherever Mag.