Pyongsong Travel Guide
Pyongsong is a satellite city of Pyongyang, located 30km northeast, and the capital of South Pyongan Province. Opened for tourism in 2012, Pyongsong is often referred to as the 'Silicon Valley' of North Korea, functioning as a research hub for science and technology. Pyongsong is fast developing in recent years, with modernised apartment blocks and educational institutions characterising the city. Pyongsong is renowned for its cultural and industrial sites, revolutionary sites dating back to the Korean War, and factories of household North Korean names.
Why is Pyongsong important?
Well-connected domestically by road and rail, Pyongsong is a major trade portal to Pyongyang and home to many of North Korea's brightest academics and entrepreneurs. Important organisations include the Space Science Research Institute and the National Academy of Science, located by the trendy Unjong District, a Special Economic Zone for exploring tech startups and research ventures.
Many light industry factories are based in Pyongsong, such as the Paeksong Foodstuffs Factory and Taedonggang Textile Factory which produce daily essentials, and the green, arable land of outer Pyongsong is used by cooperative farms to cultivate fruits, rice, and soybeans. The secluded hills of Pyongsong were once used for covert administrative activities during the Korean War as the capital took the brunt of bombardment.
How do you get to Pyongsong?
By Road: Pyongsong is located just 30km from Pyongyang, roughly a 40-minute northeast drive on well-paved roads. Pyongsong can also be approached from the north, typically on return from a visit to Mt. Myohyang, the drive between them taking roughly 2 hours.
What's the weather like in Pyongsong?
Pyongsong city is located within a basin, with the wider area largely made up of mountains and forests. The city area sits slightly above sea level at roughly 100m. The average annual temperature is 10 degrees Celcius with lows during winter in January of -7 degrees Celcius, and highs during summer in August of 24 degrees Celcius. The annual average precipitation is 1100mm.
What is there to see in Pyongsong?
Konji-Ri Revolutionary Site
Konji-Ri Revolutionary Site is a covert site of bunkers, tunnels and dwellings hidden within the hills that once served as the headquarters to the Korean People's Army during the Korean War.
Doksong Primary School
A local primary school acclaimed for its performing arts and for advancing the skills of many promising ping pong players! Drop in on an English class and get to know the students.
Pyongsong Square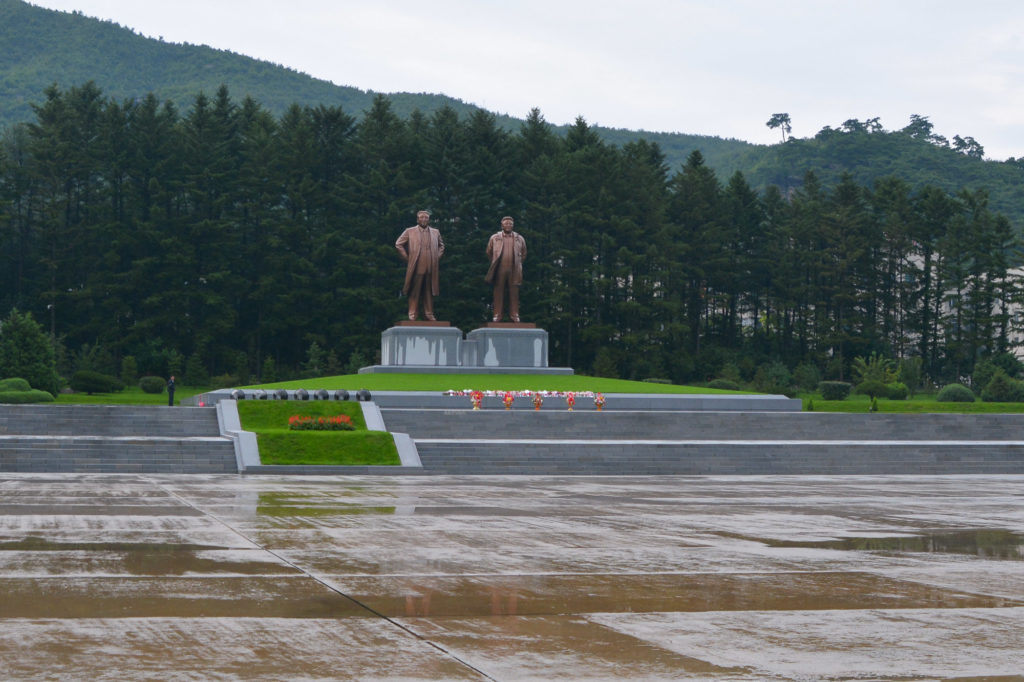 Pyongsong Square is the central public square of Pyongsong, a satellite city of Pyongyang.
Revolutionary Museum of South Pyongan Province
A lavish museum exhibiting the history of revolutionary activities taking place in South Pyongan Province.
Paeksong Revolutionary Site
Paeksong Revolutionary Site is a tranquil forested area where Kim Il Sung University was relocated during the Korean War. It is now commemorated by preserved buildings, murals and monuments.
How do I include Pyongsong in my itinerary?
Day trip: Due to its close proximity to Pyongyang, day trips to Pyongsong are easily arranged without pushing for time. This is an ideal way to vary a short North Korea tour with a contrasting window into provincial life.
Stopover trip: Perhaps the most typical and efficient way to visit Pyongsong is as a stopover between Mt. Myohyang. You'll drive through Pyongsong and make scheduled stops at the highlights without doubling back.
Overnight trip: After a day touring Pyongyang, retiring in Pyongsong for overnight is a great opportunity to diversify your hotel experiences, and to get a headstart on touring Pyongsong before heading onwards to Mt. Myohyang.
Where to stay in Pyongsong?
The only accommodation available to foreigners in Pyongsong is the Jangsusan Hotel. Centrally located, the hotel is dated with basic amenities but comfortable for a night, with entertainment such as billiards, karaoke and a memorable bar.
Interested in a provincial day trip to Pyongsong? Pyongsong is included on many of our group tours and we can arrange visits privately anytime. Contact us!