Should I Take a Flight or the Train to North Korea?
You've decided on a North Korea tour but aren't quite sure which transport method suits you best. We've got you covered! Depending on the tour, it's possible to join or depart by either a flight or the train, or even a combination of both.
Taking a flight to North Korea
Unless otherwise stated, we include return flights on Air Koryo, North Korea's flagship airline, as the default for our group tours. The major hub facilitating flights to Pyongyang is Beijing, the flight time of which is just 2 hours. Flights also run between Shanghai and Shenyang in China, and Vladivostok in Russia. Both Economy and Business class seats are available.
With Air Koryo, your North Korea experience begins immediately, upon boarding you'll be handed a copy of the Pyongyang Times by an immaculately dressed air hostess bearing a bright red lapel pin of North Korea's leadership. At cruising altitude, military orchestral performances will keep you entertained on overhead screens, and you'll have the opportunity to taste the infamous 'Air Koryo Burger'. Get your first glimpse of North Korea's stunning landscape from the window on approach, and head through the renovated Pyongyang Sunan International Airport on landing. When flying out, duty-free trolleys packed with unique North Korean souvenirs will shuttle down the aisle.
A flight to Pyongyang on Air Koryo is an authentic experience many travelers liken to the 'golden age' of flying!
While Air Koryo has a fleet of Soviet-era aircraft, the planes used on the Beijing route are typically the Tupolev TU-204-300 which were manufactured in 2007.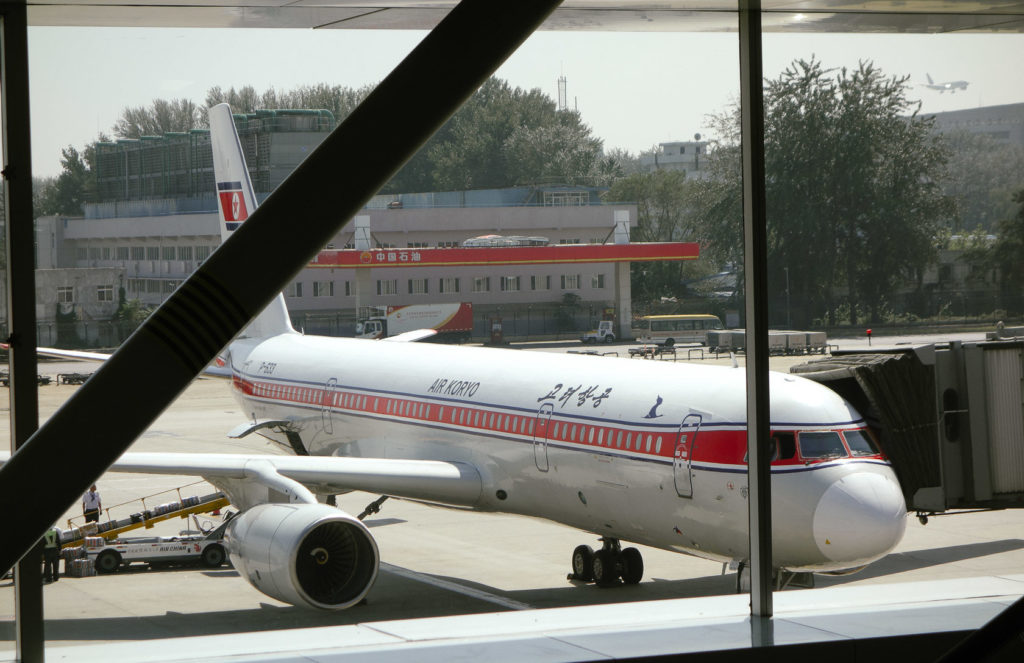 Taking the train to North Korea
For the train lovers out there, you'll be pleased to hear there is a regular train service between Beijing and Pyongyang! This train operates four times a week all year round in both directions. The train takes approximately 24 hours, always arriving +1 day after departure. Both 'soft sleeper' and 'hard sleeper' berths are available. Soft sleeper compartments are 4-berth and lockable, while hard sleeper compartments are 6-berth, open plan and marginally cheaper.
Additionally, there is a daily train service running between the Chinese border city of Dandong to Pyongyang. This train runs both ways and takes approximately 7 hours. Only hard sleeper compartments are available on this route.
The trains are relatively comfortable, both hard and soft sleeper compartments include fresh bedding and the railway tracks are smooth enough to get some shut-eye. Toilets are primarily squat style and you'll need to bring your own toilet paper and hand sanitiser. Luggage space can be extremely limited, especially in hard sleeper compartments.
The train journey is guaranteed to provide a sweeping impression of North Korea's untouched countryside as your carriage ambles through rural farmland and agricultural communities. You'll find yourself waving to locals from the window and the train itself presents great opportunity to mingle with Koreans transiting between the capital and China. It's not uncommon to share lunch with North Korean businessmen or rub shoulders with the national sports teams on this train. At the border, you'll witness first-hand the stark contrast in ways of life after crossing the 1km Sino-Korean Friendship Bridge linking North Korea and China.
There is a train operating between Khasan in Russia and Pyongyang, however, it operates on an infrequent and erratic schedule subject to cancellations. This route is typically not arranged for tourists.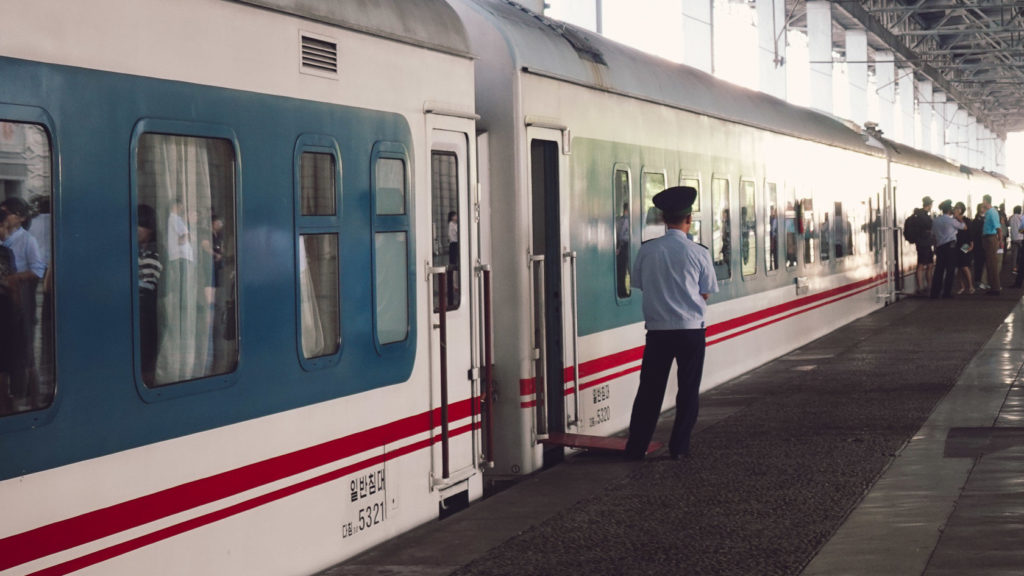 What option is most suitable for me?
Should you take a flight or the train both ways, or perhaps mix it up? There are advantages and disadvantages to each method, and we've detailed each option below.
Option 1 – Return Flights

(Highly Recommended!)
This is the most comfortable, convenient and quickest method to visiting North Korea, but it's also the most expensive. Beijing and Shanghai airports are well connected to both Europe and the Americas with direct flights, making this option the perfect choice for travelers with limited time, limited visa flexibility and/or a desire to avoid longwinded train travel. Air Koryo flights are typically on time and schedule changes are rare.
One massive advantage of this option is that you may not need a Chinese visa. There are 53 qualifying nationalities, most of them western, eligible for the 144-hour visa-free transit through Beijing and Shanghai airports on the showing of onward air tickets. This simplifies your visit, saving you money and time, and allows you to book a North Korea tour even if you're already traveling. This policy isn't available if you're taking the train.
If transiting China isn't suitable, flights from Vladivostok in Russia could be. The Russian visa may be easier to arrange for your nationality, and it's worth checking to see if you're covered under Vladivostok's e-visa program available to 18 eligible countries.
On both arrival and departure by flight, the immigration and customs formalities in Pyongyang Sunan International Airport are well-oiled and the simplest in the country.
Option 2 – Return Trains
This is the slowest option at 24 hours each way between Beijing and Pyongyang. We only recommend this option if you enjoy sleeping on trains and have plenty of time. It's possible to take the shorter journey between Dandong and Pyongyang, but what you save on ticket cost you'll likely spend in reaching or departing Dandong itself.
You'll need at least a double-entry Chinese visa to take the return train option. No transit policies apply by train. Logistically, you'll be required to disembark the train in Dandong for Chinese border control before reembarking to continue the journey.
One major benefit of taking the train both ways is that you'll save on Beijing accommodation at either end of your tour. On the flip side, this means the majority of the Chinese leg is in darkness and there's not much to see. Rail travel also has a higher threshold to weather delay than air travel, perhaps something to consider during summer months of high rainfall.
Unfortunately, taking the train into North Korea means you'll arrive a few hours after the flight-takers. If you're joining our group tours, this means you'll miss out on an activity or two. For this reason, we recommend taking the flight in and the train out option instead (outlined further below!)
No meals are provided on the train, but there is a restaurant carriage which ends service quite early in the evening on the Chinese side, so stocking up on snacks is a must. On the Korean side, the dining car will be an opportunity for your first (or last!) North Korean meal.
Option 3 – Train In / Flight Out:
Without a doubt, the mix of flight and train provides the most compelling North Korea experience. By taking the train in, you can expect an immediate culture shock after crossing the Yalu River from China into North Korea. As your journey unfolds through remote townships and vast cornfields, the urban outskirts become more defined, culminating in the sprawling cityscape of Pyongyang. Your evening arrival at 6:45pm will mean that after warm greetings from your guides, you'll be shuttled straight to dinner to meet the flight-takers from the group.
The chief downside to this option is missing a few sites on arrival such as a visit to the Arch of Triumph. The customs and immigration procedures when entering by train are also more rigorous than by flight. If you're a light sleeper, train entry may also mean arriving into Pyongyang eager for an early night to begin your tour.
There are drawcards, however, such as only needing a single-entry Chinese visa for the train leg if you're otherwise eligible for the 144-hour visa-free transit for the flight leg. After a week without the internet, it may also be comforting to know that on departure day, it only takes a couple of hours before you're back on social media sharing photos from the trip!
Option 4 – Flight In / Train Out

(Uri Tours Approved!)
Hands down, this gets our vote for the best way to visit North Korea! With this option, you'll get the best of both worlds — the flagship aviation experience and the scenic tour of North Korea by rail.
By entering with the group via flight, you won't miss any tour activities and you'll arrive fresh to begin your adventure. On departure at Pyongyang Railway Station, wave goodbye to your guides, sit back and contrast your tour with a window to provincial villages and rustic dwellings in the countryside. It's a great opportunity to debrief yourself and reminisce over a fascinating trip gone by.
We stay at the Koryo Hotel in Pyongyang, just a stone's throw from Pyongyang Railway Station, which means there's no rush in the morning. The train doesn't depart until 10:25am while the flight-takers are out the door by 7:00am!
Lastly, only by taking the train out of North Korea can you include our Sinuiju Extension. You'll overnight in Dongrim, take a Sinuiju city tour and then cross the Sino-Korean Friendship Bridge into Dandong by bus, not by train. It's certainly a unique way to finish your tour!
Whichever your preferred method, contact us and we'll provide all the details you need to join our tour!