National Day in North Korea – 74th Anniversary
National Day on September 9 is North Korea's birthday and formally known as the Day of the Foundation of the Republic. It's a public holiday and celebrated annually with massive festivities. This year marks the 74th anniversary of National Day in North Korea.
History
North Korea, officially the Democratic People's Republic of Korea, was established on September 9, 1948.
Korea has an extensive history of struggles against imperialism, having been occupied by the Japanese Empire between 1910 and 1945. During this time, the Korean people were repressed and endured cruel atrocities as Japanisation was enforced, eroding Korea's cultural identity. Japanese colonial rule ended with the announcement of their surrender in World War 2 on August 15, 1945, now commemorated in both North and South Korea as Liberation Day.
Japan's surrender left the Korean peninsula without state administration and as a result, was hastily divided into two zones at the 38th parallel, with Soviet occupation in the north, and American occupation in the south. Provisional governments emerged amidst this trusteeship of Korea, with Kim Il Sung heading the North. When reunification talks stalled, elections were held, and the Democratic People's Republic of Korea was proclaimed on September 9, 1948, with Kim Il Sung as the Premier.
Celebrations
National Day is one of North Korea's most important dates and is celebrated nationwide. There is ingrained national pride in having broken the yoke of imperialism and the subsequent building of a self-sufficient independent socialist state under Korean terms. The formation of an independent state also secured Korean cultural heritage that was once at risk. It's a day of celebrating past achievements, but also of the prosperous future ahead with hopes of the reunification of the Korean peninsula.
We run tours to North Korea for National Day annually, and festivities in Pyongyang during the day often include the following:
Mass Dance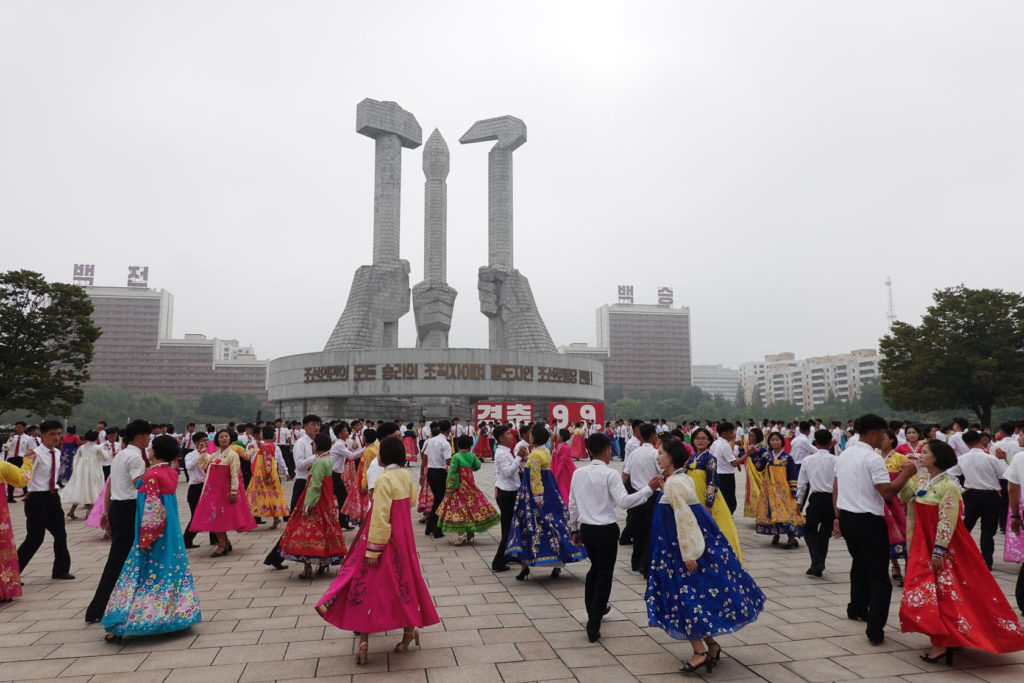 The favoured way to celebrate in North Korea is by mass dance! On important national holidays such as National Day, or in commemoration of an important event or achievement, student-led mass dances are held throughout the country. These last an hour and take place in public squares such as Kim Il Sung Square, at the Monument to Party Foundation or outside the Arch of Triumph. We're able to attend, and the brave in the group are encouraged to find a dance partner to join the party if they wish!
Mass Games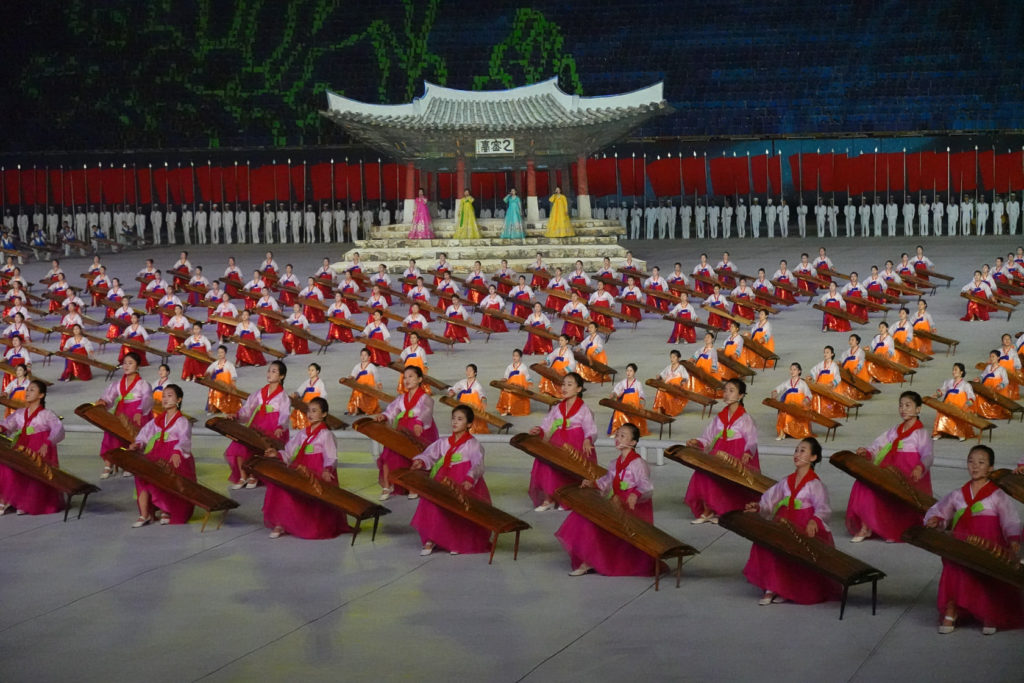 The biggest performance on earth, North Korea's famous Mass Games involves over 100,000 performers of synchronized dancing and gymnastics celebrating North Korea's history. Although the Mass Games are not guaranteed to run every year, they returned after a hiatus specifically for 70th Anniversary National Day festivities in 2018 and has run each year since. Traditionally, September (and over National Day specifically) is the best bet for anyone wishing to witness this unforgettable spectacle.
Performances, Exhibitions & Sporting Events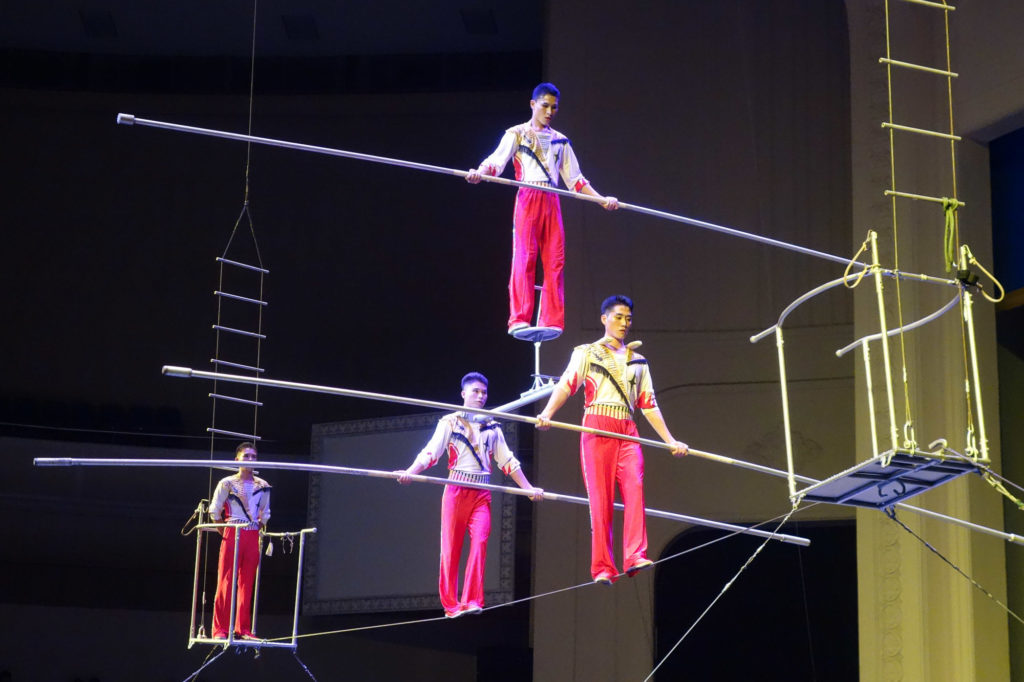 As everyone has the day off, holidays such as National Day are a prime candidate for organisers to align special entertainment to spice up the day! This could be arts such as the Pyongyang Circus or the Pyongyang Symphony, perhaps an outdoor football match or something unique such as a synchronized swimming routine or sugar sculpture exhibition.
Fireworks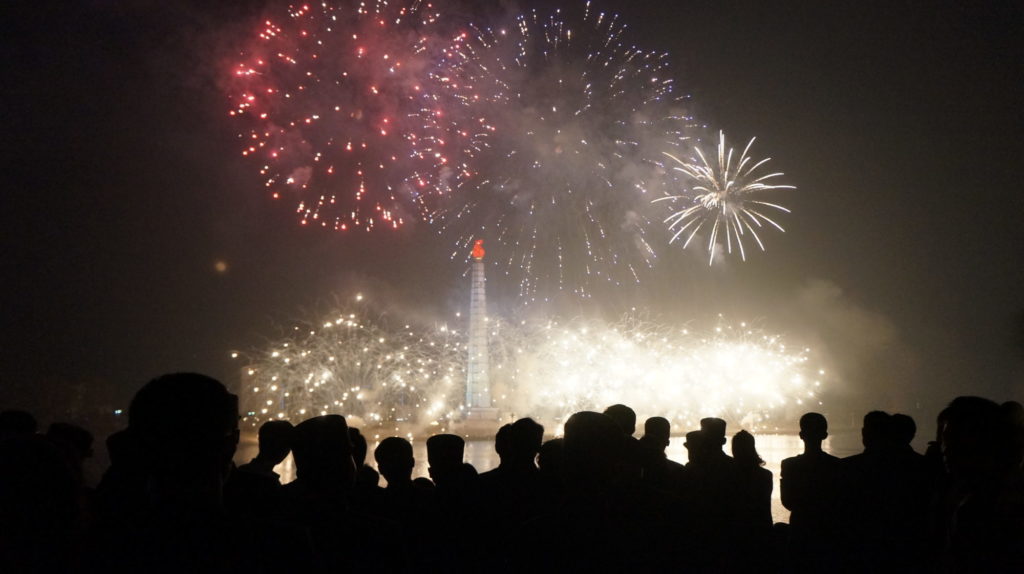 Fireworks displays over the Taedong River in Pyongyang are a regular inclusion over national holidays, and what better place to witness it than Kim Il Sung Square itself!
Military Parade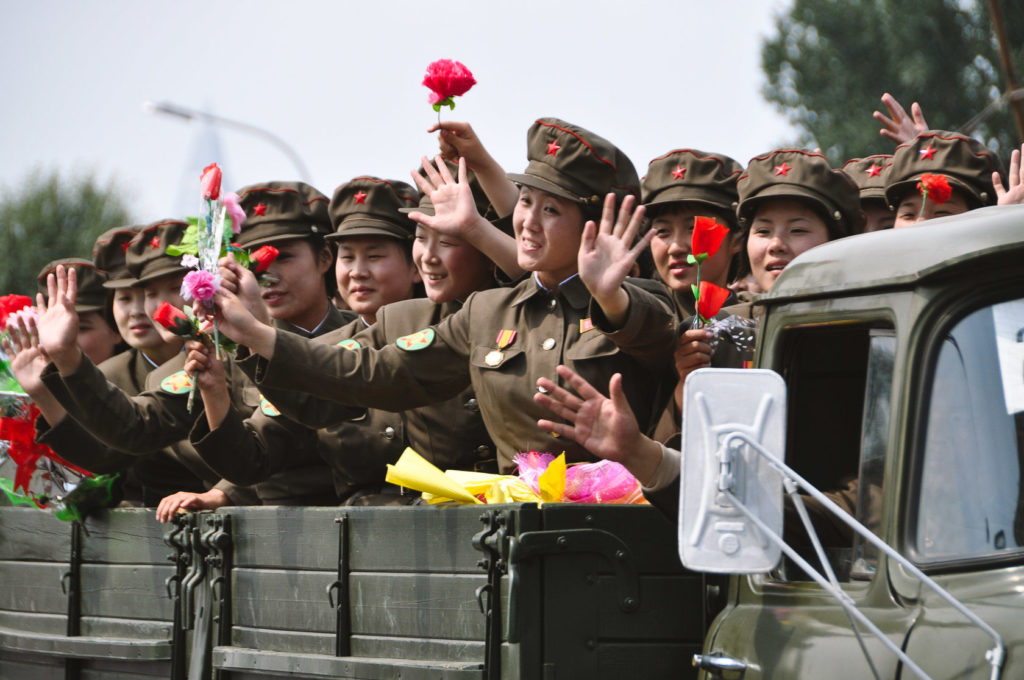 For foreign observers, the military parade has become synonymous with North Korea. What better time than National Day for a showing of power, technological achievement and prosperity despite adversity? Military parades occur less frequently than depicted by foreign media, typically only on important events, and witnessing it cannot be guaranteed. However, military parades have been held in recent times on jubilee commemorations of National Day, in 2013 for the 65th anniversary and in 2018 for the 70th anniversary.
Public Rally
These typically aren't something tourists can attend, but mass rallies are often part of festivities and on jubilee years of important commemorations. In 2018 for the 70th anniversary of National Day, an incredible torchlight parade of chanting and choreography spelling revolutionary slogans was held in Kim Il Sung Square to cap off the formal festivities.
Joining the locals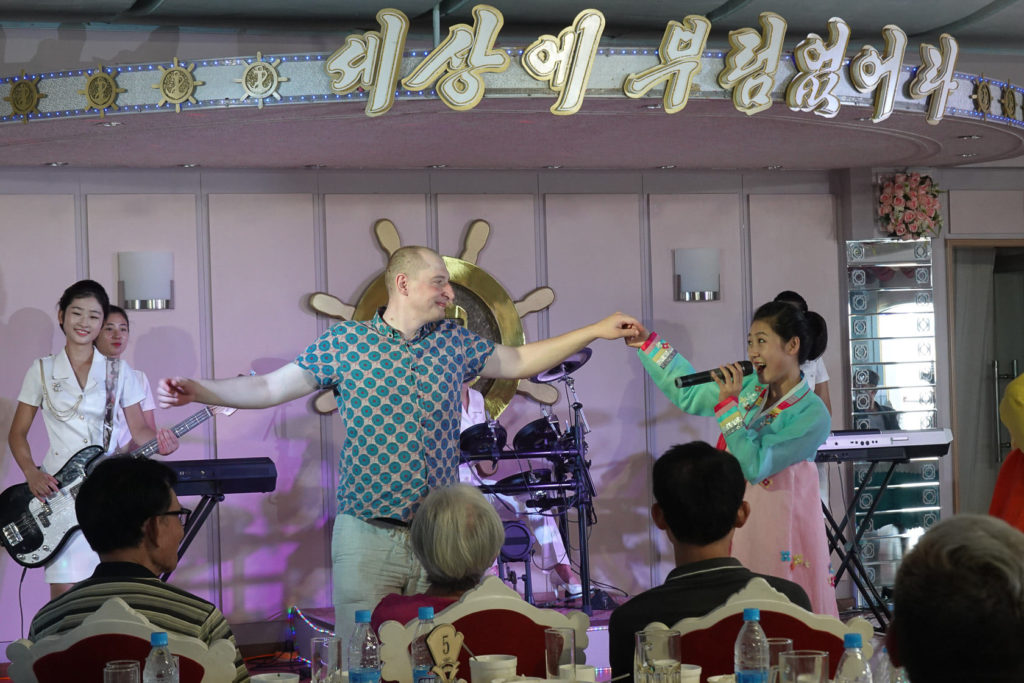 Touring the city as it's brushed by bright decorations and getting amongst the atmosphere is an absolute must on National Day! Whether it's being invited over to join a picnic, singing karaoke atop a pavilion in a local park, dancing on a boat down the Taedong River, or clinking beers in a local bar to cap off the day, the interactions with Koreans on their most patriotic day are certain to be memorable!
Revolutionary Sites
In North Korea, the basis of their independent nation is widely regarded to have begun in 1925 when President Kim Il Sung, then just a young boy, left his home of Mangyongdae in Pyongyang striving to liberate Korea from Japanese occupation. President Kim Il Sung is widely revered for his efforts in the liberation and his success in laying the foundation for a sovereign Korea. As such, venerated sites with a connection to President Kim Il Sung, and of General Kim Jong Il, are visited by locals on National Day.
The following revolutionary sites are particularly important:
Kumsusan Palace of the Sun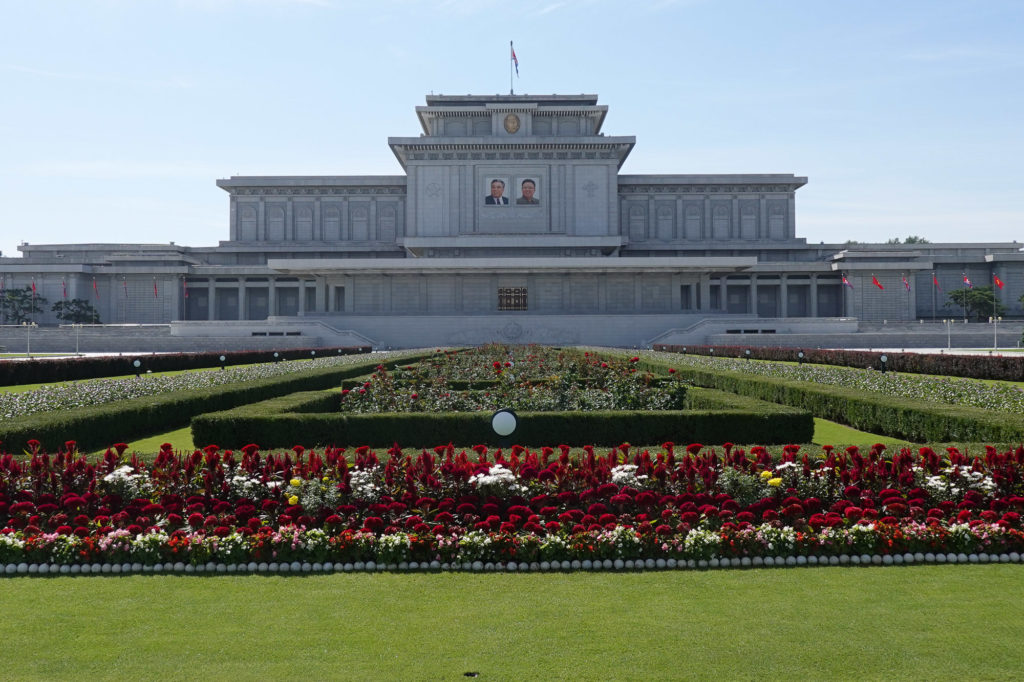 The Kumsusan Palace of the Sun is one of North Korea's most sacred sites, a grand mausoleum in Pyongyang which serves as the final resting place for President Kim Il Sung and General Kim Jong Il who lie in state inside glass sarcophagi. A visit here is a formal affair and the atmosphere is a sombre one, but it's an important visit for Koreans on special days to honour the leaders.
Mansudae Grand Monument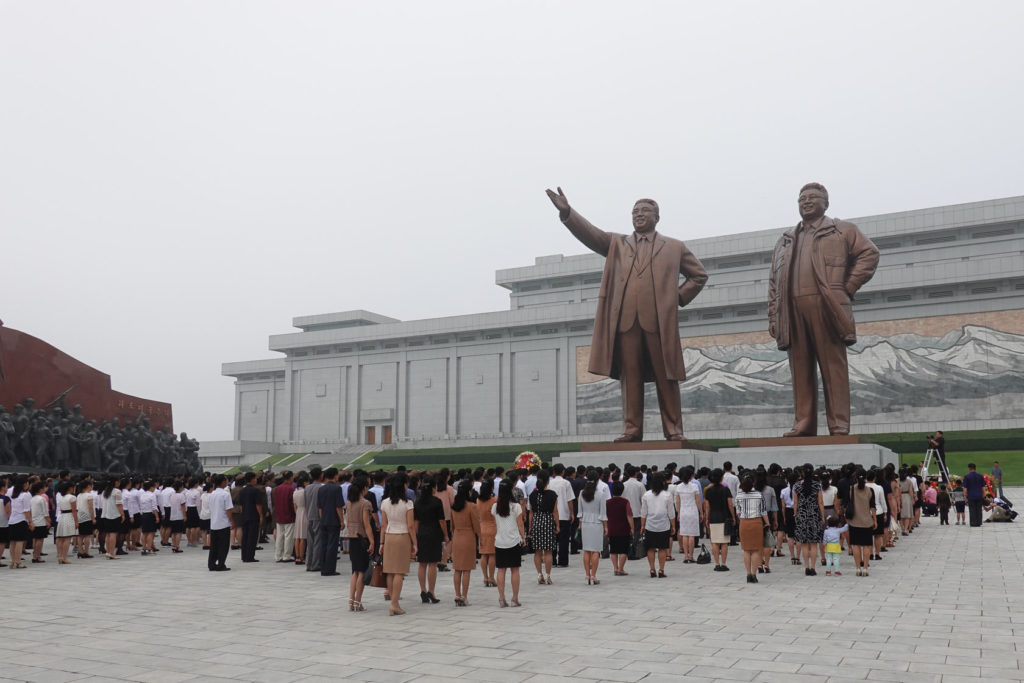 The centrepiece of the Mansudae Grand Monument is 22-metre high bronze statues of Kim Il Sung and Kim Jong Il, perhaps the most recognisable site in North Korea. The monument was built to broadly highlight the achievements of President Kim Il Sung and General Kim Jong Il. Locals typically visit the Mansudae Grand Monument at least once a year and will bring flowers to lay at the base and perform a deep bow. It's extremely popular on National Day where a constant flow of people can be expected from the early hours of daylight right through until dusk.
Mangyongdae Native House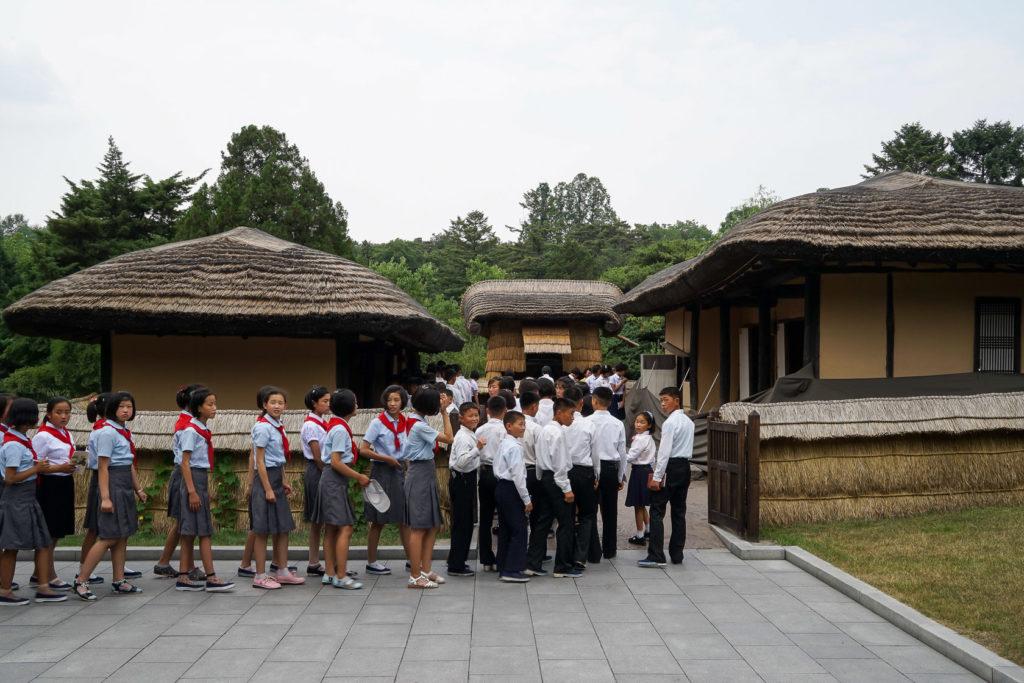 The Mangyongdae Native House is regarded as where it all began, the birthplace of President Kim Il Sung in a humble straw adobe beside Pyongyang's Taedong River. The home and relics are preserved inside and you'll find Koreans of all ages visiting in groups here, such is the importance of the site in the revolutionary history of the country. There is a mural in the surrounding park area depicting when Kim Il Sung left Mangyongdae in the snow in 1925 to embark on his quest for liberation.
If you'd like to visit with us for National Day, check out our upcoming group tours or contact us for a private tour or to enquire regarding the expected events!