Overview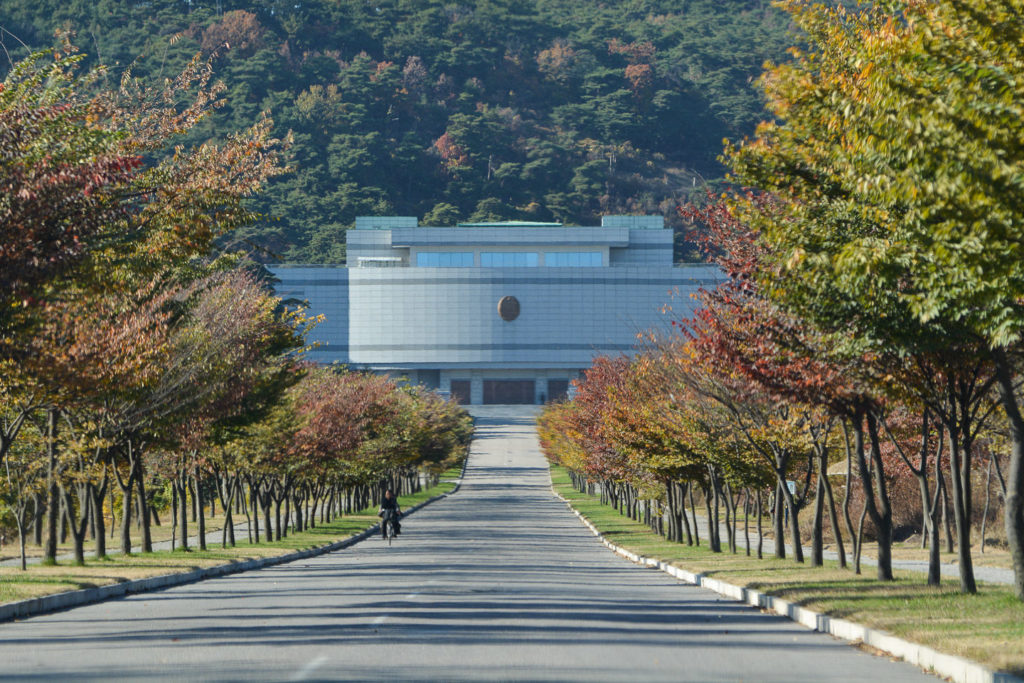 The National Gifts Exhibition House is a multi-floor museum located at the foot of Mt. Ryongak in Pyongyang. Displayed inside is a collection of gifts presented to President Kim Il Sung, Chairman Kim Jong Il, Supreme Leader Kim Jong Un, and anti-Japanese War heroine Kim Jong Suk from the Korean people, including North, South, and overseas Koreans.
Inaugurated in August 2012, the National Gifts Exhibition House is not to be confused with the International Friendship Exhibition located in Mt. Myohyang, a similar (and more extensive) display of gifts presented by non-Korean foreigners, primarily dignitaries.
What's it like inside?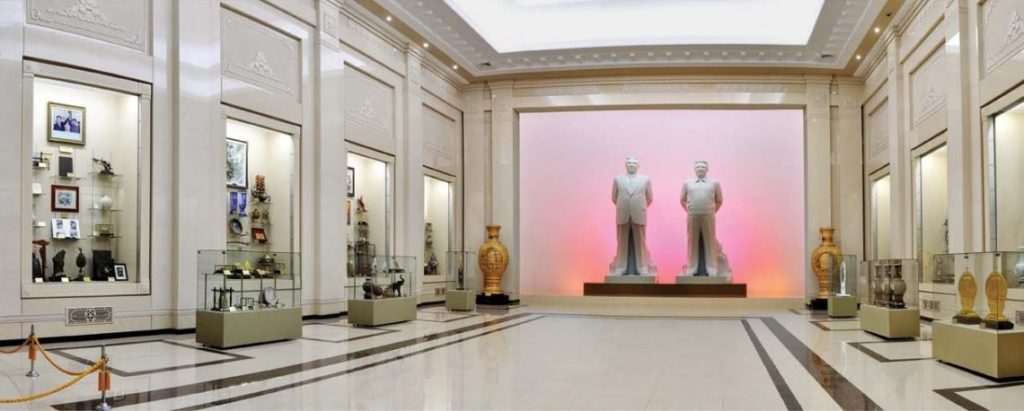 While the structure itself is an unembellished concrete block of brutalist architecture that's devoid of windows, the interior is lavish and characterised by wide, tall hallways of shined marble tiling and grand wooden doorways leading into rooms of gifts showcased within well-lit glass cabinets and roped-off raised platforms.
There are over 8900 gifts to explore across 20 rooms spanning three stories. Each gift ranges from the practical to the eccentric to the quirky, and all are meticulously curated and sectioned by the recipient. The contributor name and the date of receipt are displayed on a placard beside, information seemingly a mere formality for the site guides who know the hall's inventory like the back of their hands!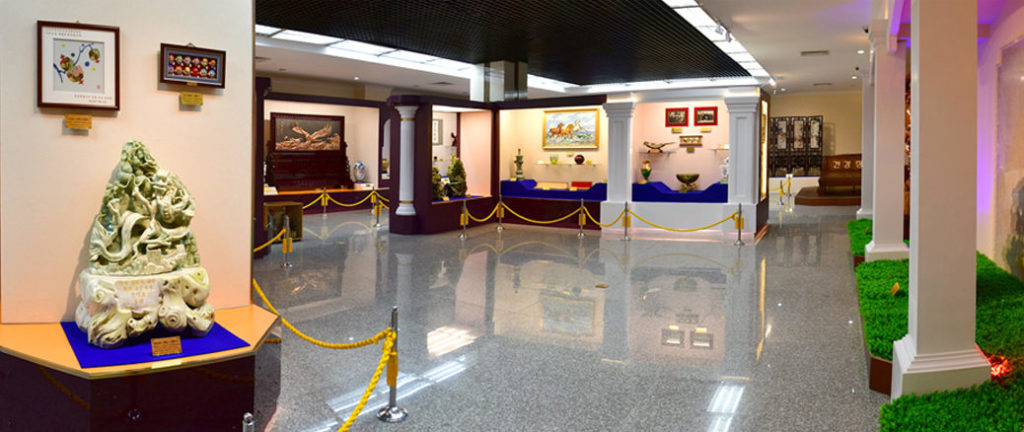 Photography is not permitted inside the museum, and all visitors will be subject to metal detection screening on entry to the building.
Your visit will begin in the General Introduction Hall which features white marble statues of President Kim Il Sung and Chairman Kim Jong Il bathed in red light.
What kind of gifts are within?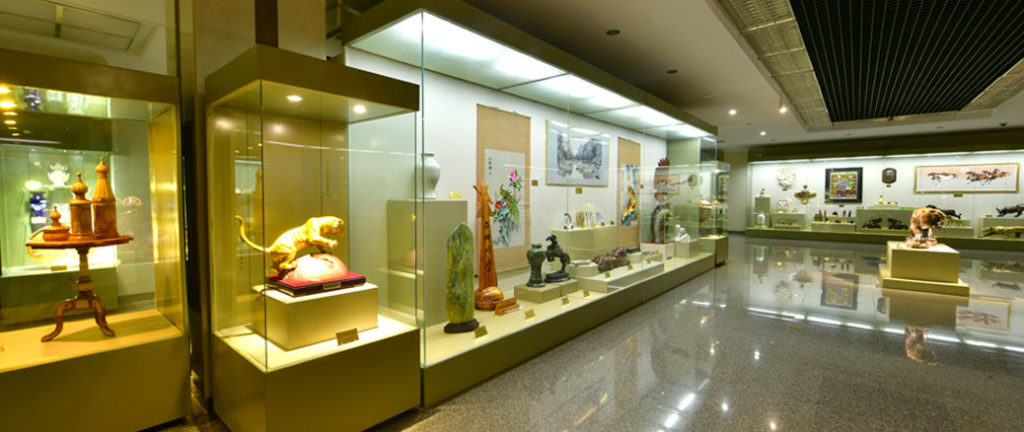 You can expect the unexpected! Fine woodwork, antique pottery, and paintings can be found beside household electronics, preserved ginseng specimens, and luxury cars. There's no shortage of the peculiar, with items such as a stuffed pufferfish ashtray, a bed made of non-conductive emerald tiles, and a chair crafted entirely out of deer antlers.
Further examples of gifts presented are listed below:
Gifts presented to President Kim Il Sung:
A gold and silver gem-encrusted vase presented by the Ministry of Public Security
A set of office supplies presented by the DPRK Embassy in Madagascar
An ivory sculpture of eggplants presented by a Korean-Japanese publishing house
A 'Congratulatory Message' optical illusion art piece presented by The General Association of Korean Residents in Japan (Chongryon)
A gilded model of the Dokdo Islands presented by the Secretary-General of the Federation for World Peace
Gifts presented to Chairman Kim Jong Il:
A flower vase made of snail shells presented by a mine in South Hwanghae Province
A carved bedroom suite presented by the President of a South Korean manufacturing company
A gold-plated regal sword presented by a youth Korean association in China
A jade lion with the earth on its back entitled 'Great Juche Idea Shines All Over the World' presented by a trading company in China
A black sedan with tinted windows presented by the Honorary President of Hyundai Group in South Korea
Gifts presented to Supreme Leader Kim Jong Un:
A cushion made from seagull feathers presented by a student of a North Korean university
An orange marble tiger stepping on North America presented by overseas Koreans living in China
A miniature elephant made of leatherwork presented by an online Korean newspaper based in the United States
A coin depicting Supreme Leader Kim Jong Un and President Donald Trump commemorating the 2018 Singapore summit between the DPRK and the United States presented by the Federation of Koreans in the United States
A fossil fish from the Triassic Period presented by the Secretary-General of the Federation for World Peace
Visiting On Our Tours
The National Gifts Exhibition House is rarely visited by foreigners as it's typically overlooked in preference to the International Friendship Exhibition in Mt. Myohyang. A major drawcard to the latter is browsing gifts from recognizable foreign names, or from your home country, which is missed on the visit to the former unless you're of Korean heritage. As such, you won't find the National Gifts Exhibition House on many group tours, but visits can easily be arranged on private tours. The hall is open all year round but closed on Sundays and on public holidays. You can expect to spend between 1-2 hours inside.
It's most efficient to combine this visit with activities such as a picnic lunch on Mt. Ryongak, a stroll to Mangyongdae Native House, shopping at Kwangbok Department Store, a performance a the Pyongyang Circus, and/or a tour of the Mangyongdae Schoolchildren's Palace, all located in proximity.
Alternatively, it's convenient to visit the National Gifts Exhibition House as you travel between the west coast city of Nampo along the Youth Hero Motorway.
If you'd like to peruse this exhibition in Pyongyang, we can arrange it. Contact us for more information!