5 Nights – from €1199
** DPRK Visa and one-way flight on Air Koryo and one-way train included **
Join us in Pyongyang for the 2023/24 countdown on this extended tour of North Korea for New Year's Eve and beyond! This special tour will see you on Kim Il Sung Square alongside thousands of locals for New Year festivities, which in past years has included a music performance of North Korea's famous Moranbong Band, a light show, a synchronized drone display, and a massive fireworks spectacle over the Taedong River! You'll visit North Korea's major must-see sights, from the sacred Kumsusan Palace of the Sun in Pyongyang to the iconic DMZ at Kaesong!
---
DAY 1 – DEPART FOR PYONGYANG
At 11:30am, meet us inside Terminal 2 of the Beijing Capital International Airport to check in for our scheduled departure of 02:00pm. We will hand out your DPRK visas at this time. Timings to be confirmed.
We will then fly to Pyongyang, the capital of the DPRK, home to the most iconic monuments and political sites. Our Korean tour guides will be meet us at the airport with a warm welcome.
Our first stop will be the Arch of Triumph, the world's largest triumphal arch. From the top, we will get our first panorama view of Pyongyang city!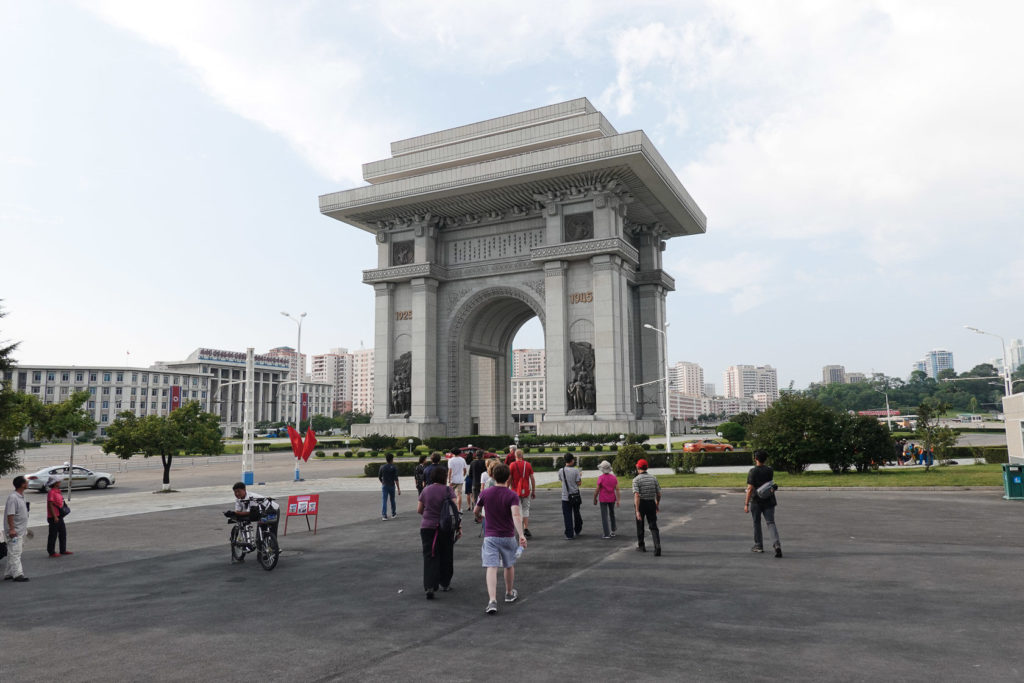 Check into the Koryo Hotel, our deluxe accommodation in the heart of Pyongyang popular with local residents, foreign diplomats, delegations, NGOs. We will enjoy a welcome dinner in the revolving restaurant!
Overnight at the Koryo Hotel
(Meals: L on flight, D)
DAY 2 – PYONGYANG & NEW YEAR'S EVE
We'll begin the day with a tour of the Victorious Fatherland Liberation War Museum, an elaborate museum depicting the Korean people's fight against foreign invaders. We'll have a guided tour of the war remnants, exhibits, and dioramas and learn about the Korean war from the North Korean perspective. We'll also board the USS Pueblo, the "American Spy Ship" captured in 1968.
Visit the Mansudae Art Studio, the most prestigious fine arts studio and gallery in North Korea, the only studio given permission to depict the Great Leaders in monuments, murals and mosaics.
We'll have lunch at Okrgyu Restaurant, founded in 1960 this is Pyongyang's most famous restaurant!
After lunch, head deep underground to take a 5-stop ride on the Pyongyang Metro, the deepest metro in the world and filled with mosaics, monuments, and plaques commemorating the DPRK's revolutionary history.
Stroll to the Mangyongdae Native House, a modest straw-thatched house in a serene park setting which is the birthplace of President Kim Il Sung. Pick up some supplies at the Kwangbok Department Store, a five-story department complex filled with local and imported products. It's one of only two places in Pyongyang where tourists can exchange and use the local North Korean Won.
Line up your sights and show off your skills at the Meari Shooting Range, where you can fire a pistol, rifle, or try your hand at archery.
Get the chance to taste local Korean draft beers at the Taedonggang Bar Brewery No. 3. Then head down to the Taedong River where we'll take a look at the Taedong Gate and Ryongwang Pavilion, two ancient relics and national treasures of North Korea. Board the Mujigae (Rainbow) Ship where we'll enjoy dinner and beers with river views!
We'll then join New Year's Eve celebrations in Kim Il Sung Square with thousands of Pyongyang locals to ring in the 2021 New Year with an unforgettable fireworks display over the Taedong River!
Overnight at the Koryo Hotel.
(Meals: B, L, D)
DAY 3 – PYONGYANG & NEW YEAR'S DAY
First up, visit the Mansudae Grand Monument, an important site famous for its large, bronze statues of President Kim Il Sung and Chairman Kim Jong Il. It is customary to bow and lay flowers here.
We'll then head down to Kim Il Sung Square, the site of most of North Korea's televised military parades, where we'll see special folk activities enjoyed by the children in celebration of the New Year!
Take a city walk with a stop at the Foreign Languages Bookshop, the best chance in the DPRK to pick up souvenirs such as books, stamps, DVD/CDs and posters. We'll continue walking across the Okryu Bridge with beautiful views of the Taedong River leading us to the Tower of the Juche Idea. Here we'll learn about North Korea's national ideology, the Juche philosophy, and take the lift 150-meters to the top for the best views in Pyongyang city!
Visit the Party Foundation Monument, built to commemorate the 50th anniversary of the foundation of the Workers' Party of Korea, recognizable by the communist hammer and sickle but with an added North Korean twist.
Join the locals and show off your curveball with a stop at the retro Golden Lane Bowling.
After lunch, we'll visit a local family in their Pyongyang apartment home. This is a great chance to interact, see how the locals live and learn about life in Pyongyang from those living here themselves!
We'll then catch an afternoon performance of the incredible Pyongyang Theatre, particularly popular on public holidays!
Continue the festivities into the evening as we visit the Rakwon Beer House to taste the craft beers. This is one of the pioneering establishments of the microbrewery craze in Pyongyang.
Overnight at the Koryo Hotel.
(Meals: B, L, D)
DAY 4 – PYONGYANG, SARIWON, KAESONG
This morning, we'll take a look at the Korea Film Studio, North Korea's very own Hollywood, the studio behind a plethora of domestic films. We'll tour the post-production complex and film sets here.
Visit the Revolutionary Martyrs' Cemetery on Mt. Taesong. This hill-top memorial is where decorated figures of the struggle for Korea's liberation are buried in Pyongyang. Each grave features an individually sculptured bronze bust of the fallen.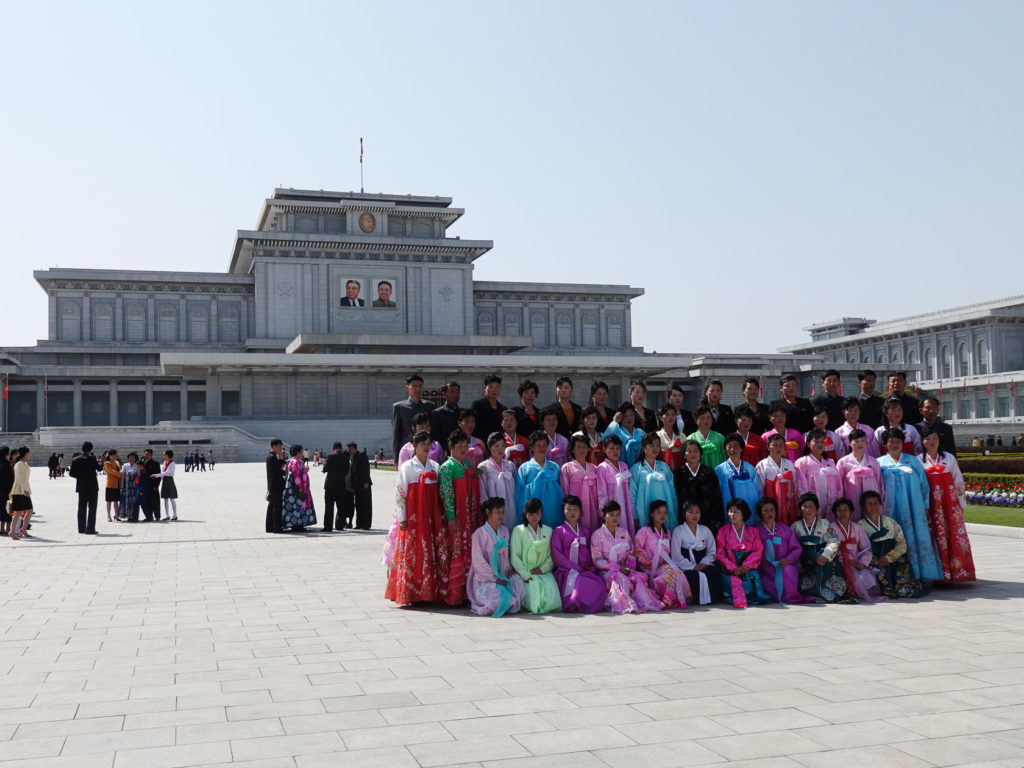 After lunch, we'll stop at the Arch of Reunification, a massive monument spanning both sides of the motorway.
We'll then begin our drive to Sariwon city. On arrival, visit the Sariwon Folklore Village, a street depicting a romanticized version of Korea's ancient cultural heritage. Take a look around, try some local specialties such as sticky rice cakes or homebrew makgeolli, and enjoy the slow-paced atmosphere of the city. We'll climb the stairs up Kyongam Hill to get an iconic panorama view of Sariwon and the rural surroundings from the pavilion here!
Continue our journey on the Reunification Highway south toward the city of Kaesong where we'll spend overnight. Kaesong is a historic city just shy of the DMZ and the only city that changed hands between North and South during the Korean war.
Overnight at the Chanamsan Hotel
(Meals: B, L, D)
DAY 5 – KAESONG & THE DMZ
Begin the day with a walk through Kaesong city where we'll pass the South Gate en route to Janam Hill. At the peak, visit the grand monuments of the Great Leaders before getting a breathtaking view over the Kaesong Old Town. Kaesong was left largely untouched during the Korean War and its traditional dwellings still stand.
We will head for the DMZ where we'll hear from our military guides a perspective of the Korean War that often gets discredited or unheard. At the DMZ, explore Panmunjom, shake hands at the exact place that the Armistice Agreement was signed between UN forces and the DPRK, and wave hello to the South at the blue houses in the Joint Security Area.
Head to the Koryo History Museum, a UNESCO site, to learn about the Koryo Dynasty (where the name Korea originates). You'll also have a chance to pick from the most varied range of postcards in the country at the Koryo Stamp Shop. Stop at the original Sonjuk Bridge, a UNESCO site.
For lunch, enjoy pansanggi, a historic Kaesong cuisine traditionally served for royalty.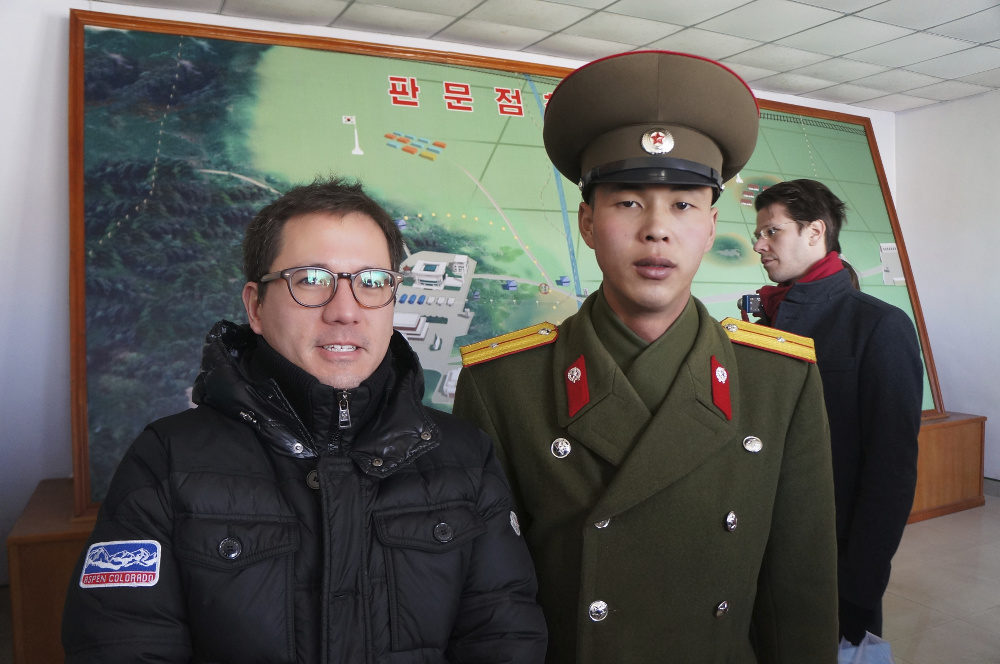 On return to Pyongyang, visit the Grand People's Study House, North Korea's national library and the heart of study on the revolutionary Juche ideology. Check out the local intranet, visit the music appreciation room and flick through a handful of the up-to 30 million books said to be available here!
Take a walk on Ryomyong Street, an impressive boulevard home to Pyongyang's most extravagant apartment complexes. Opened in just April 2017 to international media attention.
Overnight at the Koryo Hotel.
(Meals: B, L, D)
DAY 6 – FAREWELL
Option 1 (Included & Recommended): Morning departure to Dandong via international train. We will depart Pyongyang Railway Station approximately 10am. You will arrive into Dandong approximately 16:30 and be clear of immigration/customs by approximately 1730, please allow considerable time for onwards connections.
It's possible to connect by train onwards from Dandong to Beijing at extra cost. We can arrange this as part of your tour package, simply let us know.
Option 2 (+130 EUR): Morning departure to Beijing via Air Koryo flight. Estimated time of arrival is 09:50am local time, although flight times are subject to final confirmation. Please reserve connecting flights departing after 14:00pm local time, to allow sufficient time for immigration/customs clearance, baggage claim and re-check-in. Timings to be confirmed. Important: Although this Air Koryo flight is scheduled, it has historically been subject to cancellation by the airline. As such, we strongly recommend all travellers opt for the train (Option 1) instead, or leave this possibility open in the event of flight cancellation.
(Meals: B, L on train/flight)
This itinerary is subject to change at any time.
What's included in this tour:
DPRK visa fees and handling
One-way flight between Beijing to Pyongyang on Air Koryo and one-way international train between Pyongyang and Dandong
5 nights' DPRK hotel accommodations (double occupancy, 4 stars)
Meals as indicated
Coach/car transportation in DPRK
Two local English-speaking Korean guides
One local driver
Admission fees (except those listed under exclusions)
What's not included in this tour:
Round-trip airfare to/from Beijing or Dandong from home country
Beijing/Dandong hotel accommodations
Chinese visa fees and processing, if applicable
Travel and medical insurance
Personal expenses (laundry, telephone, etc.)
Souvenirs
Extra drinks during meals (one complimentary beer included)
Beer at microbreweries (1-3 EUR per mug)
Extra a la carte items incurred during meals
Tips for guides and drivers
EXCLUDED ENTRANCE FEES FOR OPTIONAL EVENTS
Entrance fees are priced in EUR but RMB and USD accepted.
Elevator to the top of the Juche Tower, 5 EUR
Elevator to the top of the Arch of Triumph, 5 EUR
Flowers to be laid at the Mansudae Grand Monument, 3-5 EUR
Pyongyang circus/theatre (if playing): 20 EUR
Taedonggang Dining Boat: 10 USD
Mujigae Rainbow Boat: 1 EUR
Meari Shooting Range: rifle and per bullet fees apply
Kaeson Amusement park entrance and rides, approximately 1-7 EUR each
For more information on the booking process, see How to Book a North Korea Tour
See Terms and Conditions for our refund policy and other disclaimers.